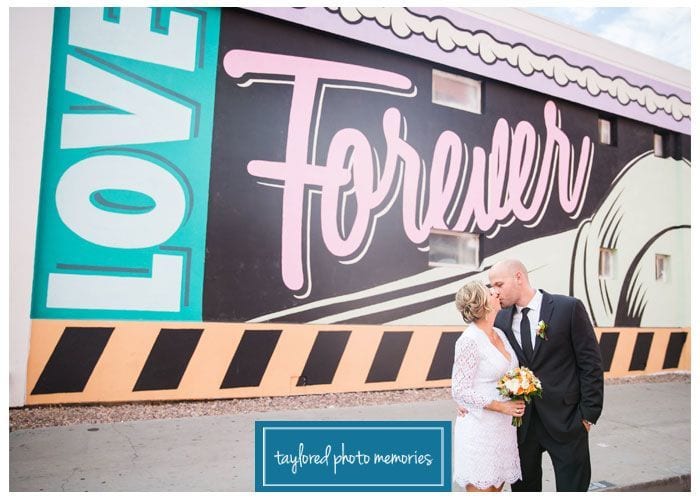 C + H ventured to Las Vegas for their elopement after having realized they wanted to plan their wedding on their own terms! They choose a Las Vegas wedding because it was simple, fun and unique.
Why did you choose to elope in Vegas?
After being together for a year and a half , Hart and I found out we were pregnant…surprise!!! We didn't want to rush into a marriage just because we were having a baby, so we decided to wait. We welcomed our little man, Rutledge, into the world on October 9, 2014!
We knew we wanted to get married, but just didn't know how to go about planning a wedding and being new parents! We decided a Vegas elopement was the way to go! We got engaged on the Saturday before Mother's Day and decided to only tell our parents and sisters about the wedding. It was the biggest secret I've ever kept in my life!!!! I had no idea where to start so I looked up photographers on Yelp and Taylored Photo Memories had amazing reviews! I sent her an email and she basically became my wedding planner!
I went with everything she recommended and it couldn't have been a more perfect experience. I seriously cannot say enough amazing things about this girl!!!
What was your vision for your wedding day?
I knew I didn't want to get married in the typical Vegas fashion, in a chapel being married by Elvis! I liked the idea of vintage Vegas and after speaking with McKenzi, she had some great recommendations and we decided to do the ceremony in front of the Life Is Beautiful Heart!
What was your favorite part of the planning process?
Hands down my favorite part of planning was working with McKenzi!! She made it so easy and was beyond helpful!!
Was anything handmade or DIY at your wedding?
We did have these handmade sunglasses that were special made for us! They screamed Vegas with little bride and groom dolls, rings, rice and swans! These were obviously for silly pics, but I wore mine most of the day 🙂
Do you have any advice for other couples planning their day?
If you want to avoid all of the stress that comes along with planning a wedding….elope! It was stress-free and we had an amazing time!!!
VENDORS
Officiant: Peachy Keen Unions
Florist: Gaia
Hair Stylist & Makeup Artist: SmoothBrides