By McKenzi Taylor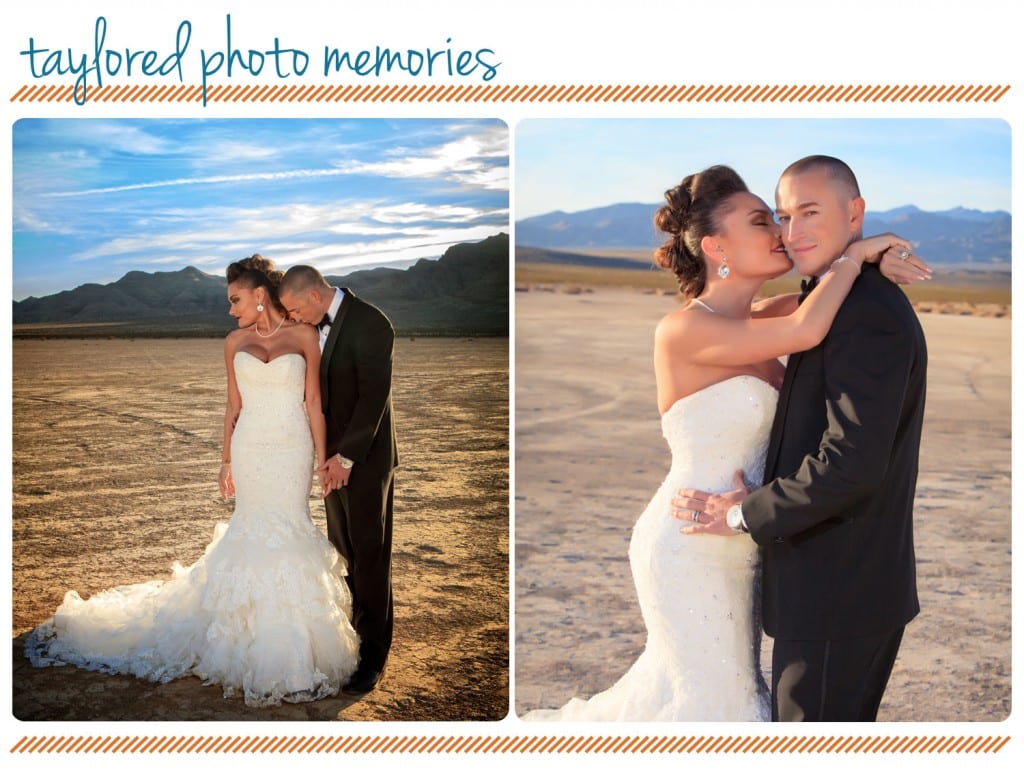 I am extremely thrilled to bring you pictures from this amazing desert wedding photo session at the Jean dry lake bed. Everything about this shoot was outstanding! The location – jean dry lake bed –- was perfect and dramatic, the couple was fun and sexy, the hair and makeup were stunning and my assistant during the shoot – Denise was the bomb!
Let's talk about our couple a little bit…
I normally don't use the word "hot" but seriously, this couple is so hot! They have an amazing chemistry that was infectious and so easy for me to photograph. They are a real-life couple that recently tied the knot in Mexico! I am so honored to have had the chance to photograph more unique photos for them at the Jean Dry Lake Bed.
The Hair and Make up was incredible!
I want to thank the awesome team that put together this shoot in the first place! I'm thrilled to have been part of the Amelia C and Co #30daysgorgeous event! We had a blast doing our work and there is no way I could have pulled off this without their help and coordination! Hair and Makeup was done by two of the gals from Amelia C and Co — Bri T and Rachel L.
And the location? AWESOME!
The sunset, was beyond words. This time of year in Las Vegas may be windy, but the sunsets are out of this world in our desert landscape. There are wispy clouds fluttering through the air as well as vibrant blue skies all around.
A few things to remember while doing a shoot at a Dry Lake Bed or in the desert…
Depending on the time of year the lake beds can be muddy but may not "appear" so. Take precautions if you are planning to do a photo shoot at the Dry Lake Bed or the Boulder Lake Bed and if you go during the rainy season be prepared with a 4×4 or high clearance vehicle.
At the Jean Dry Lake Bed there is a private company that hauls what I believe to be gravel along Las Vegas Blvd. There are big trucks coming and going from this location during the week, especially. The dry lake bed is on BLM as well, so make note of any regulations they have with photography and models.
Be conscious that it is legal to shoot guns as well as drive off-road vehicles in this area. Be mindful if there are other parties at the Jean Dry Lake bed and take caution.
There is no protection from the elements at the lake bed. There are no trees for shade, and it's a pretty bleak landscape. The subjects in the photograph as well as props really make or break a photo shoot at these locations. Make sure to have fun with them and allow them or encourage them to get creative!
Go with it…
Because it is legal to drive off-road vehicles at the lake bed, you'll also notice the large amounts of tire tracks in the dirt. The dry lake bed changes each day because there is little protection from the wind, people visit with their dirt bikes etc and it could rain. Some days it 's an amazing location to photograph and sometimes it might not be what you expect! Just go with it!!!
The Jean Dry Lake Bed is one of my favorite locations to photography at and it's perfect for a desert post wedding photo shoot as well and engagement and boudoir sessions!