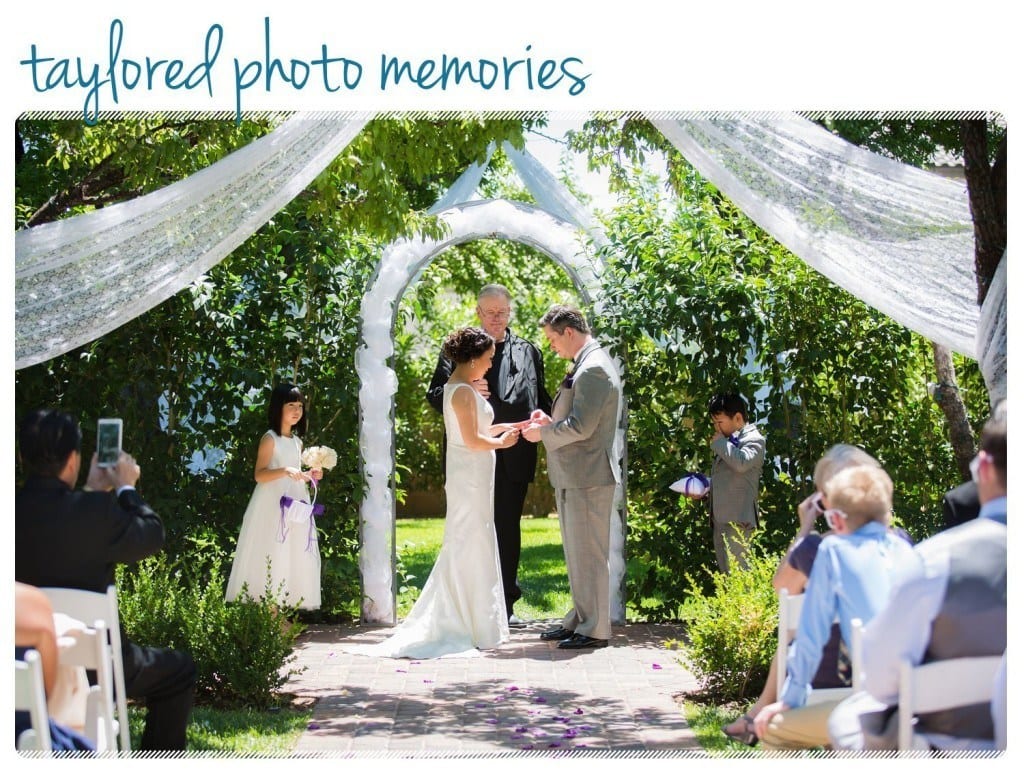 A + J chose to have a unique brunch wedding at The Grove in Las Vegas. They loved the outdoor setting, because it didn't feel like a typically Vegas wedding. The couple also really liked this location because The Grove took care of most of the wedding planning, leaving the couple with less to worry about. Of course, they enjoyed the cake tasting part of the wedding planning the most.
The laid back brunch atmosphere was great for this intimate wedding ceremony. Simple decor helped create a low-key feel on A + J's special day. Purple and white orchids acted as simple, yet elegant center pieces that perfectly matched the cake. This Las Vegas Brunch Wedding at the Grove was one for the books!
Why did you choose this particular venue or location?
We chose this location, because we didn't want a "Vegas" wedding. We knew we wanted something outdoors, and when we saw the venue, we knew right away that we wanted to have our wedding at The Grove!
What was your vision for your wedding day?
We really just wanted a small laid back event. Nothing too formal, but not too casual either. Everything came together; we were very pleased with everything and everyone involved to really help the wedding go smooth.
What was your favorite part of the planning process?
Tough question… Luckily, we didn't have to do too much planning since The Grove did most of the work for us. But, if we had to choose, we'd say the cake tasting! 🙂
Was anything handmade or DIY at your wedding?
I am the least crafty person, but I did want to do something that was a DIY. So, one DIY that I was able to pull off was the seating chart.
Do you have any advice for other couples planning their day?
Enjoy the process and don't stress out. If something goes wrong… oh well. The only person who will notice it will be you. Have fun during the planning, because if you don't (for some reason, weddings bring the worst out of people you love most) it may be harder for you to enjoy! Remember your wedding day is a day to celebrate your union!
VENDORS
Venue: The Grove
Planner/Coordinator: Zina
Florist: Shelly
Catering: The Grove
Bakery: The Grove
Dress Shop: David's Bridal
Groom's Attire: Men's Warehouse