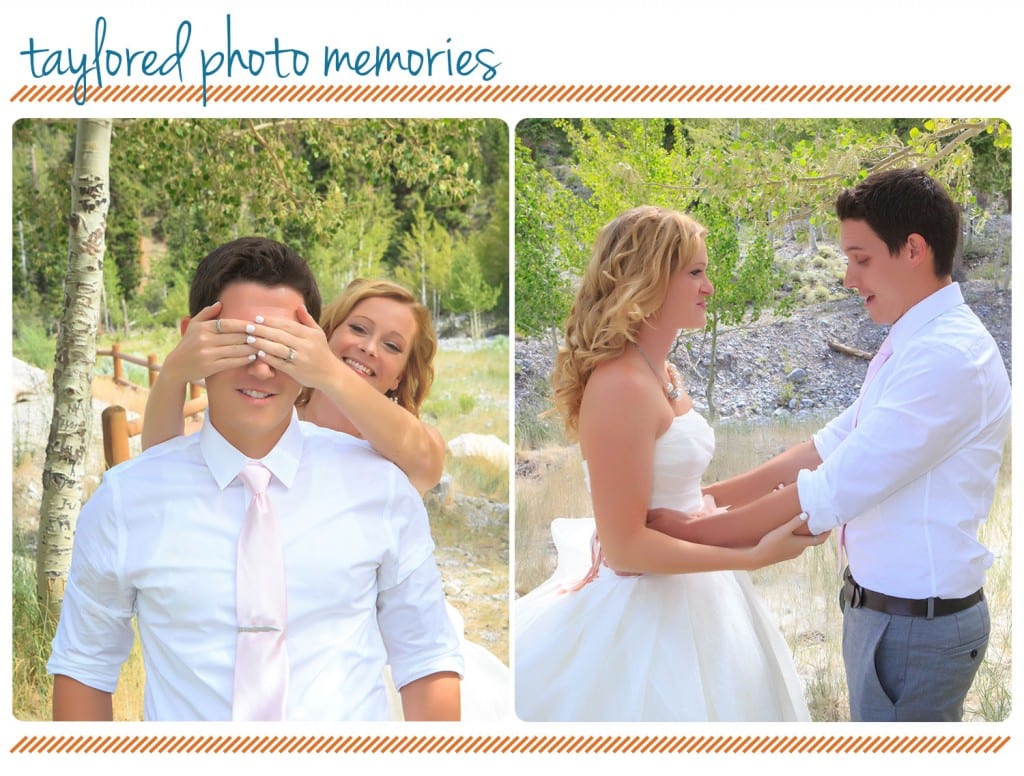 By McKenzi TaylorThe outdoors are very important to this vibrant couple, so it was no surprise that they chose a Mt Charleston Resort Wedding.  They exchanged their vows under the fresh mountain air surrounded by friends and family.  Amy's grandfather officiated the wedding, making this day even more memorable.  It was a beautiful June day, in Mt. Charleston, you could smell the fresh mountain air.  There were a few scattered white clouds adding to the picturesque day.
Amy wore a Vera Wang Gown  from David's Bridal.  A beautiful  strapless taffeta gown, with an asymmetrically draped bodice, and a full ball gown tulle skirt.  A pink floral sash adorned her waist, and a chapel length veil was pinned in her hair.  Her Bridesmaids wore Pink Chiffon short cocktail dresses in different styles. The Groom and his groomsmen were dressed alike, in different shades of grey slacks, white button ups, and each one had on a different tie in the same shade of pink.  The men, dressed to kill, did what most women wish they could get away with,  when they know they are about to dance the night away.  They wore flip flops!!  I am certain that as the evening gave way, there were quite a few envious women, including myself.  As it turned out there was a pink crate labeled Dance, at the reception filled with colorful flip flops for those who needed them.
Jeff says he moved to Vegas and hit the Jackpot, maybe not in dollars but definitely in love, when he met Amy.   He knew he'd met the girl of his dreams as he sat across from her on that first date.  This first grade teacher had a smile that made his heart melt.   With  each twirl of her hair he fell more and more in love.  Amy knew she'd finally met someone she could take home.  Here was a man that not only could fly himself anywhere he wanted, but was a hunting and fishing kind a guy.  Someone that would fit in with her family.  She was only too happy to show him around  Las Vegas, since he was new to to the area.
The Mt. Charleston Resort Chalet has a western feel to it, which fit these two being from Michigan and Wisconsin.  There was a bit of DIY presence in the decorations.  The bouquet was from Costco put together by Amy herself and the flowers that  lined up each row of chairs were in pink water bottles, each holding a white daisy surrounded by babys breath.   The Bride and Groom were showered with flying paper airplanes as they left the marriage ceremony.
Lucky their dog wasn't the only luck on hand, a traditional sixpence was worn by the bride.
The reception hall was decorated with strands of twinkling lights that hung from the wooden logs.  The cake was made from 100 cupcakes in different flavors and colors tiered on a cupcake holder.  The tables had pink flower vases with the same daisies and babys breath that were in the brides bouquet.   Amy and Jeff's love for their professions could be seen throughout.  The seating arrangements and menu's were written on small chalkboards bordered by pink wood, and on each table small wooden planes held the table numbers for the seating.  A wooden propeller was on a table for the guests to sign and write well wishes for the newly wed couple.
VENDORS
Peachy Keen Unions // The Cupcakery // Mt. Charleston Resort // Allure Entertainment // Target // Costco