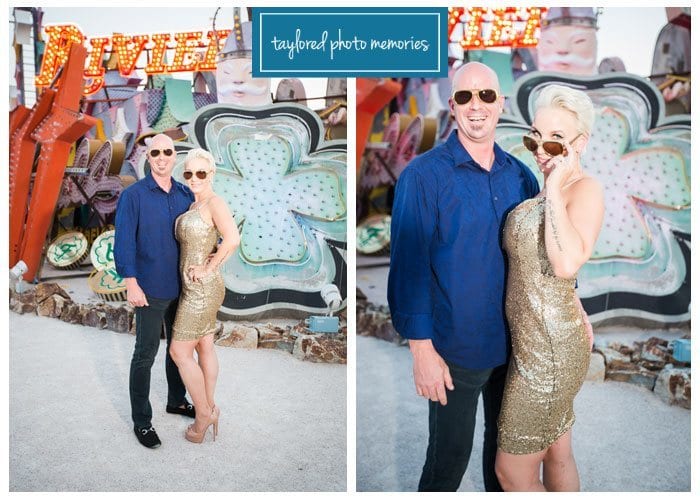 The best part of our job is to capture what people REALLY want on their wedding day. Often times they come to Las Vegas because they are tired of planning their wedding in their hometown and they decide to do what makes them happy! Piper and Mark choose to do a Neon Museum photo shoot in combination with a Little White Wedding Chapel ceremony officiated by none-other than The King — Elvis.
P+M were such an awesome couple. Piper loves Elvis. I mean, L-O-V-E-S. So as part of her criteria for her wedding day, she had to get wed by Elvis and she opted for not 1 but two Elvis'! She also wore the most stylish blue suede shoes we've see by Christian Loubutin.
However the first thing we did was schedule a classic Vegas photo session at the iconic Neon Museum. We did this the day prior to their wedding so they didn't have to stress about wardrobe and a timeline on their wedding day.
On the wedding day, it was such a blast. They had planned all the classic details of their wedding and added lots of typical Vegas fun with a nice dose of elegance by having their reception at the Wynn.
When asked: Do you have any advice for other couples planning their day?
Piper responded, "Don't stress about the things you can't control. In the end it will be perfect. Have fun!!!"
These two were an absolute blast and we will never forget capturing their true love in Las Vegas!
VENDORS
Venue: Little White Wedding Chapel 
Officiant: Elvis
Florist: Gaia
Bakery: Wynn
Dress Designer: Tom Ford 
Shoes: Christian Loubutin