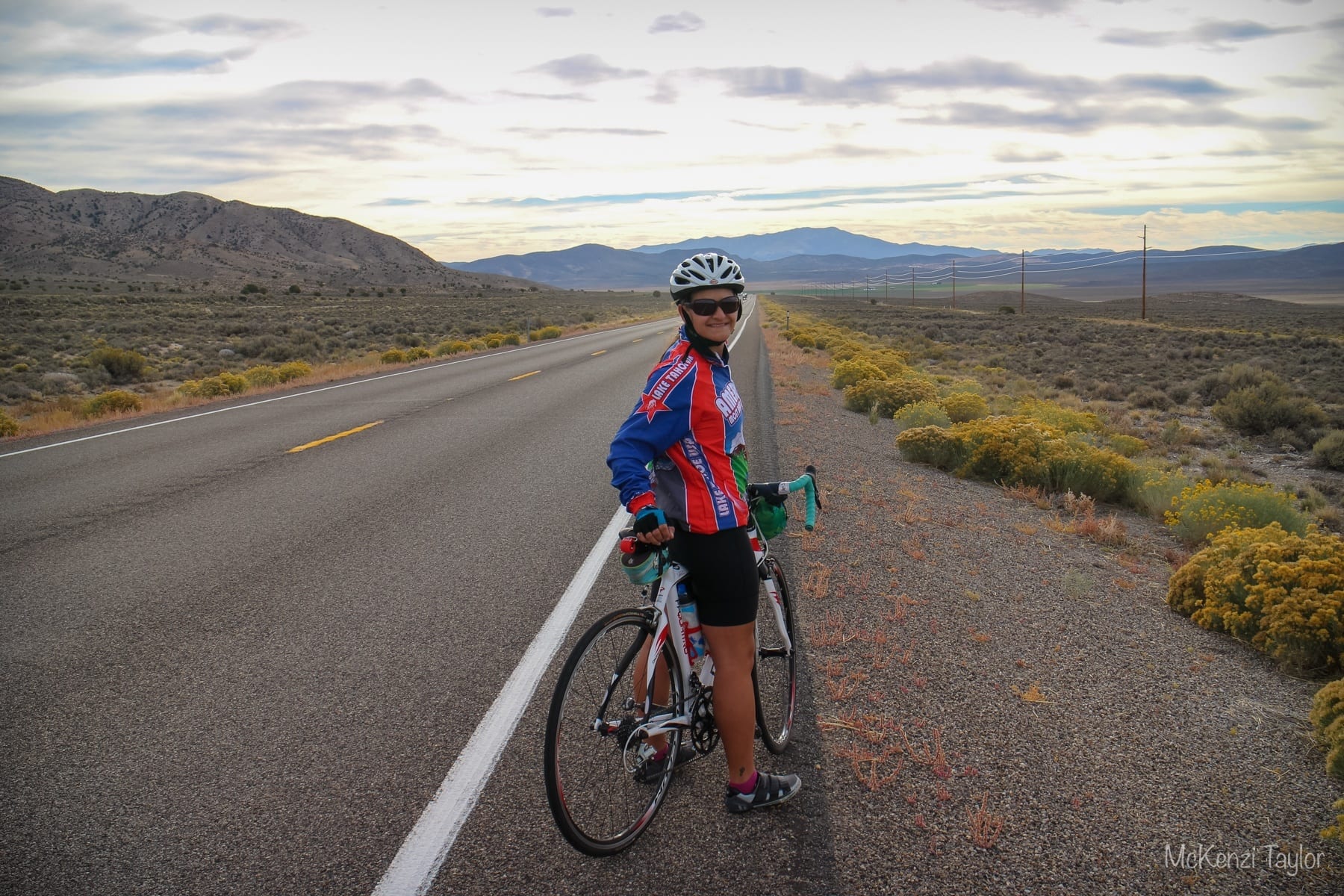 Riding on Hwy 50.
I just got back from "One Awesome Tour Bike Ride Across Nevada" a couple days ago and I wanted to share some of my experiences.
First, the ride was 400+ miles and 5 days of consecutive riding through the great state of Nevada. The route was pretty much exclusively along Highway 50 (also known as the "Loneliest Highway"). I had never done a multi-day bike ride, and I actually don't even know if I rode my bike two days in a row prior to this adventure… so I can say I was pretty nervous about hopping on and riding an average of 70-80 miles a day in the middle of nowhere (literally). But, when I get something in my head, I usually just do it… so after a friend suggested the ride I was all in.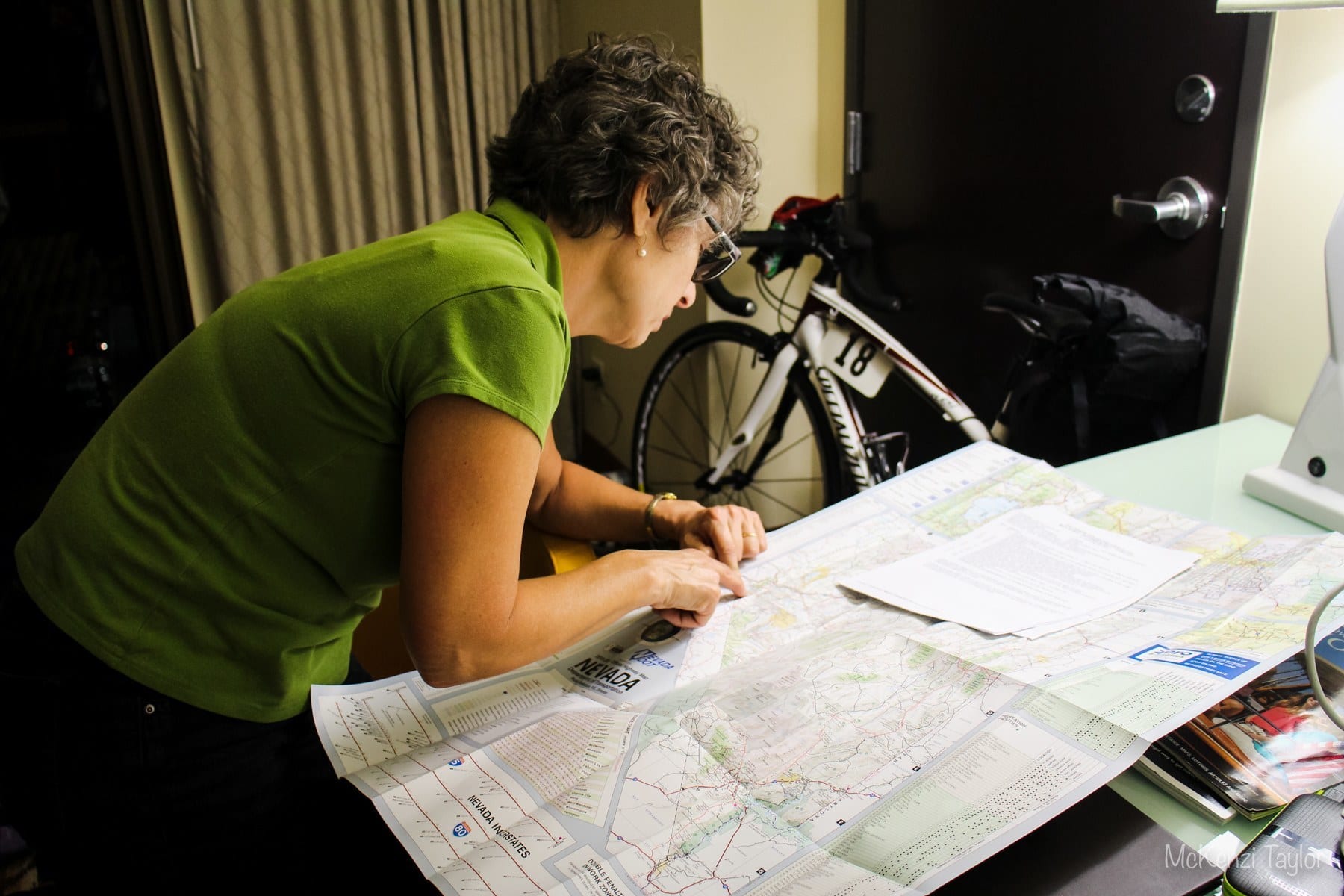 My roomie, Virginia showing me the route.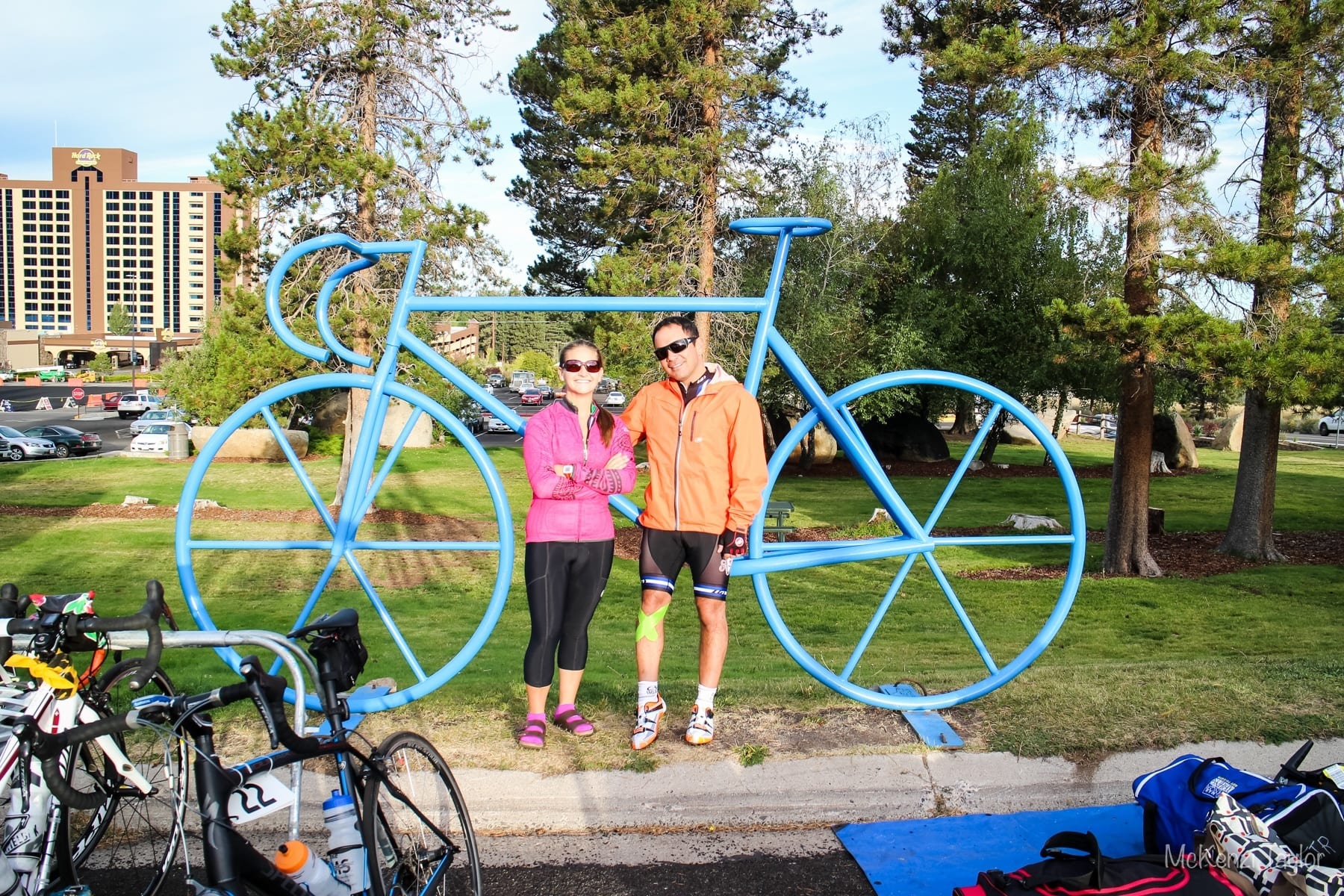 The "starting line" for the Tour.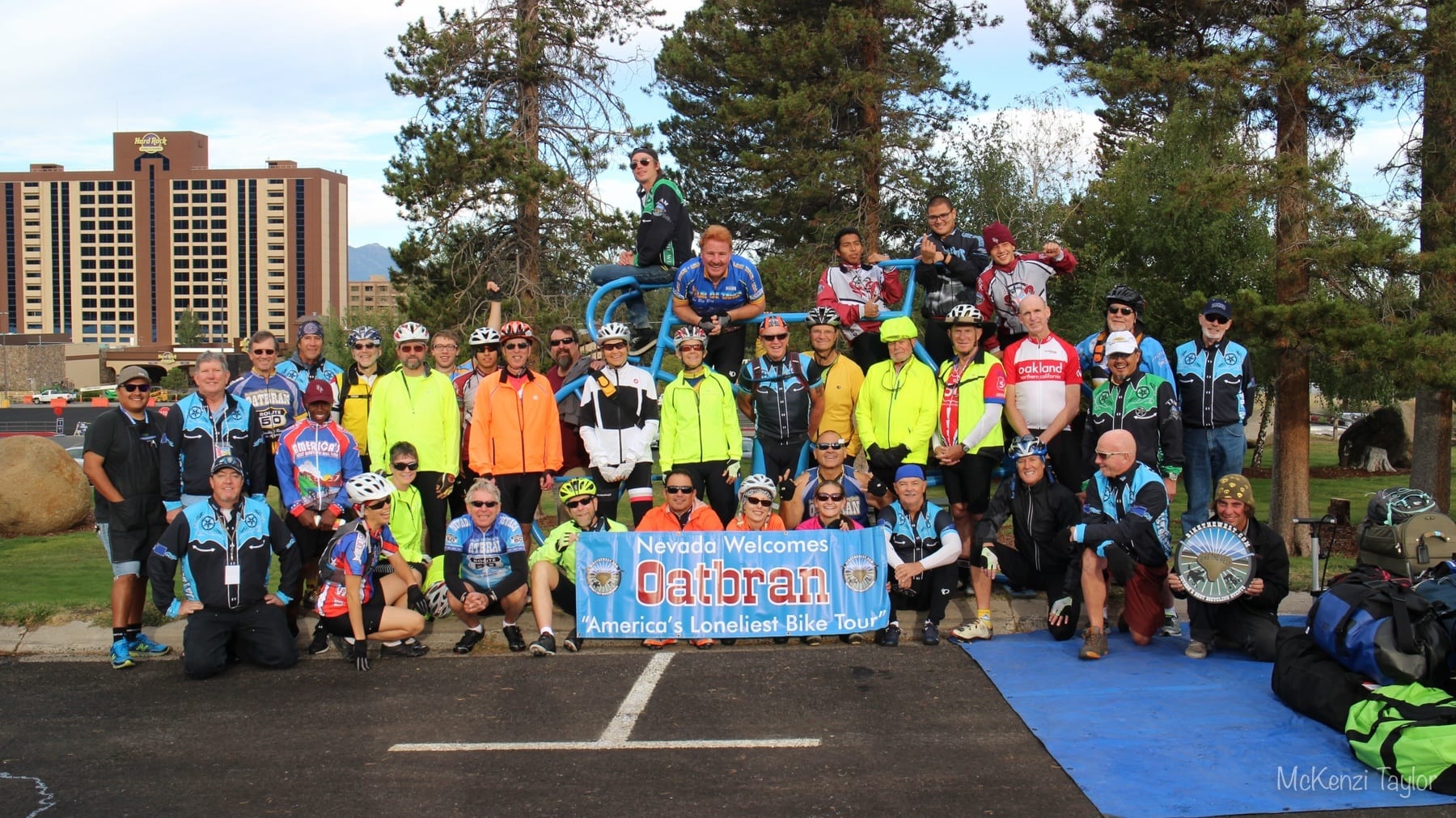 All the riders and Team Bike the West.
The riding was great, but I think more important was the experience that I had and the lessons I learned along the way. I learned how powerful my body is. I think we all forget to give ourselves credit, we are amazing beings and I honestly can't believe that I wasn't dying after the 2nd day on the tour, but after 2 days or so it just seemed natural to get back on the bike and continue on. I can't recall even being that sore. It's a reminder to me to continuing trying, even when it hurts.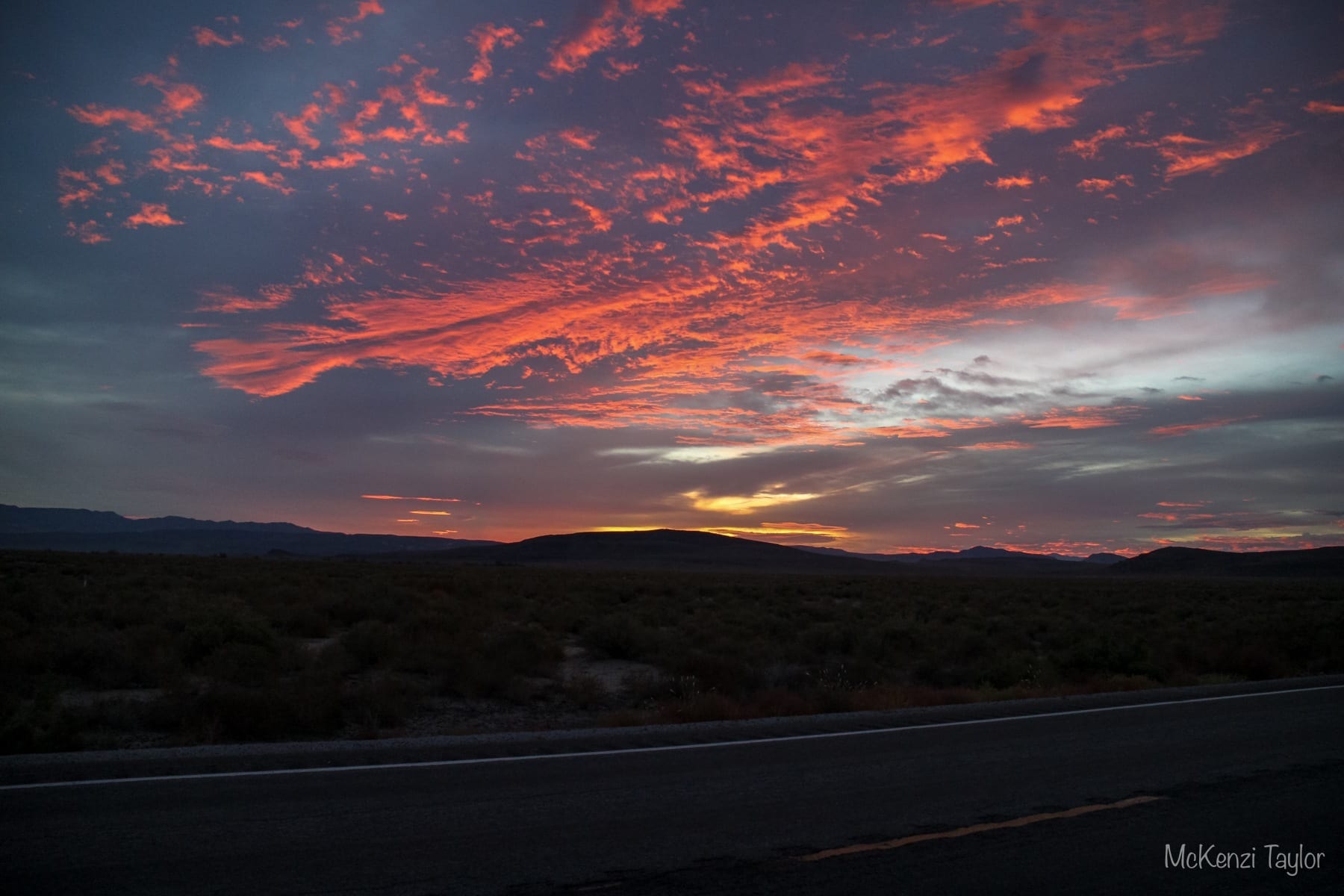 Nevada Sunrise.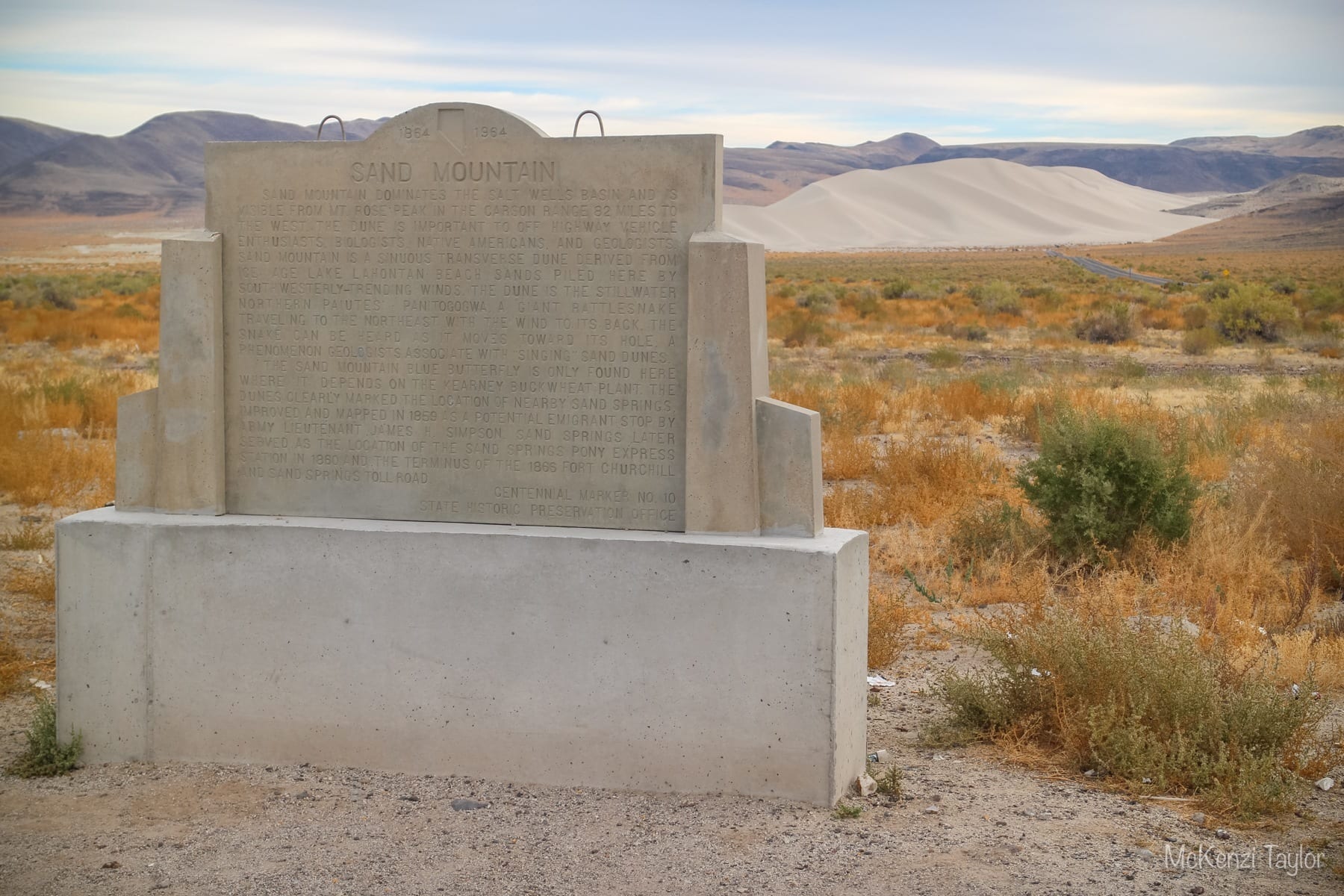 Nice Water Stop near Sand Mountain.
Another thing I was inspired by was the people. While, I didn't get to know many of them super well, I couldn't help but be amazed by all these people that were willing to gather in Tahoe on a Sunday to ride across the sparse state of Nevada. Most of the people were retired and several of them were repeat riders (which says boatloads about the Bike the West Team that promotes and supports the event). Even with that, I couldn't help but notice the age of the riders. Most of them were much older than I and it gave me so much inspiration. One man was 80 years old, for instance. We celebrated his birthday on the road and I can only hope that I have that much energy and motivation when I'm older.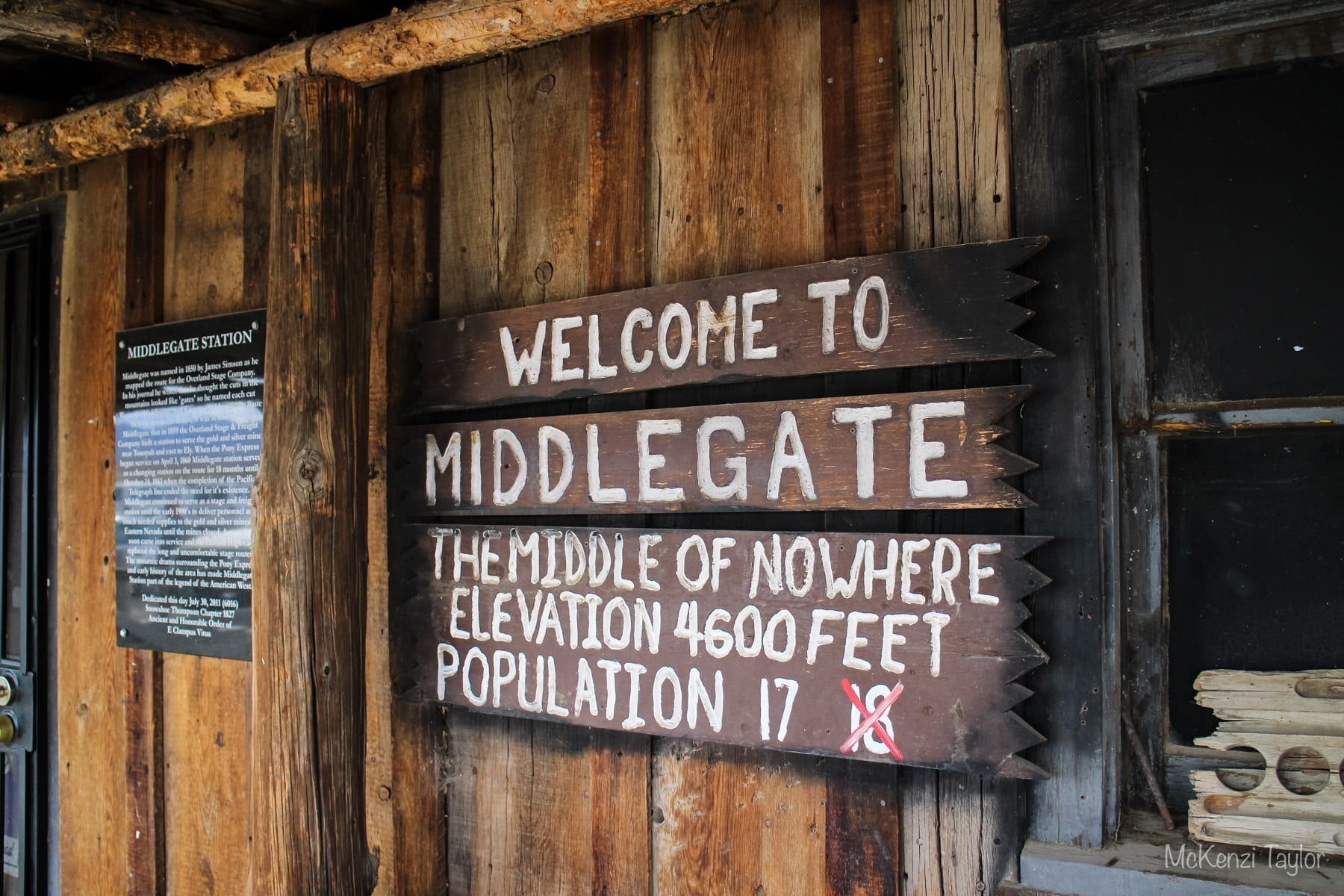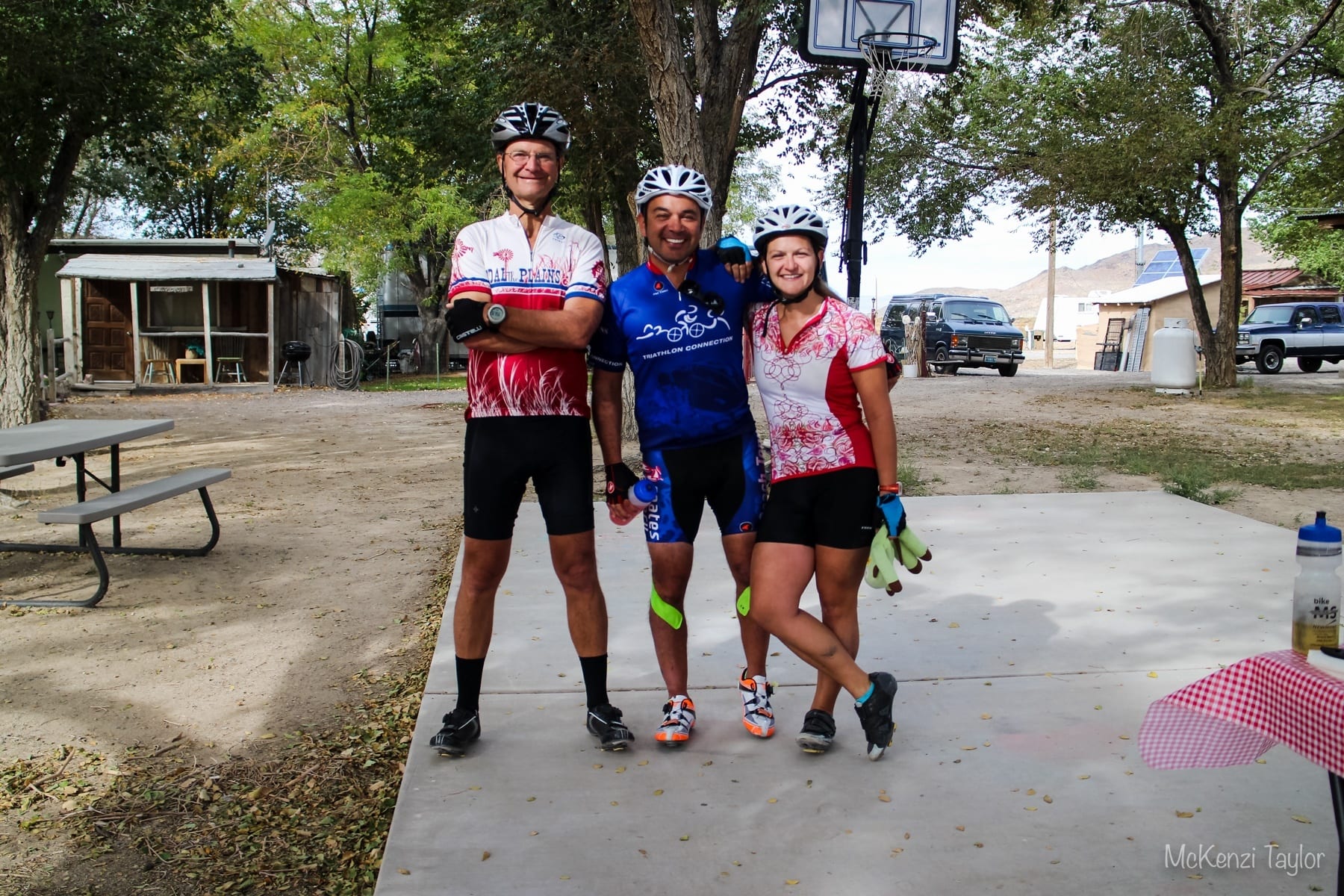 Mark, Erik, Me at the Middlegate Water Stop.
While most people tend to think the desert is a rather boring landscape, I couldn't help but be in awe every day with the landscape of Nevada. The small towns that we stopped in along the way also provided us with ample amusement as we would pull into our stop, shower and usually venture around until we found a bar and chatted with the "local folklore" as Erik says.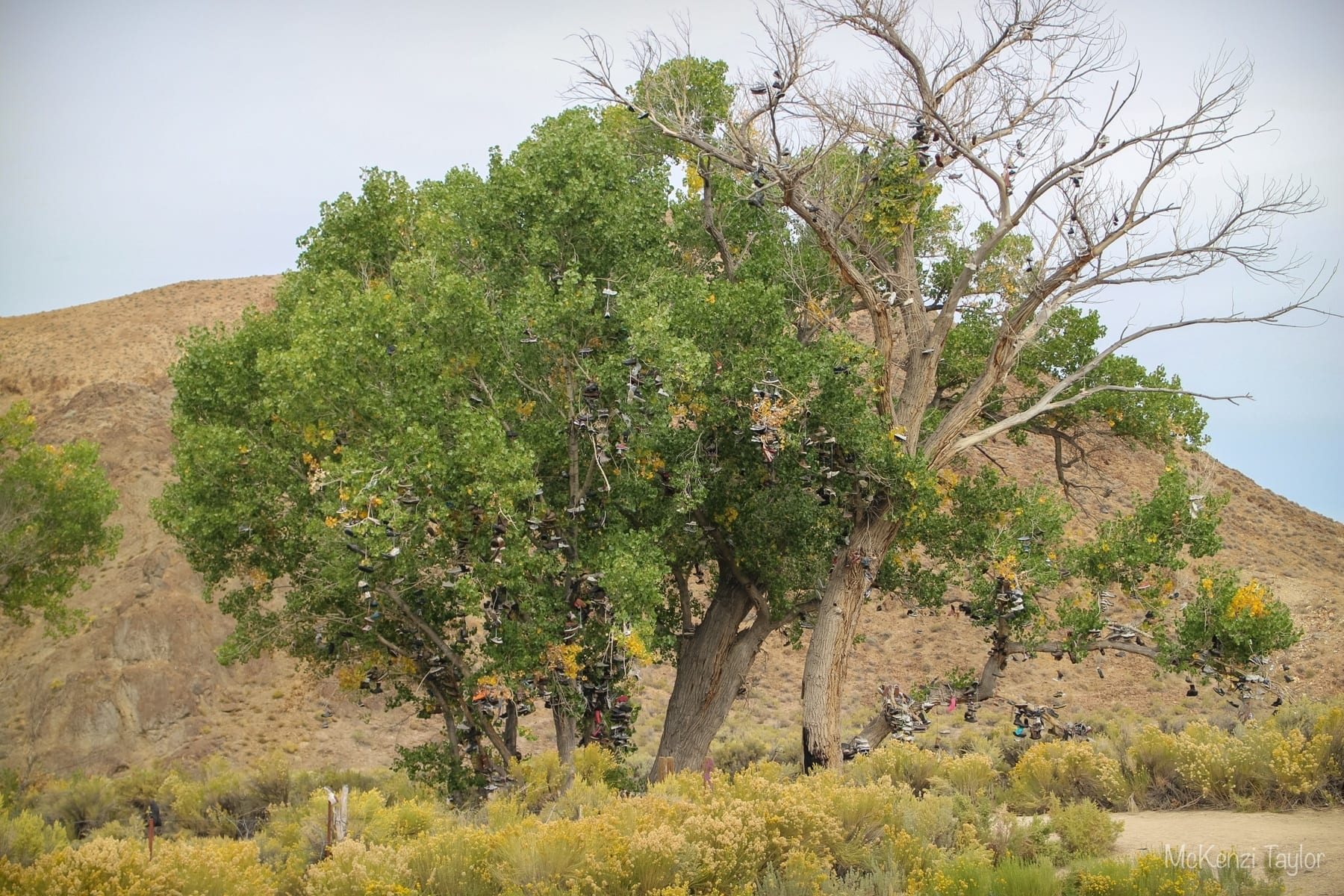 Famous "Shoe Tree"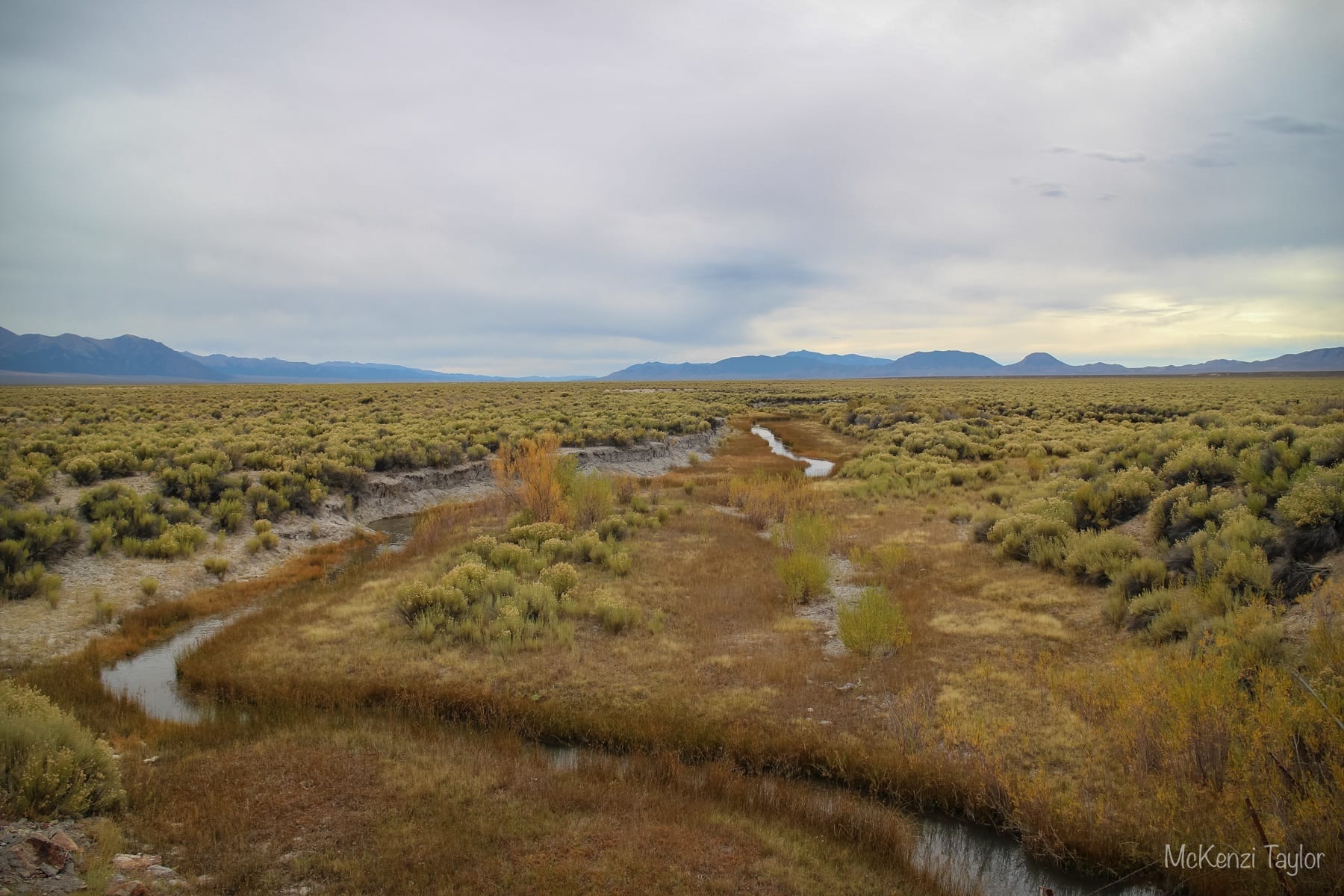 Nevada Landscape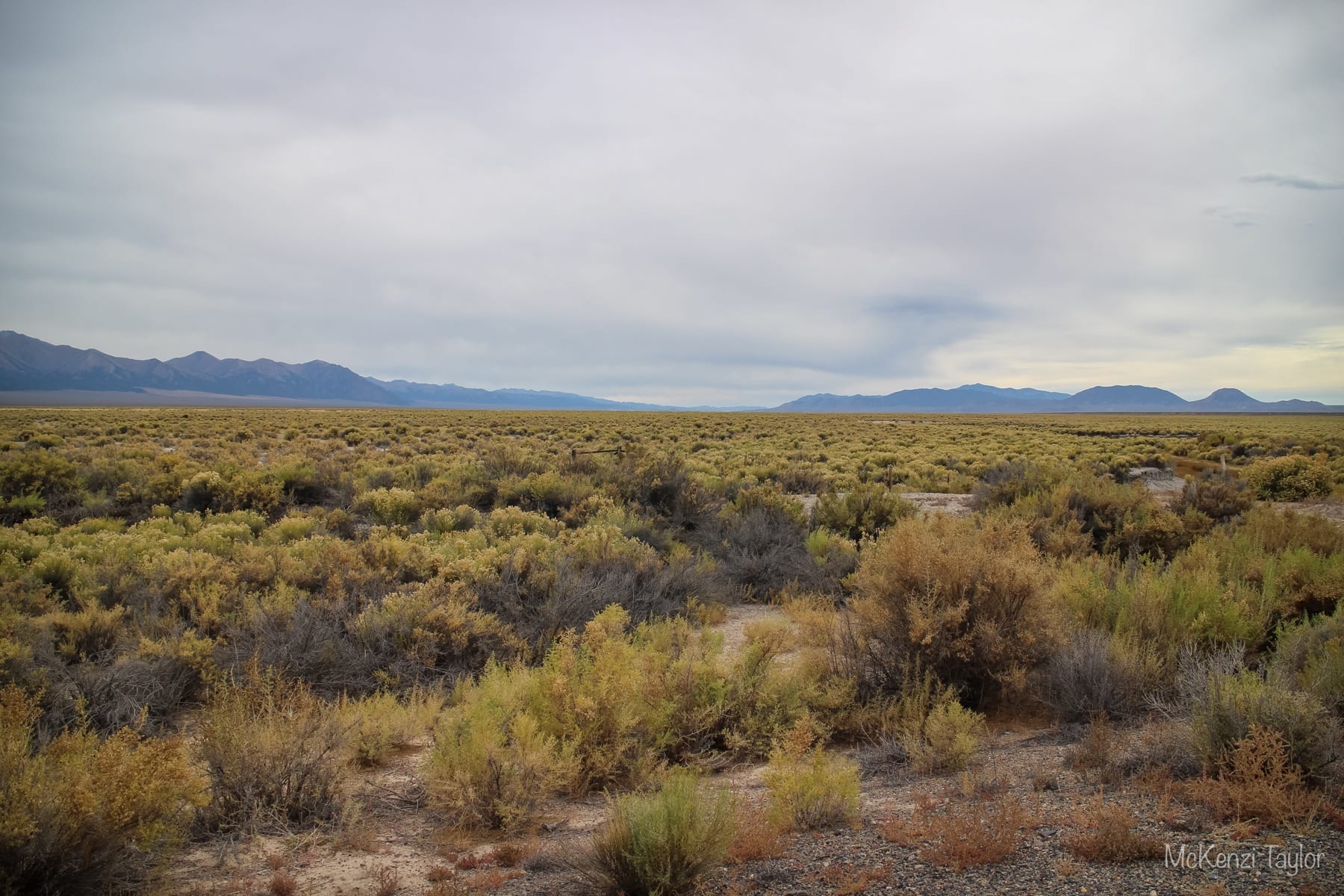 Nevada Landscape
I am trying to think about what I thought about for at least 6 hours a day as my legs went round and round and round… And I can't recall anything revolutionary. The best part of the ride for me was being present every single day, doing the task at hand — riding my bike. It was a nice break from the "stress" or the so called stress that we make. We were pretty remote and most of the stops had limited wifi connectivity and cell service, so there was nothing to worry about (for me anyway). I couldn't control very much and just had to let things be.
One thing that I will miss most about the week, which I also heard one of the rider's, Lois Ann say was the predictability of each day. Each day, we all knew exactly what we were in store for. It was easy. Get on your bike. Ride it across Nevada. What a refreshing thing… to just be told what to do.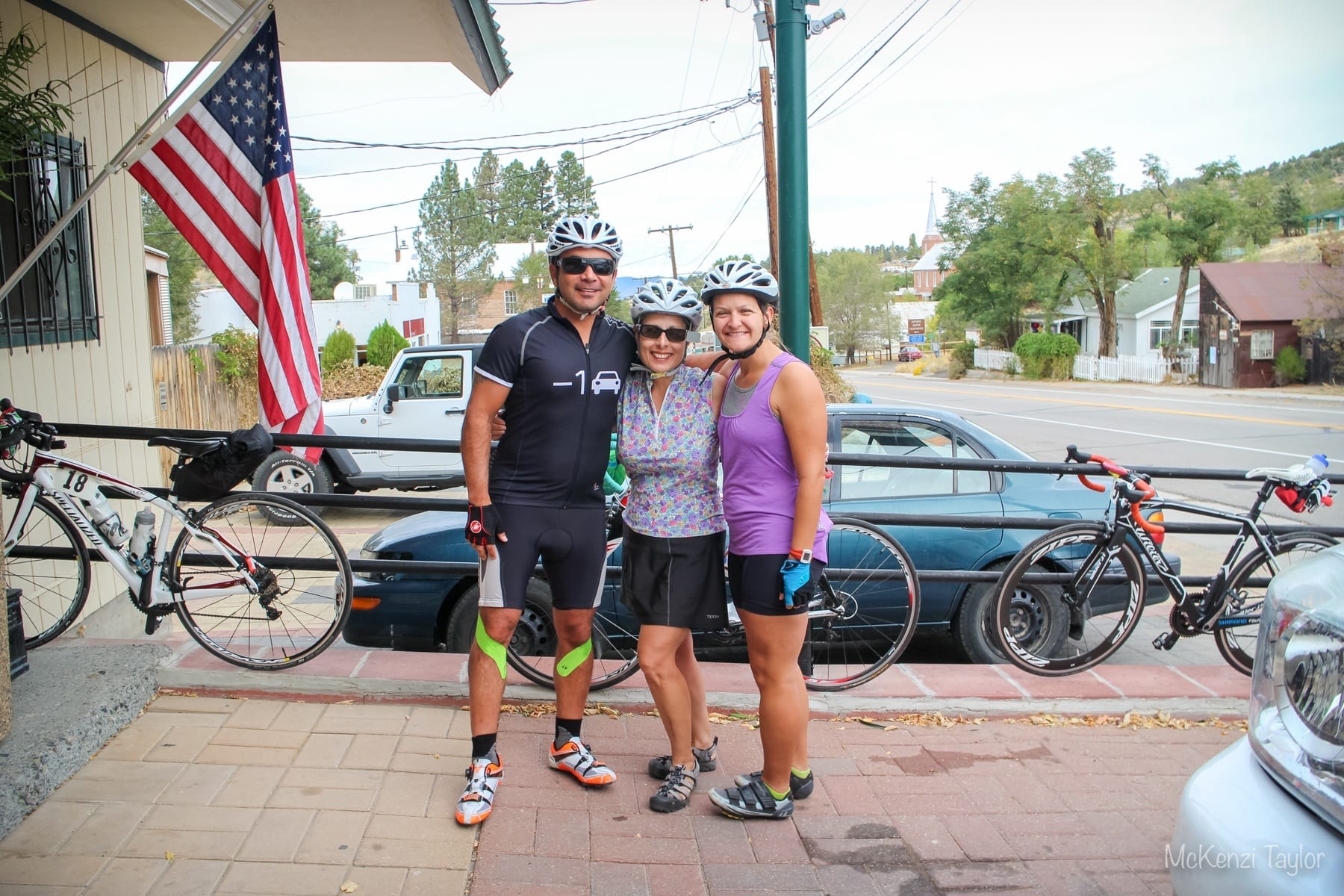 Erik, Virginia, Me outside Austin, NV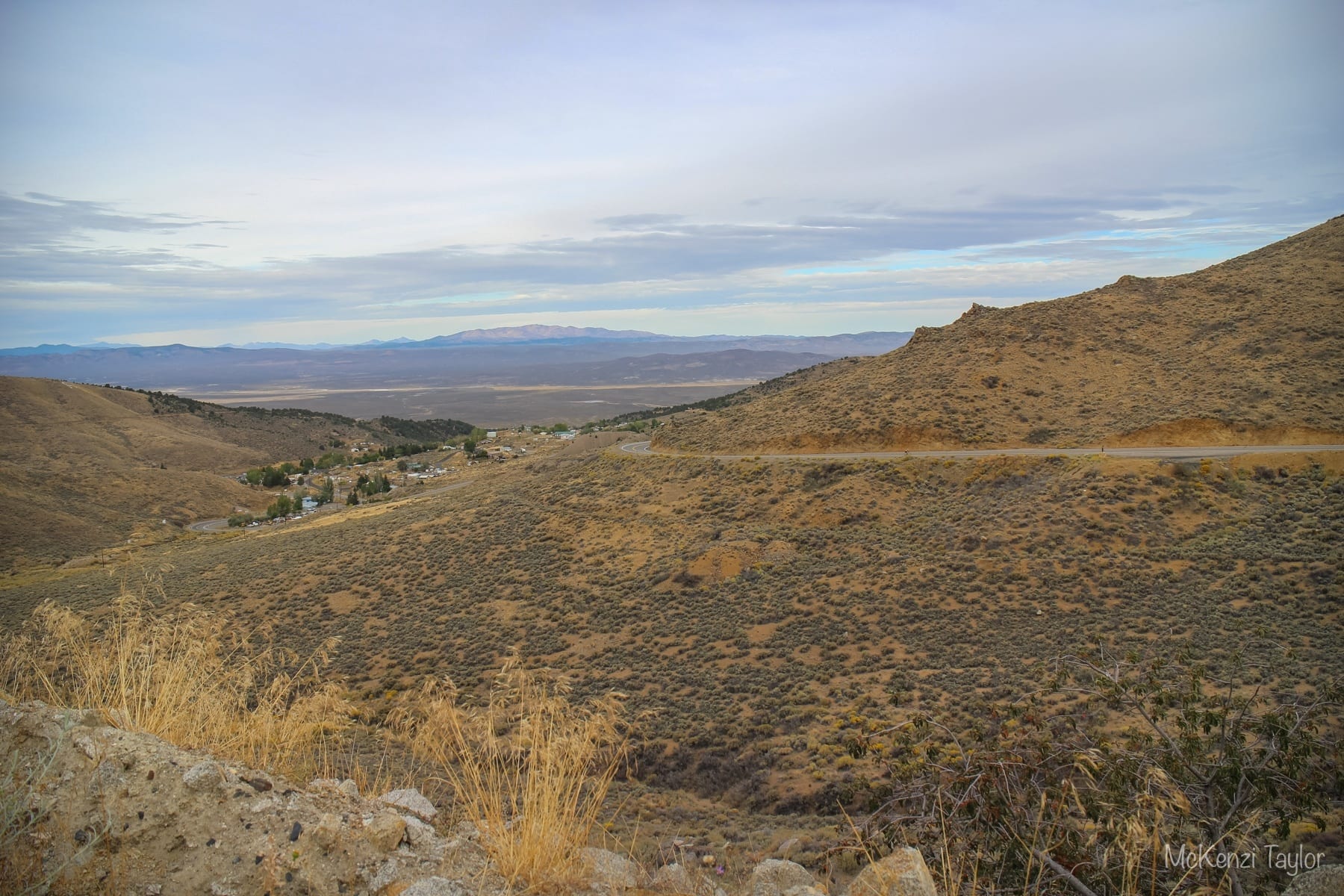 The Climb to get out of Austin.
I really want to thank the support team from Bike the West and the Bike Tech Calvin. Each day you prepped us with plenty of food, stories and smiles. You hauled my oversized and heavy bags to each stop. You even carried my now famed "butt'r" to lunch stops.
My roommate Virginia told me plenty of hilarious stories and we could relate about butt butter. I'm glad I got to hang with the Jersey lady living in Cheyenne, WY. She always had something to say and was totally along for the ride. Mark, the mine guy from Colorado pushed and pulled me patiently along the deserted highway and told us many stories of the mines and landscape along the way.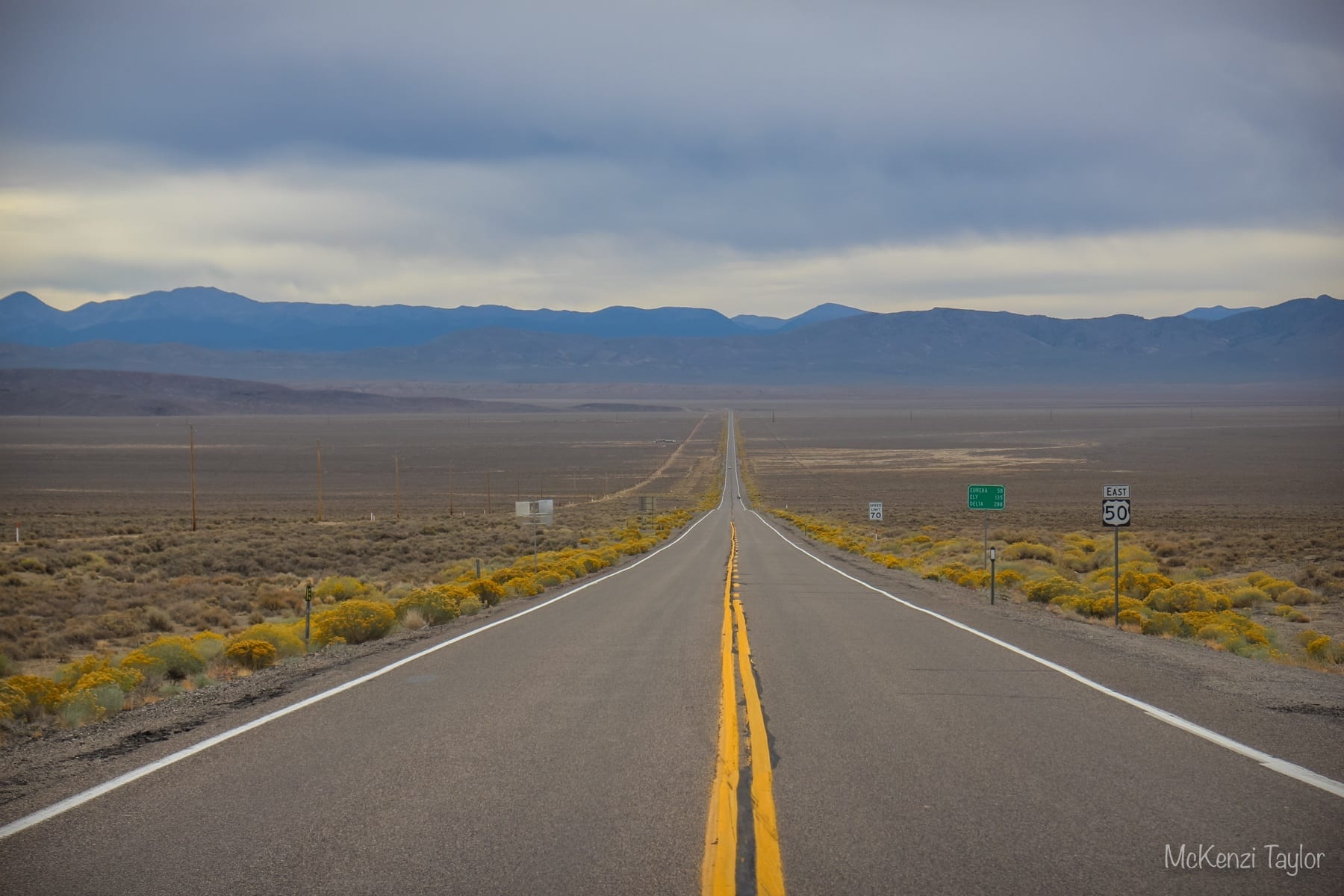 Highway 50. The Loneliest Highway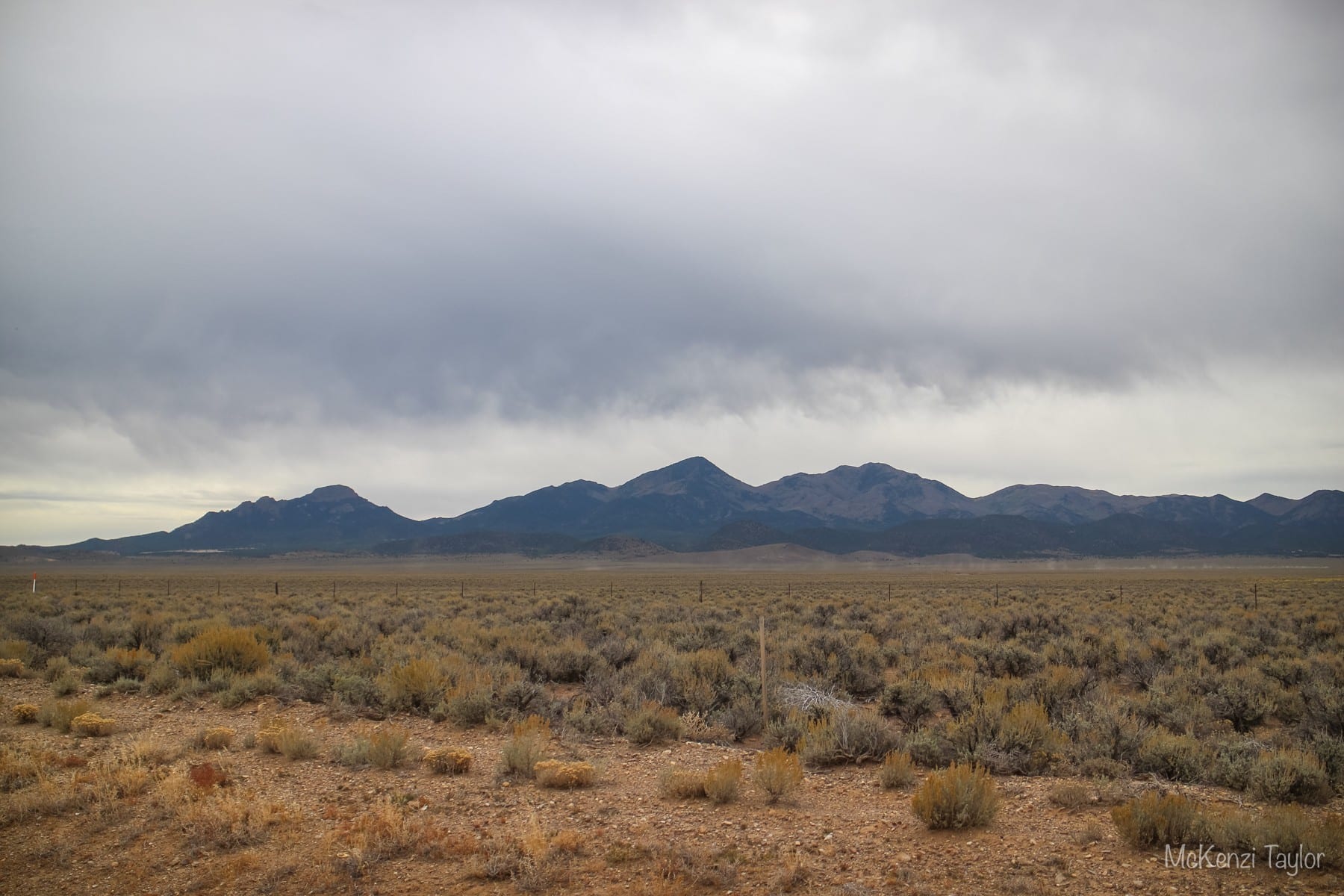 Perfect weather for us on the ride.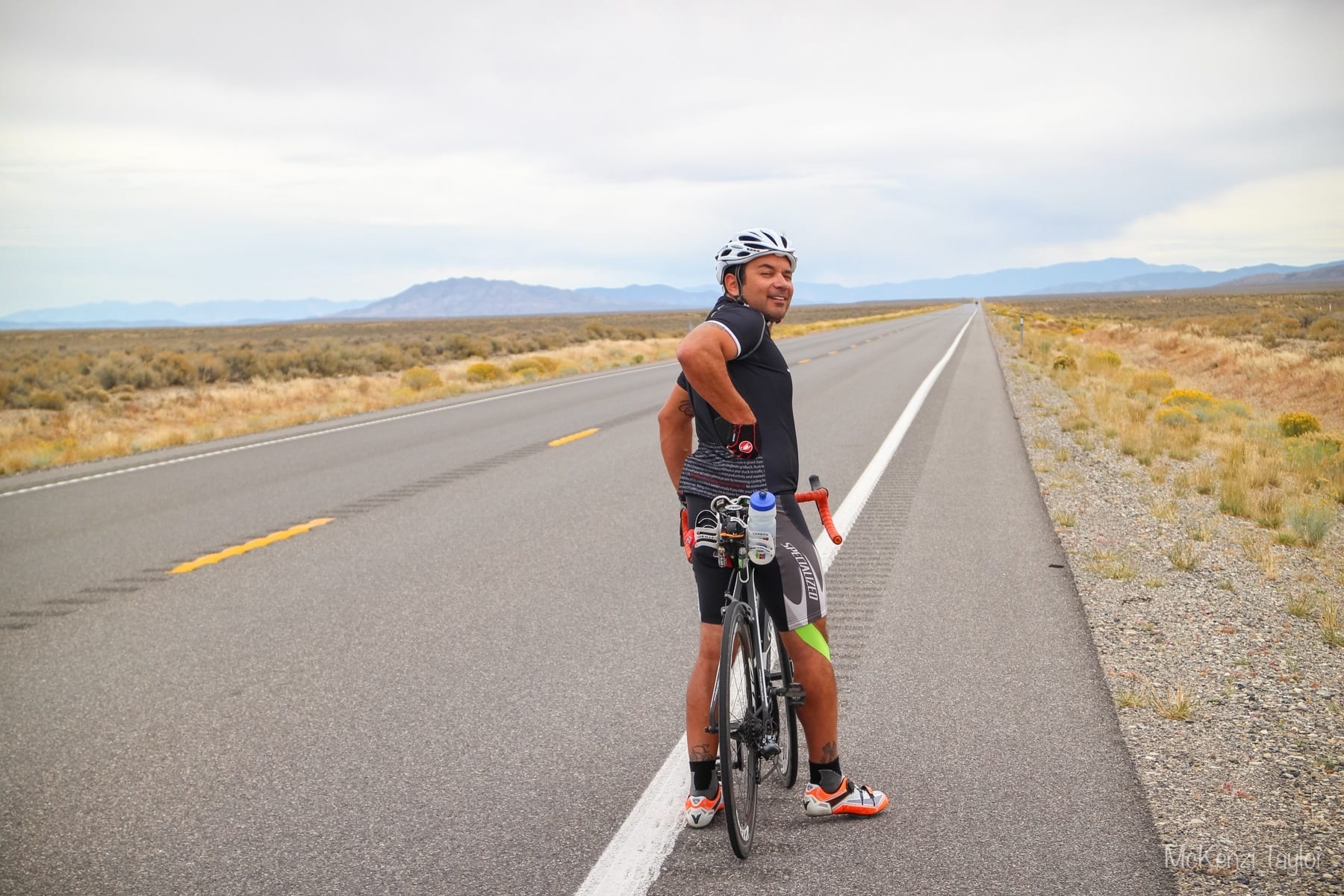 Riding Pal, Erik.
Especially want to thank my riding pals, Erik and Maria. These two are the reason I even knew about the ride. These two are really the reason, I even ride at all, actually. While, Maria wasn't able to make it on this ride, she was there in spirit as a jalapeno that I toted along and thought of her all along the way. Erik, pulled me, push me, encouraged me, laughed with me and drank with me. It was nice being a "wing girl" and i wouldn't have been as speedy or successful if I hadn't had a partner. I give him a lot of shit, but I hope he knows how much I appreciate his support!
Finally, thanks to Matthew… For one, he never even questioned why I wanted to do the ride in the first place. 🙂 Then, he drove to Baker, NV after the last day of the ride to pick me up, turn around and drive me back home the same day because I had a wedding to shoot the following day. It's nice to know I have such a great support team.
With that said, I have a full heart of experiences and amazing people in my life. Thanks, Universe.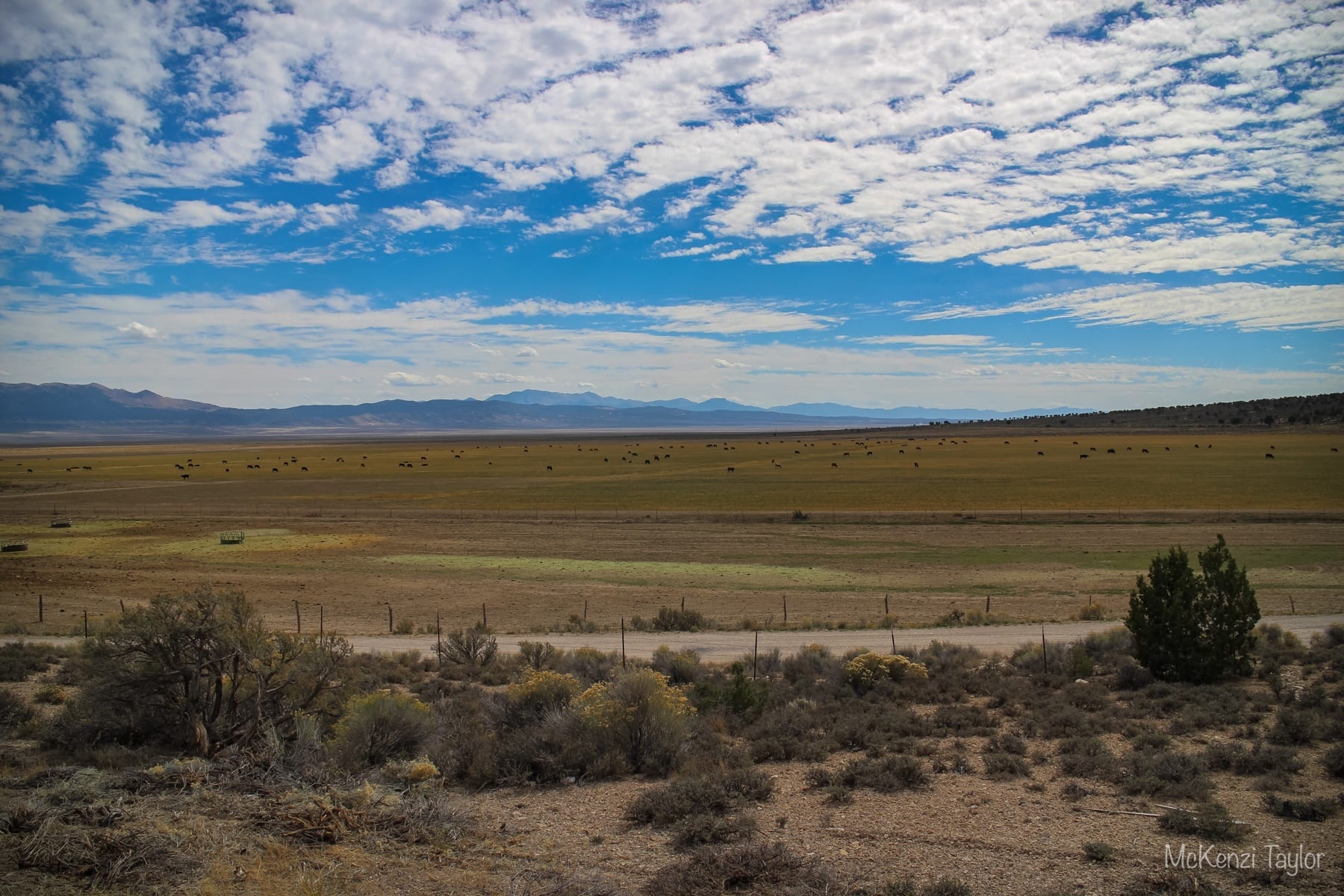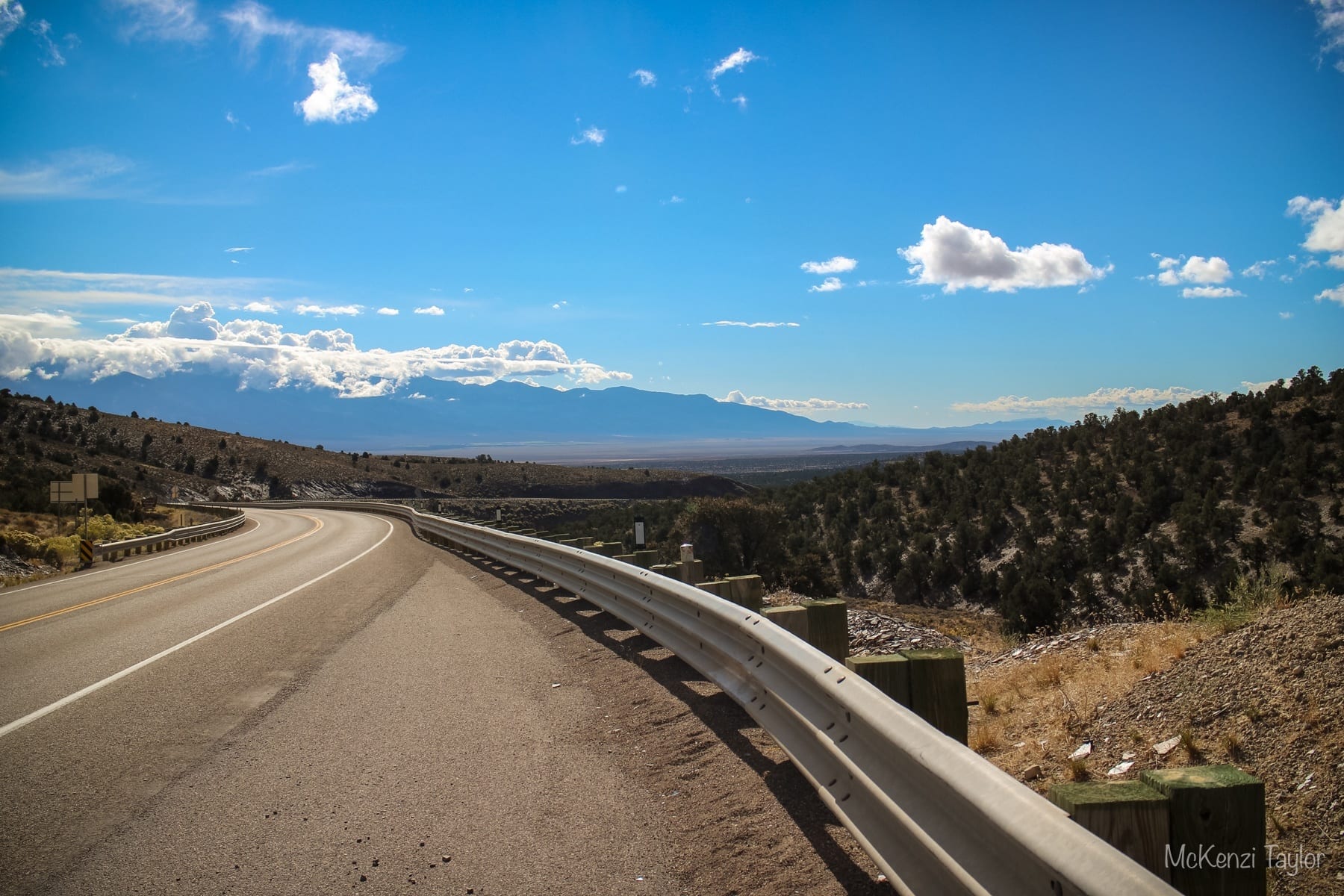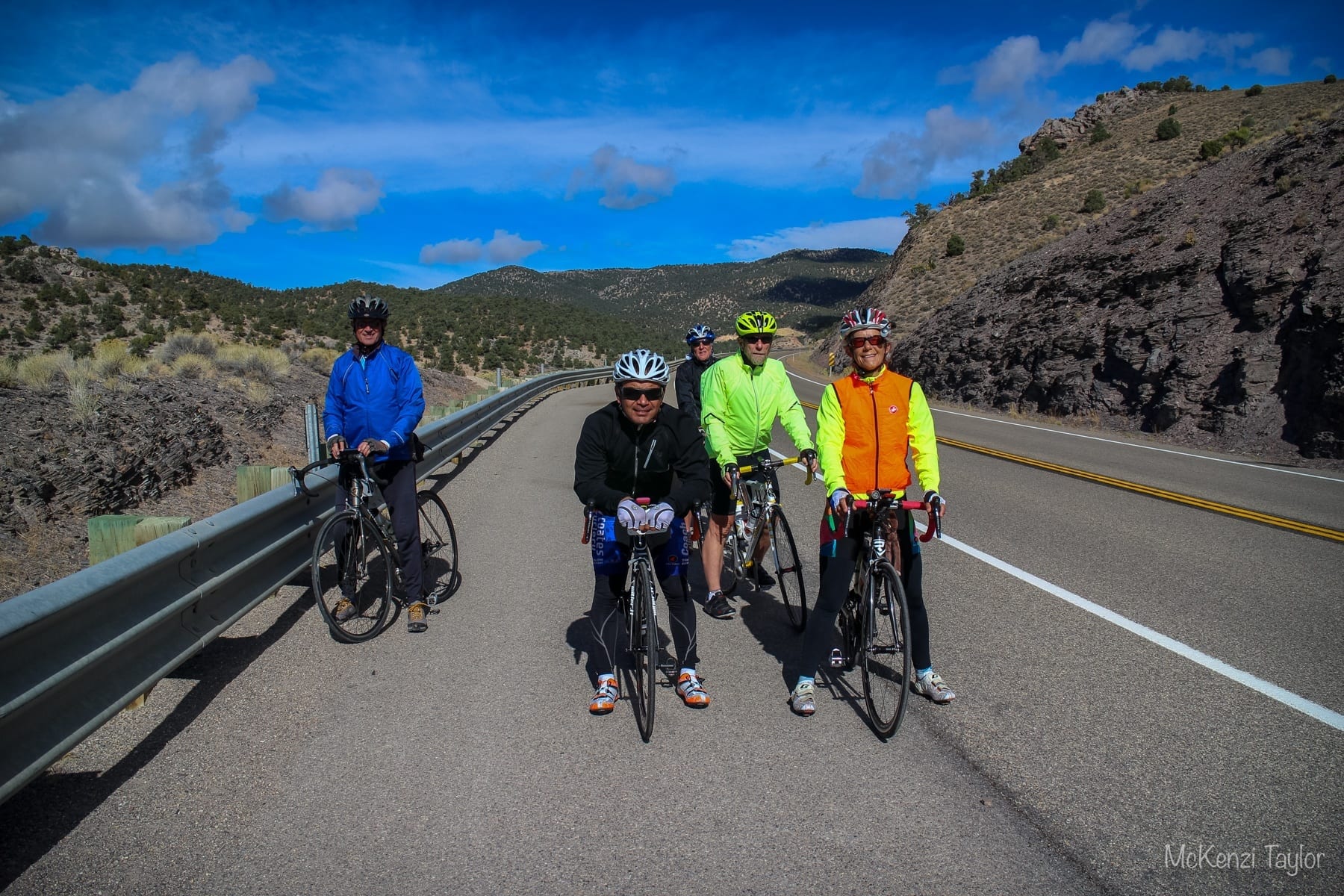 One of the most beautiful scenes. The last day on the road.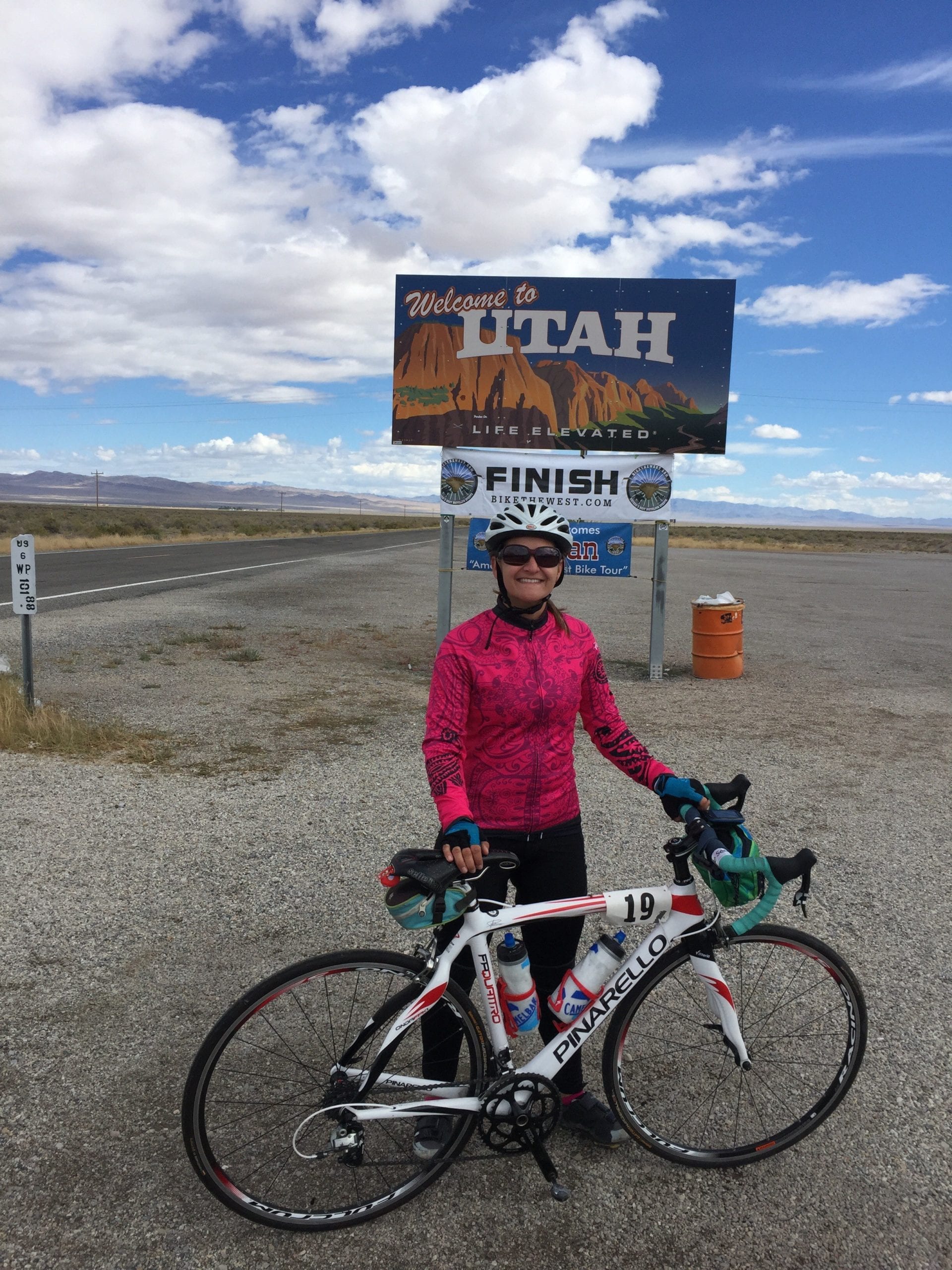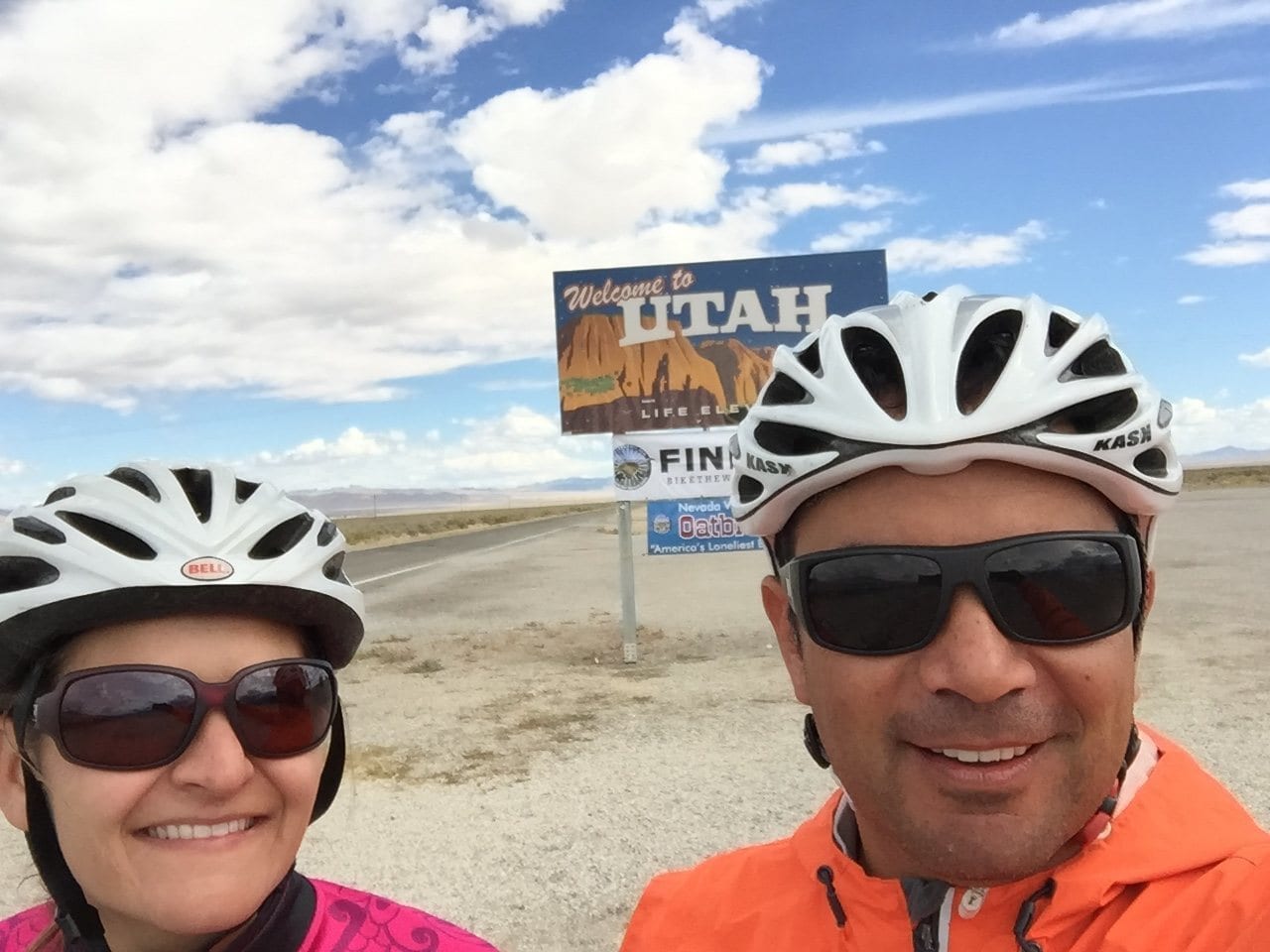 We made it!