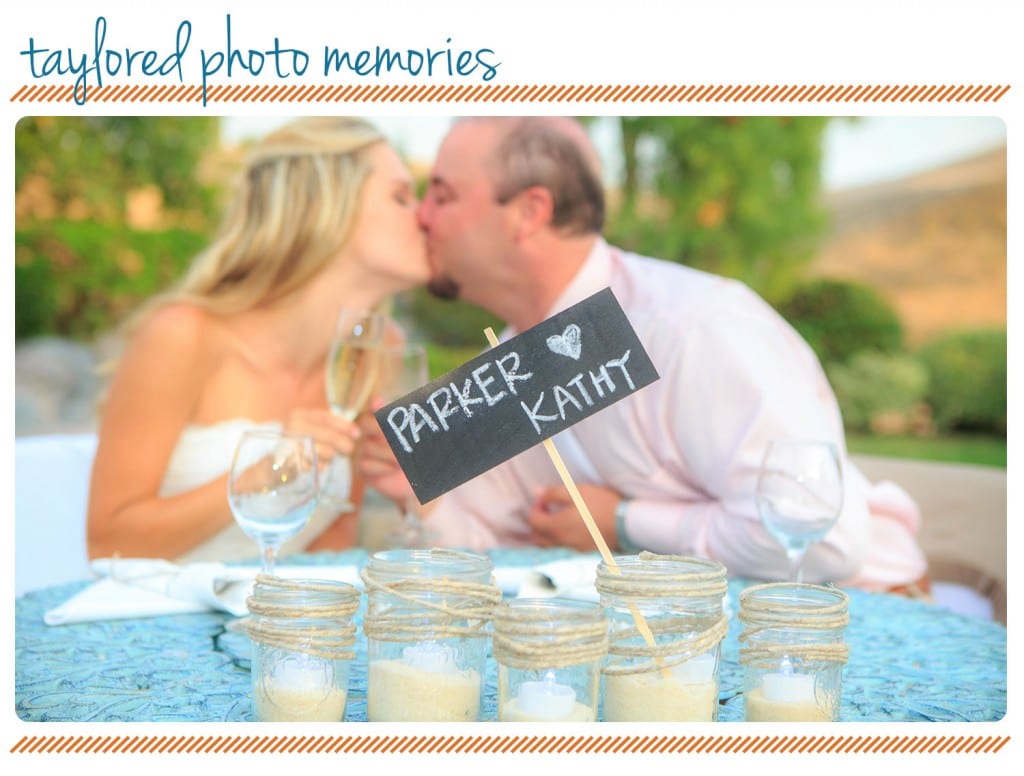 By McKenzi Taylor
Sometimes people assume a backyard wedding may fall short in certain details. That's hardly ever the case when I go to a backyard wedding in Orange County. This Five Star backyard wedding in San Juan Capistrano was gorgeous. Not a detail was missed, but it wasn't over done.
As a Las Vegas photographer, I photograph countless different style weddings. I can't say I have a favorite, because each one is a unique, beautiful wedding.  I am also fortunate that my profession allows me to travel to different destinations for weddings. Kathy and Parker's wedding took me to the beautiful state of California. This fun, down to earth couple chose a backyard wedding in California.
Kathy and Parker venue was his parents' home located in the hills of San Juan Capistrano. The backyard wedding theme was a rustic picnic with a formal twist to it. The DYI alter looked like something straight out of a western movie. Made out of strong oak wood, it stood majestically at the edge of a lagoon pool, with the San Juan California hills in the background. It looked like it had always stoo d there, and belonged there. The round dining tables with white formal linens and place settings where strategically placed around the back yard.  The guests would be dining and enjoying the wedding reception Al fresco with all the dining amenities of a 5 star restaurant. The BBQ style food provided and cooked by a family friend.
One of the most unique details of this wedding were the couple's personal salt and pepper shaker collection. I thought it was unique, fun and even humorous for their guests to see their collection of a variety of shakers!
Kathy and Parker met when she went to work for Parker's family business.  It was only natural that the wedding be a family affair as well. Kathy's mother-in-law and sister-in-law, helped set up the wedding.  Kathy took less than 2 hours to get ready on her wedding day.  She would not settle down and pamper herself on her day, until every last napkin and wine goblet were set.  When Kathy walked down to meet her groom at the alter no one would have believed she had not spent all day preparing for her wedding.
Kathy looked beautiful in a strapless wedding gown. Parker wore a tan suit, with a pink button up and a white tie matching the brides wedding gown.  The bridesmaids were dressed in different styles of pink dresses and the groomsmen were dressed in tan slacks with pink button ups. A family friend, Jaan Mannick officiated the wedding.
Kathy and Parker made it very easy to photograph their wedding. What more could I ask for,  I had a beautiful setting in the San Juan Capistrano, a beautiful couple and a loving group of family and friends to celebrate with!
VENDORS: