by McKenzi Taylor
I'm fairly certain that most of my bride's find wedding planning daunting enough without taking things up a notch and planning a wedding on an international scale. Planning an international wedding is definitely not for the faint of heart and even the most organized A-type personality will need some help. Take my recent wedding couple Deborah and Steeve for instance. Both are busy professionals living and working in Hong Kong and their dream was to have their wedding in Las Vegas. In addition to booking airfare and accommodations a lot of the wedding details had to be arranged from long distance. Personally, I can't even imagine planning an international wedding and booking a venue, flowers and photographer all based solely on online research. Thankfully, Deborah and Steeve didn't take that risk either and sought professional advice and assistance from local Las Vegas wedding planner Archel Rolwing. We spoke with the lovely owner of Archel Rolwing Events to find out more about what it takes to plan and pull off an international wedding in Las Vegas.
According to Archel constant communication is the key to planning an international wedding.  "There was a lot of email correspondence back and forth, which I told them (Deborah and Steeve) from the very beginning would be required for us to plan this. It did feel like I was bombarding them with emails at times, but without constant communication the planning would have come to a standstill." With Skype, email, and WhatsApp free international text messaging, Archel was able to constantly communicate with Deborah and Steeve. Thanks to modern technology they were able to collaborate and accomplish all of the same steps and goals that Archel covers with her local clients including booking a photographer, florist, and equipment/accessories.
Archel admits that having clients who are direct and know what they want helps her a ton. If a bride and groom, especially those planning an international wedding, have done some of their own research to figure out vendors and/or locations that appeal to them, she can in turn help narrow down the appropriate contacts to reach out to on their behalf. It may sound like common sense, but hiring someone with industry connections, and in this case local connections, can definitely help alleviate both the stress and risks of planning an international wedding.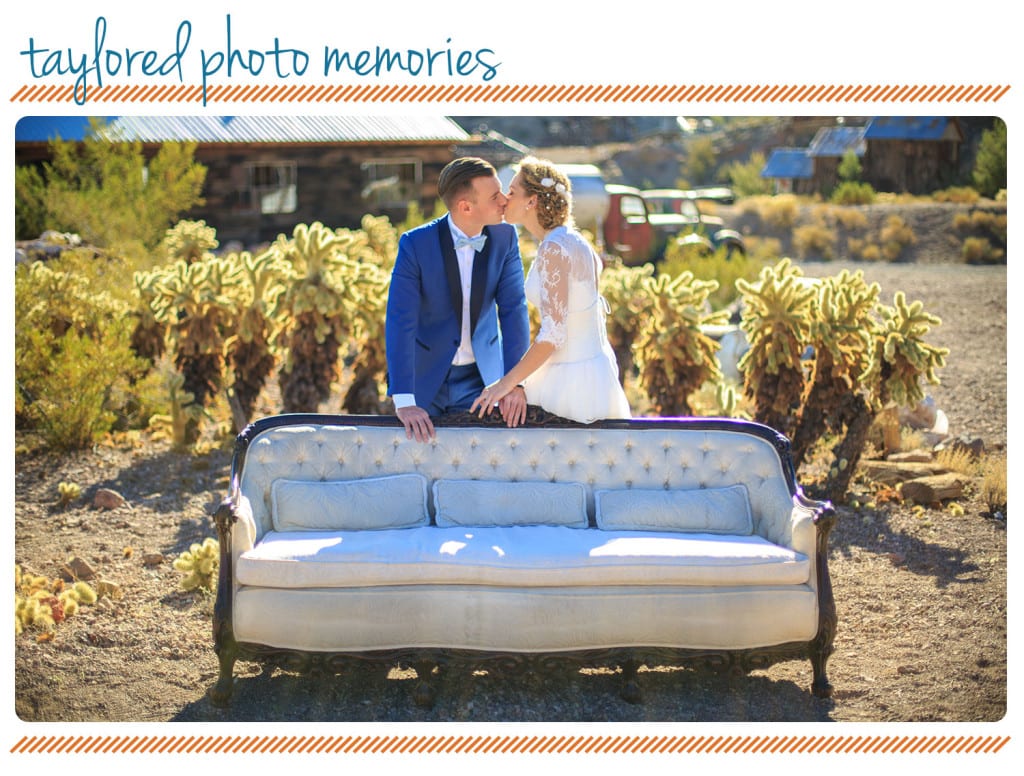 For instance, when Archel found out that Deborah and Steeve were interested in extensive photos but opted against having a professional photographer join them at the Grand Canyon, she suggested a desert photo shoot as an alternative. As part of the process Archel sent Deborah and Steeve some desert photo shoot inspiration images and a link to Nostalgia Resource's website, a respected vendor that she has worked with many times previously, for possible prop rentals. The results are the photos that you see below which were taken at iconic locations along the strip as well as in Eldorado Canyon. Archel even helped Deborah and Steeve book a selective list of dead celebrity impersonators to attend their wedding ceremony as guests. This was a key element to Deborah and Steeve for their big day and Archel's business and local connections made it possible.
Being one of those said connections, collaborating with Archel and Deborah and Steeve in order to capture this international wedding in Las Vegas was a blast! Archel Rolwing Events brought all of us together and I am thankful for the moments and memories that I was able to capture on behalf of this energetic international couple.