I was recently tasked with photographing my own family. Not just a few members, the entire family!
It was interesting because I have always wanted to take more photographs of my family, but I run into dilemmas with photography on occasion. For instance, when I'm with my family I don't feel like "working." While I love my job and I feel like I will continue my passion for it for a lifetime, it is still my job and sometimes I just want to kick back and relax. It's hard to constantly have a heavy DSLR slung around your neck waiting for all the special memories that take place. In an effort to simply enjoy myself without the label family photographer, I have started to just put my camera away and partake in the activities while they are happening instead of trying to always capture them!
In this case, however, I really was thrilled to do our family portraits because it was our first-ever Taylor family reunion. (Get it, that's why my business is named "Taylored"!?) The group was pretty big for me considering I spend a lot of my time photographing Las Vegas elopements which are generally small. We were also camping, so it was interesting to try to get everyone to "look" like they were in a family photo in such a casual environment. It was pretty fun, actually!
Here are a few tips on how to get a large group of people to cooperate and get the job done in a timely fashion; especially so you can enjoy the fun parts of being with your family or at a reunion function!
1. Set a time.
Because it was a family reunion weekend for us, it was sort of hard to know when to do the shoot because everyone was enjoying themselves in the lake, touring the Black Hills of South Dakota or rock climbing. We had to set a time to do the shoot in advance to let the family know what to wear and bring. Then, there were no surprises the day of the shoot. The time is non-negotiable and everyone needs to be there promptly.
2. Get organized.
Like any shoot, photographers usually have an idea of what they want to accomplish and do a few test shots. Don't skimp when you're your own family photographer. Set up a few shots with some of the kids running around to make sure lighting is perfect. When the time comes for all the other images, it will happen seamlessly.
3. Command attention/respect.
When we are the photographer and the sister, daughter, niece, granddaughter, cousin… it seems like we have so many roles. But in a situation like this, you really are the photographer first. Don't be bossy (my brother tells me I'm bossy all the time), but make sure people know this is what you do and you're good at it. Once the shoot is done, the fun can begin. I don't want to make this sound harsh, but sometimes we are too lax with our family!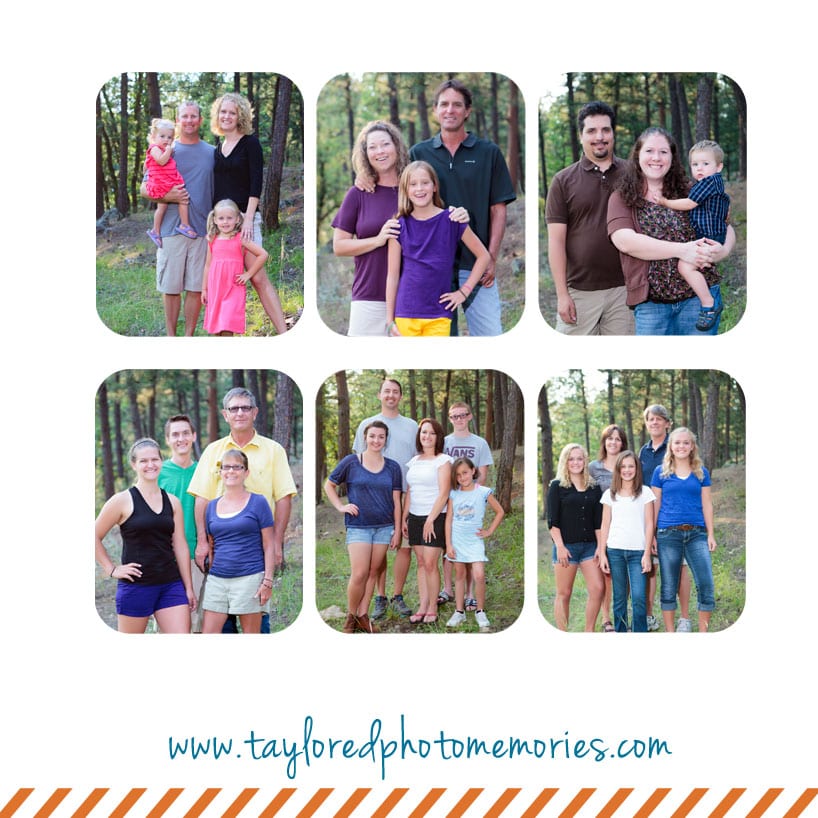 4. Get 'em in, Get 'em out.
Because this was a vacation for me, I was concerned with getting the photographs done in a timely manner so I could enjoy the company of the entire group. The good thing about photographing your own family is that you know their names (unlike many weddings). Have them line up when you figure out your desired location and make sure they are all ready to go when you need them.
5. Get a remote or wireless receiver
You need to figure out a way to get in the photos as well since it's your family photo!
6. Smile.
Don't forget to smile. Inevitably, because it's your family photo you are going to have to be in a few.
7. Relax.
Once the photos are through, just take the time to enjoy your family! That's what you are there for after all. I know it's hard to put away the camera once it's out, but sometimes the memories we remember are sweeter than the photographs we take. Plus, the more photos you take, the more you have to edit and your family will want a turn-around time you promise your "normal" clients. Have fun and happy shooting, family photographer!