Wanted: An urban, hip, and trendy spot to host a wedding to remember
Found! The Neon Museum

Las Vegas is an urban city with an urban vibe if there ever was one. For that quintessential urban couple, or for the one that appreciates the vibe and wants a piece of historic Vegas added to their ceremony and reception, The Neon Museum will provide just that. Perfect for locals who may remember the neon lights of old or for out of towners who want to experience the heritage that the "boneyard" provide, the museum is ideal.
Covering two acres and made up of over 150 historic signs, dating from recent to as far back as the 1930's, you'll get a close-up view of a collection of business, motel, and casino signs. Here, not only will you have the lights of the vibrant, pulsing city, but the lighting of some of the vintage signs, indicative of classic Vegas, to light up your one of a kind day. This venue creates a modern, funky feel that is comparable to no other setting in town.
With different options available, you can build your own wedding package and make it especially yours. Depending on the size of your party, the Neon Boneyard North Gallery or the larger Neon Boneyard Park are both incredible options. Or make it grand in the outdoor event area on the Main Boulevard.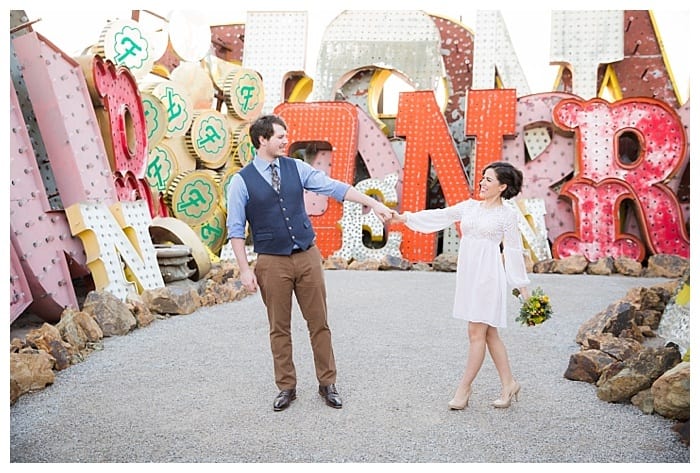 For a smaller, more economical option, The Neon Boneyard will provide all of the excitement at a fraction of the space and cost, creating a perfect space for the more intimate affair. Able to accommodate 50+ people, for up to 8 hours, this space will still provide all the space needed for family and friends. And as a treat, a private tour of the Main Boulevard is available to you and your guests as an option.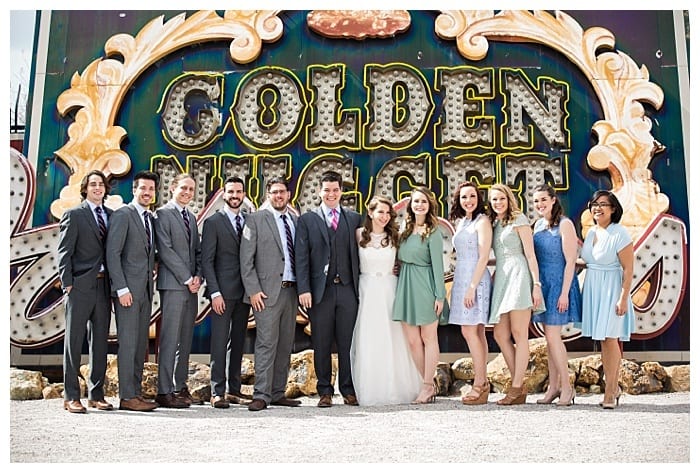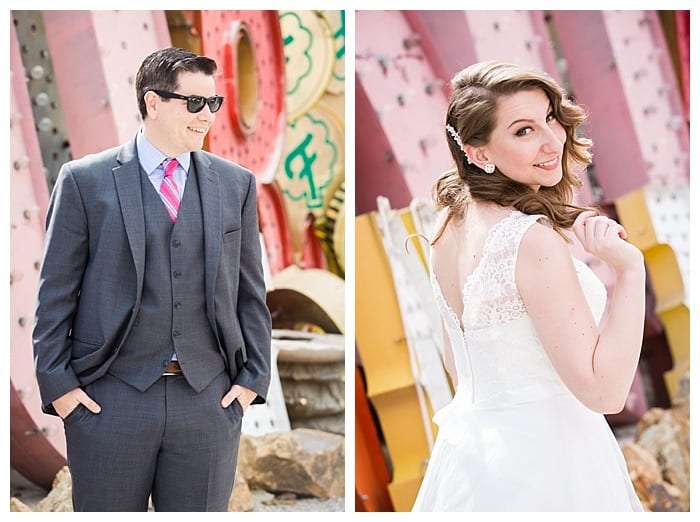 The Neon Boneyard North Gallery is an option that will give you access to historic signs, of which will provide perfect backdrops for photos that will capture memories made for years to come. This gallery can accommodate parties of up to 200 people and for up to 4 hours. However, keep in mind when planning for your event that there is no electricity in this part of the museum. Also keep in mind that this area, as fantastic a venue as it is, does not have restrooms on site, nor any restored signs.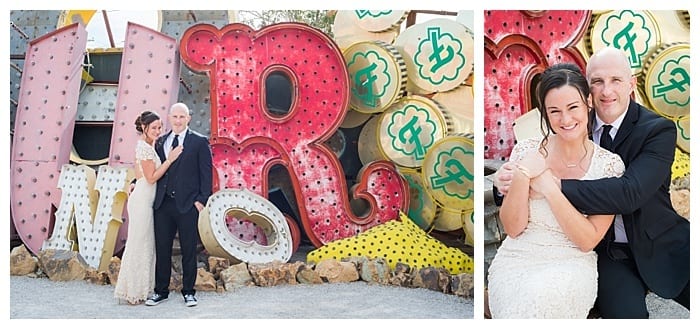 A 30-minute photo shoot in The North Gallery can be added to either of the above-mentioned packages for an additional cost, with a bottle of wine and complimentary treat included.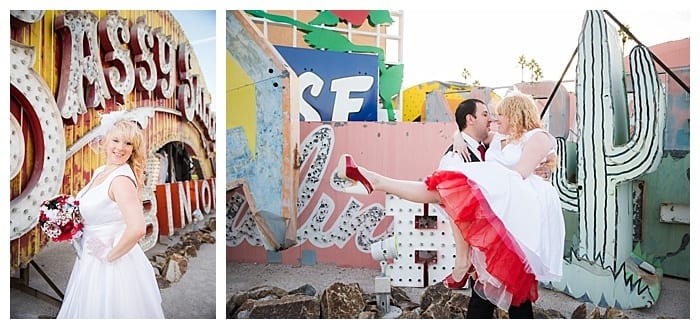 Finally, the outdoor event area is a great choice if planning to host a party of up to 400 or more. This epic venue comes equipped with restroom access, power, and four restored signs. Also in this area are countless other authentically, vintage signs that represent Vegas as it was and still is today. Here, the charm and history of Vegas can be enjoyed and appreciated by all of your family and friends. As an added bonus, for an additional cost, you have the option to allow your party, up to 400 people, a private tour of all that the Boneyard has to offer. During this tour, your guests can enjoy the sights and ambiance while also enjoying food, drink, and each other.
When:
With any outdoor location in Vegas, there are optimal times that make some venues more comfortable, and therefore more popular. With this favored hot spot, those peak times are March-May and September-November. Although the museum is open and available year-round, you'll likely get the best weather during these months. Therefore, because of demand, the cost associated with your customizable package may be a bit more that during other months. If a summer or winter wedding is what you prefer, plan on possible temperatures in the 40's or 50's and low 100's respectively.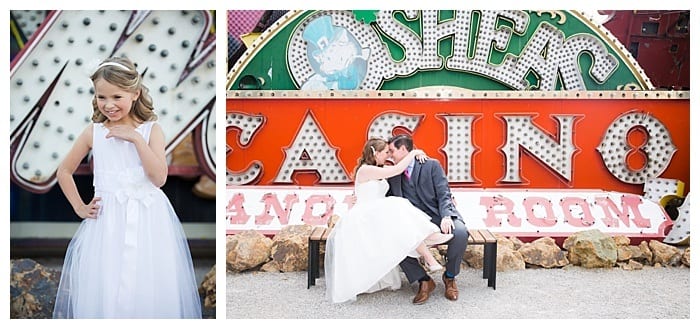 To Eat:
Provided conveniently for you, The Neon Museum will provide several options of exclusive caterers that you may choose from, including,
Beverage and light food service are available through Events with a Twist. If planning an event at any of the spaces, not including The Neon Boneyard Park, food and beverage service is required and may only include that from one of the aforementioned catering companies.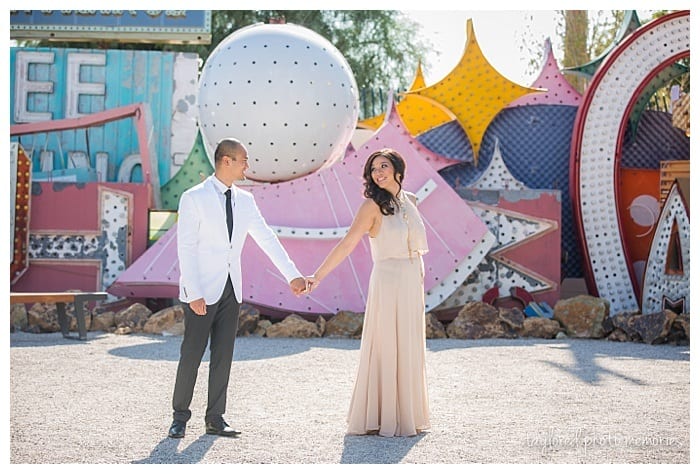 In addition:
An event at The Neon Museum will include everything that you could possibly need. Some elements are included in the main cost of the event, while others must be added on, such as security and valet parking, and restroom rentals for the Neon Boneyard Park and North Gallery.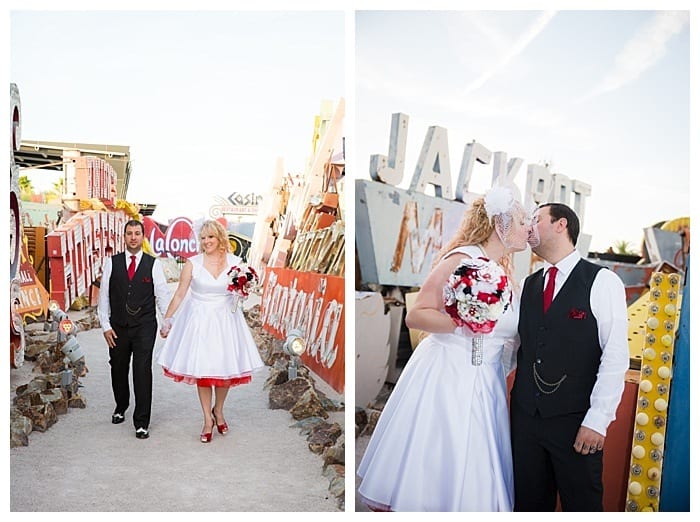 And finally:
It is the goal of everyone involved to make this day and the days leading up to, a stress-free and exciting day. All aspects that make up The Neon Museum's wedding options will allow you to take a breath and enjoy.
For any additional questions, please contact us and we will be glad to get you answers. In addition, you for questions specific to wedding package options at The Neon Museum, you may contact either Ian Zeitzer or Lauren Argier at 702-387-6366.