Las Vegas is truly the entertainment capital of the world with nightlife, The Strip, pool parties and gambling fun. However, what many don't realize is that Vegas is also home to some of the most incredible street art. Located in the downtown area amongst the city's hustle and bustle are several Las Vegas murals that have created a name for themselves. These murals represent the true soul of Vegas, and pay homage to the people who visit and those who call Vegas home; the dynamic and unafraid, the creative and imaginative! Not only are these Las Vegas murals a fantastic way to experience local art, they also make great backdrops for everything from unique engagement photos, corporate and not so corporate headshots, and a wonderful way to commemorate your Las Vegas wedding!
Here are a few favorite murals chosen for the story they tell as well as their visual beauty. Hopefully you will become inspired to go take a closer look in person, nothing can compare to the real thing!
*We will do our best to keep this guide active and updated. If you find out a mural is no longer there and has been repainted by another artist, please let us know in the comments and we will update it!*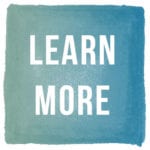 7Th Street Area Downtown Las Vegas Murals
D*Face : 

skeletal

Felipe Pantone's 3D mural

Dulk's

2016 Life is Beautiful mural

"The Cycle of Civilization" by Zio Ziegler
Ana Maria Ortiz is "Full Moon"
Chor Boogie's "Love is a Gamble…Jackpot!!!"
Bicicleta Sem Freio
Edgar "Saner" Flores'
Ana Maria Ortiz is "Scratch and Win"
"Maser Motel"
Apexer
Lakwena's "Ever After"
Alexis Diaz
"Love Forever"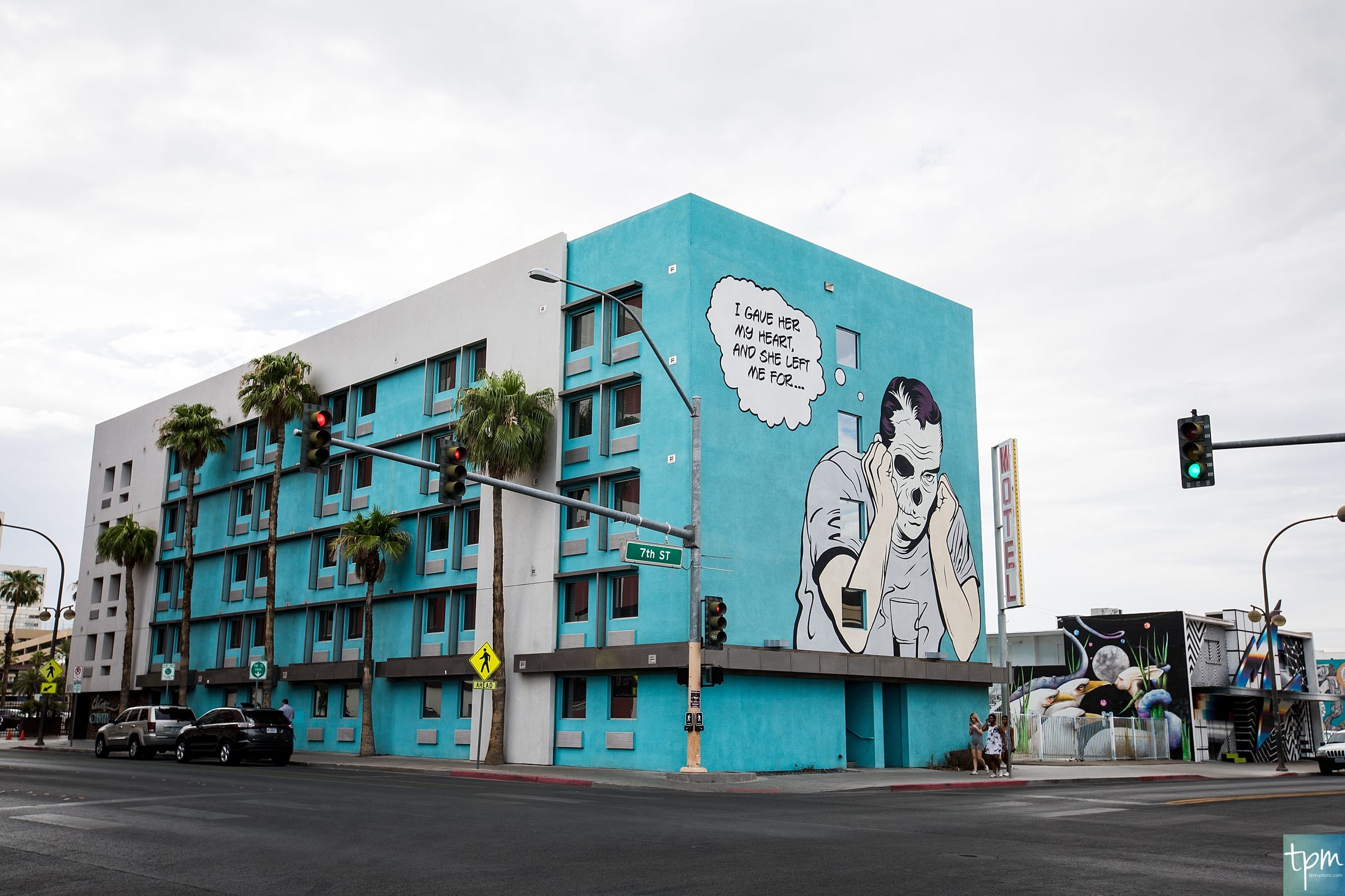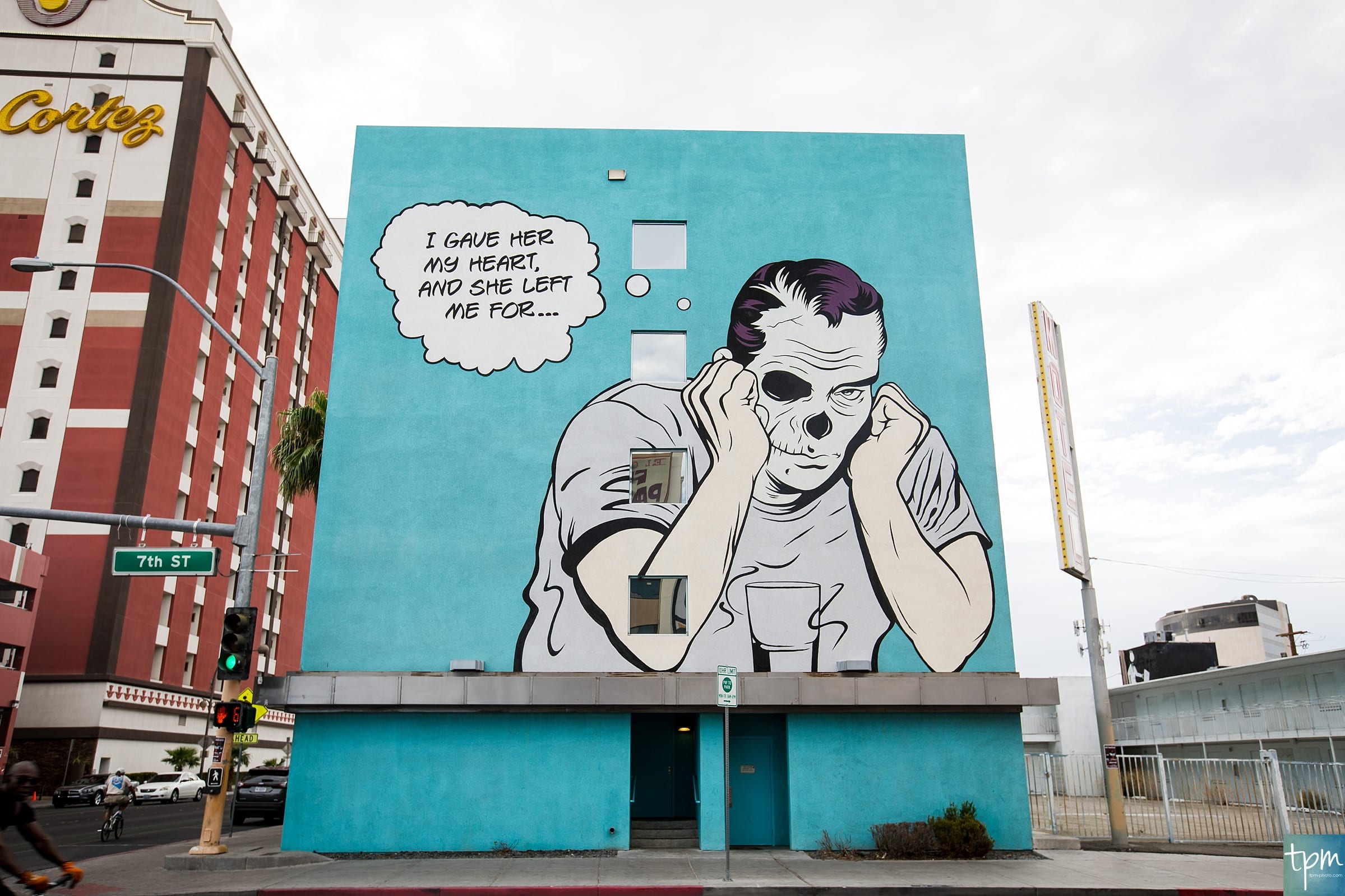 Mural by D*Face – 7th St. and Ogden Ave. This modern and unique mural was originally painted for the 2013 Life is Beautiful festival. The half skeletal looking man sitting in despair with a drink in front of him, very obviously in despair with the thought bubble reading "I gave her my heart and she left me for…" plays to everyone who has ever been in pain over losing their love to another. It's sad and dark but also intriguing and relatable. Located just about 5 minutes from the Neon Museum, this mural makes for great photos. However, because of it being high off the ground, the detail would not be captured great in close-ups. Far-away shots, though, would be incredible.
Recommended for: Corporate Headshot Photography, Wedding Photography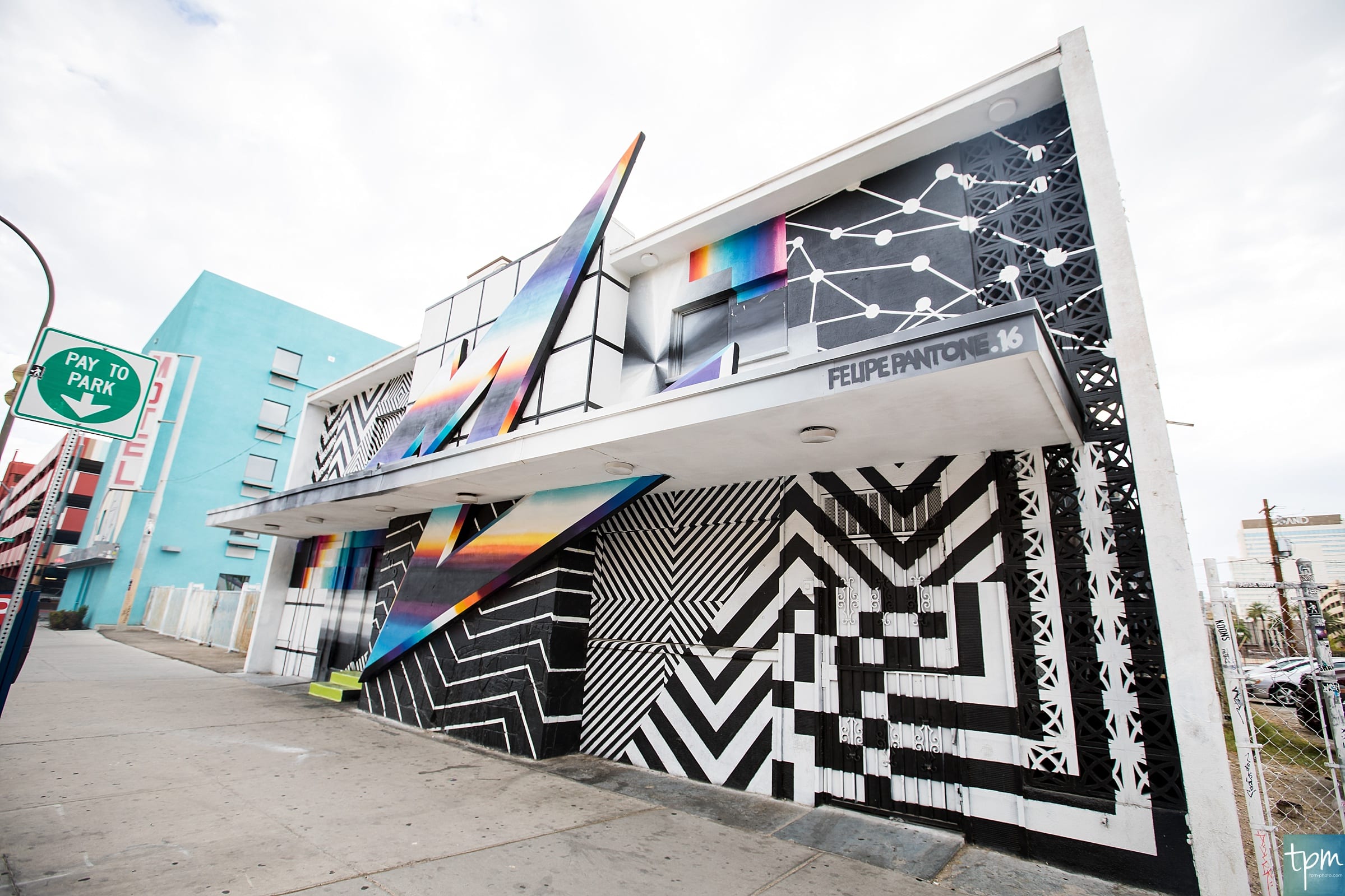 3D Mural by Felipe Pantone – 7th St. and Ogden Ave. Created for Life is Beautiful 2016, this piece exhibit's Pantone's original, contemporary style. The combination of geometric shapes and bright monochromatic colors make the shapes practically jump off the wall. His design is innovative and one-of-a-kind. Definitely a must see.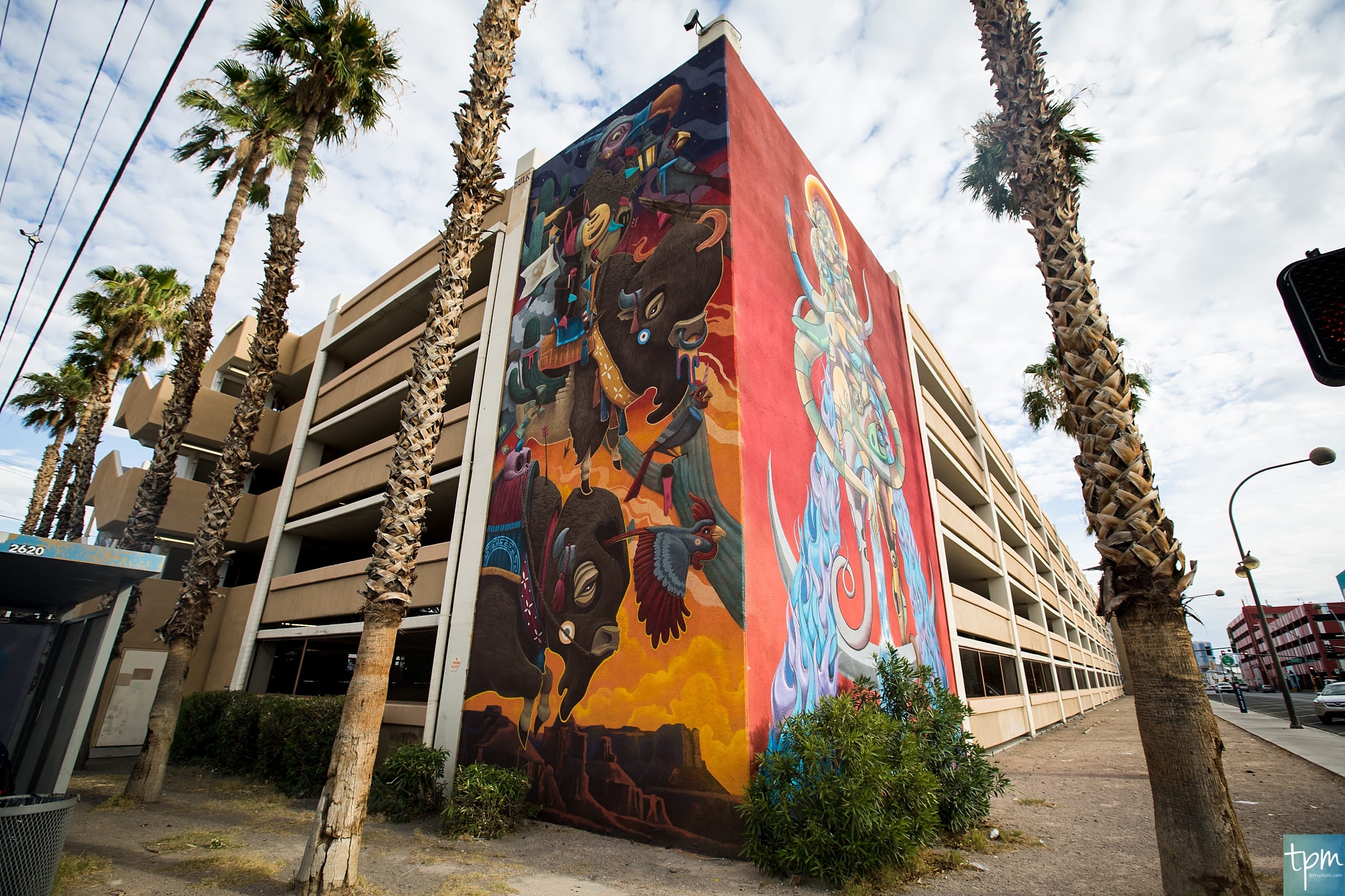 Mural by Dulk – 7th St. and Ogden Ave. Mythology meets Spanish flair, meets downtown Vegas in this 2016 Life is Beautiful mural. Featuring mechanical birds, flying bulls and a myriad of other fragmented creatures and imagery that make this mural seem like a dreamscape. Spanning the whole height of a parking structure, the mural is full of detail, color and vibrancy, making or a vivacity that mixes life and fantasy.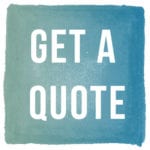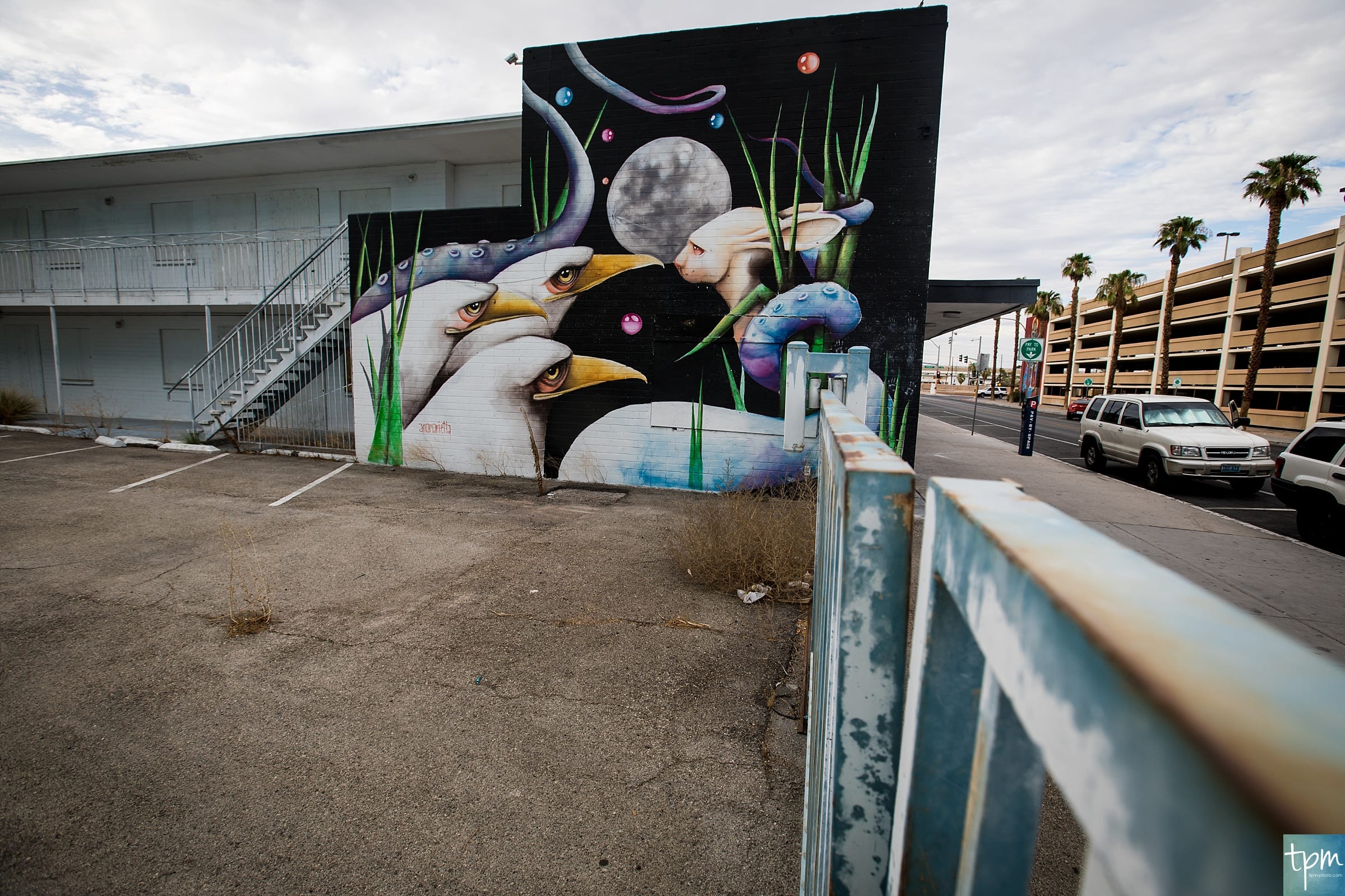 "Full Moon" Mural by Ana Maria Ortiz – 7th St. and Ogden Ave. Painted for the 2015 Life is Beautiful Festival, this mural by Puerto Rican artist Ana Maria Ortiz, is tender and gentler than her other featured work. There is a softness to it not seen in her 2013 piece. This mural tells a story that can only be interpreted by the emotions of those viewing it. A painting that is strong yet vulnerable, this is a masterpiece and a potentially perfect location to take amazing photos.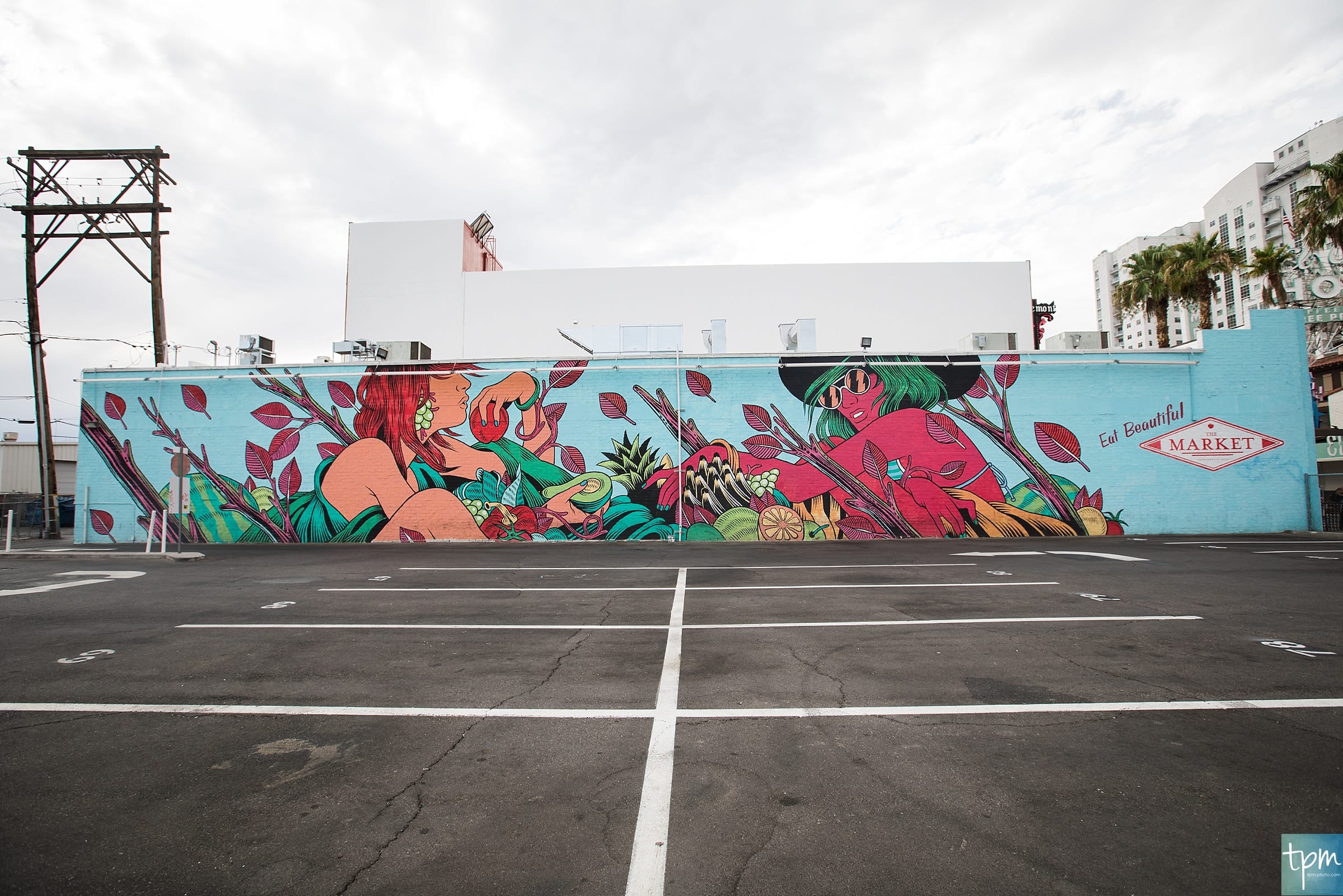 Mural by Bicicleta Sem Freio – 7th St. between Ogden Ave and Stewart. This Life is Beautiful piece by Brazilian trio Bicicleta Sem Freio makes skillful use of mainly primary colors.  Tropical and full of vibrant colors, this mural is flirtatious and tempting, making it a fun backdrop for great photos.
Mural by Edgar "Saner" Flores – 7th St. between Ogden Ave and Stewart. Bringing a bit of Mexican folk art to the downtown area, this piece, located on a rather drab motel, is dynamic, spirited, and bold.  A love story, complete with a beating heart between the two characters, this is a great mural for any couple to capture in the background of their own love story.
"Scratch and Win" by Ana Maria Ortiz -7th St. between Ogden and Stewart on the Commonwealth Building. Created in 2013 for Life is Beautiful, this mural features a bird-like representation appearing to be made mostly of metal, with two long skinny legs and is seemingly half bird, half machine.  Although parts of the mural (the legs) are at ground level, the bulk of the character is higher up off the ground, making far-away shots best.  The industriousness of this painting will compliment and play off the contrasting human softness and emotion identified in any photo captured.
"Maser Motel" by Maser – 7th St. at Stewart. Created for 2014 Life is Beautiful, artist Maser transformed the old Town Lodge Motel into something bright and bold.  From top to bottom, including the parking lot, this iscompletely unique.  Eye-catching to say the least, this can hardly be called a mural.  Rather it is a masterpiece that is both simplistic and grand in the most incredible way.  Taking a full 8 days, this complete transformation created a jewel from a blank, bland canvas.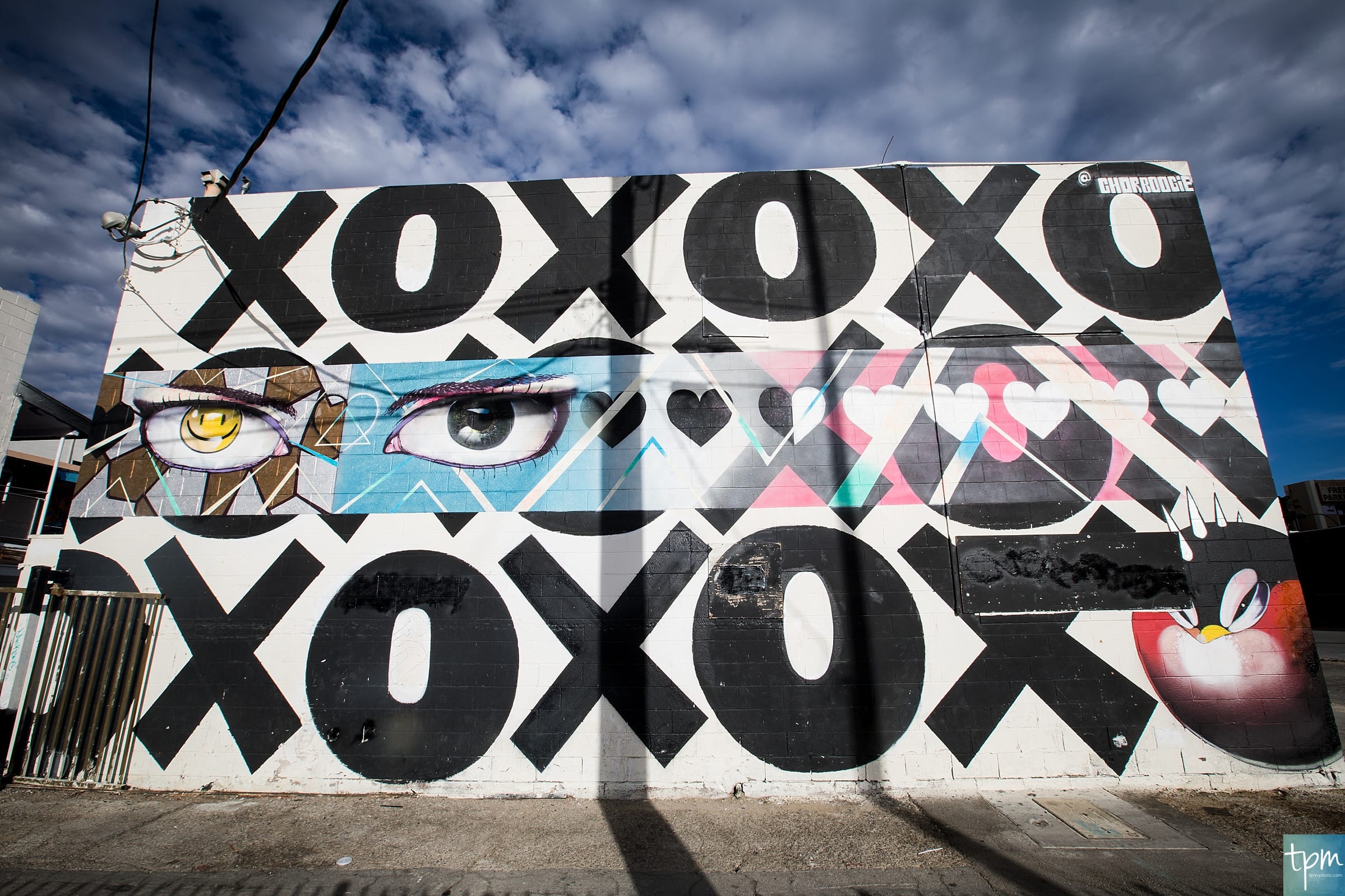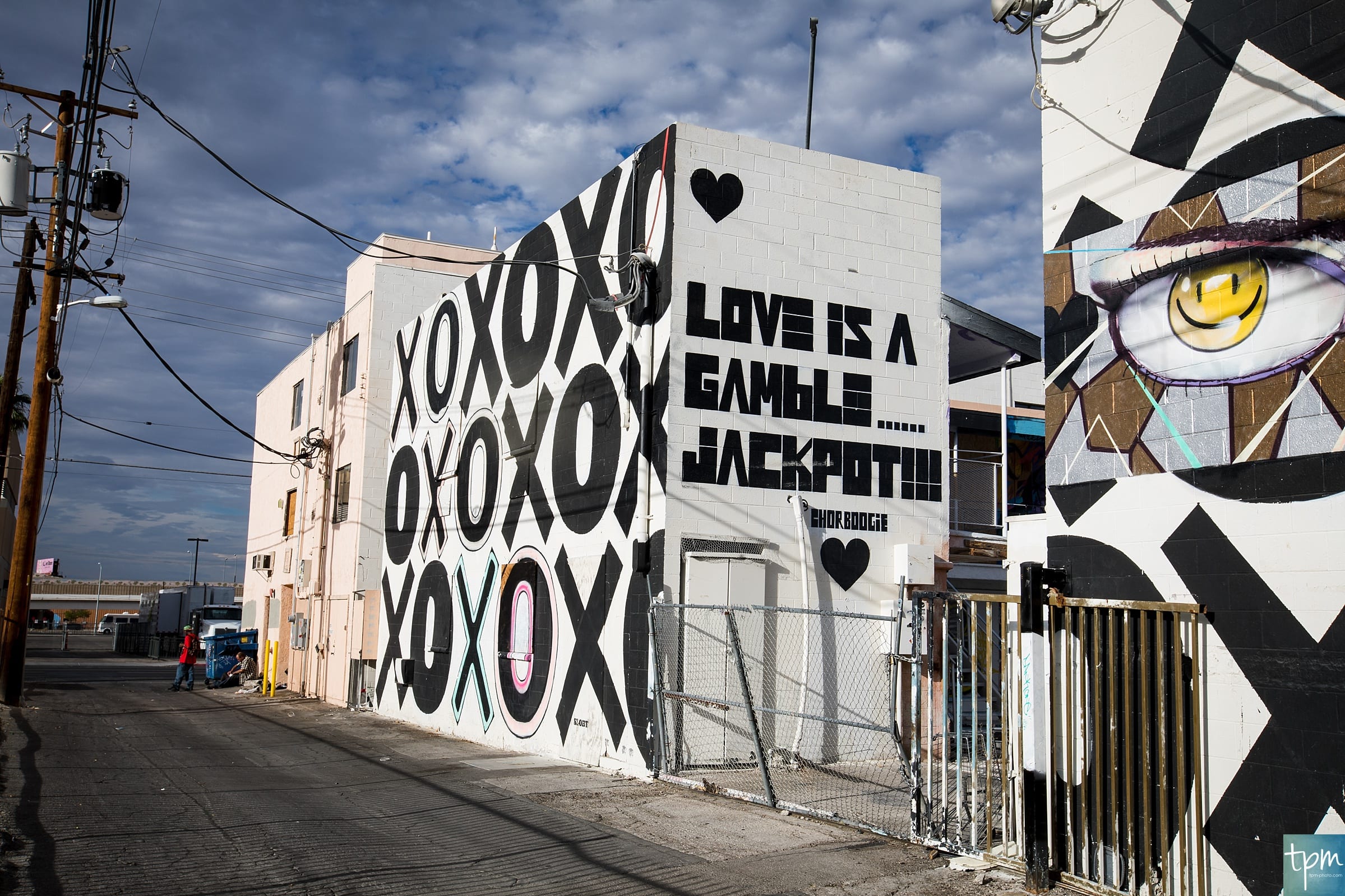 "Love is a Gamble…Jackpot!!!" Mural by Chor Boogie – 7th St. between Ogden and Stewart Ave.  Created for the 2015 Life is Beautiful Festival, this mural is located on the back of the now vacant Town Lodge Motel. This piece is mostly black and white with only the "eyes of the city," depicted in color.  Located just minutes from the Neon Museum, this mural is alive and full of energy. With the right angle, this mural could add a lot to any photo.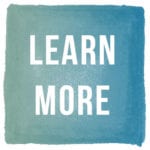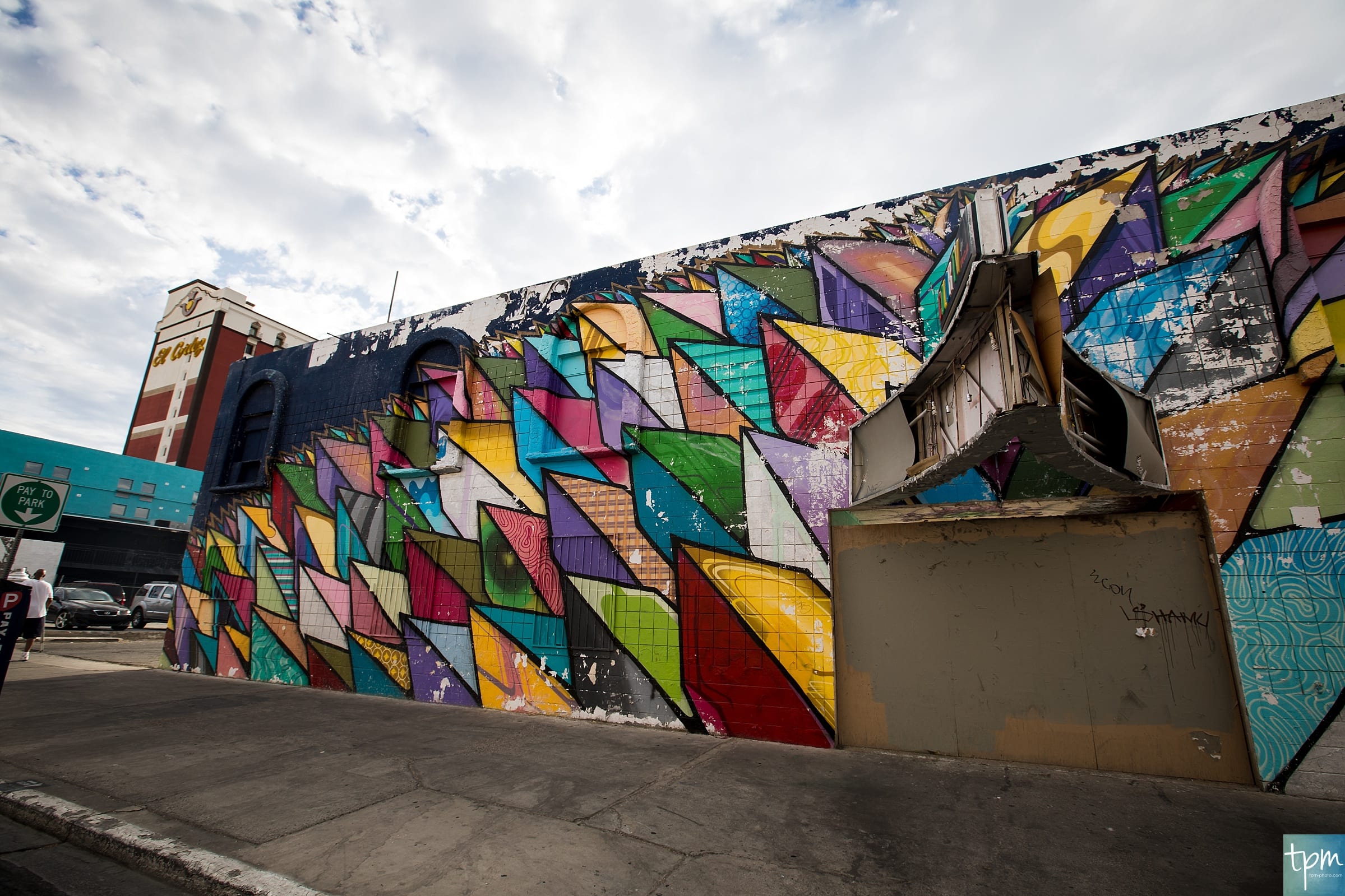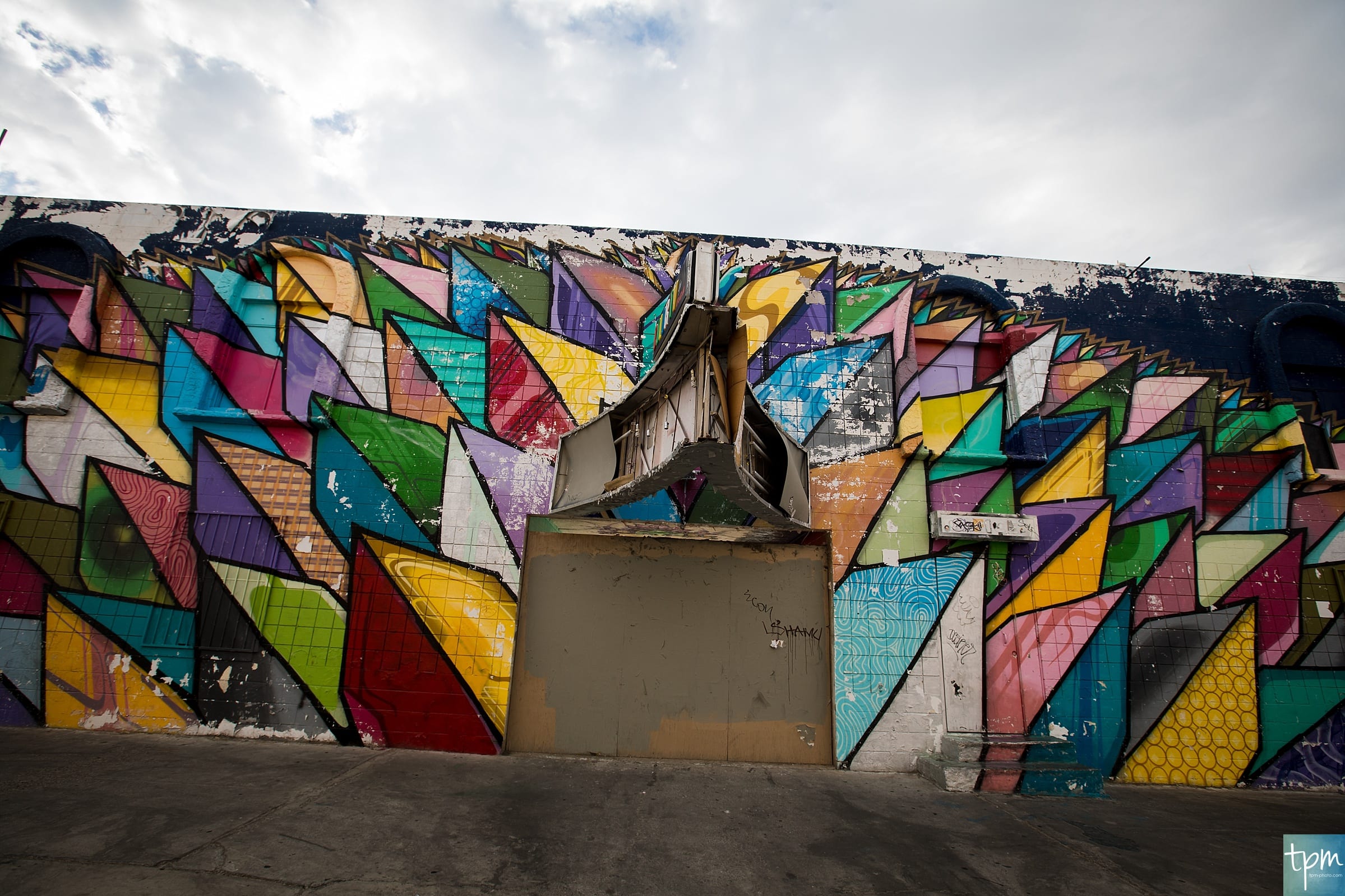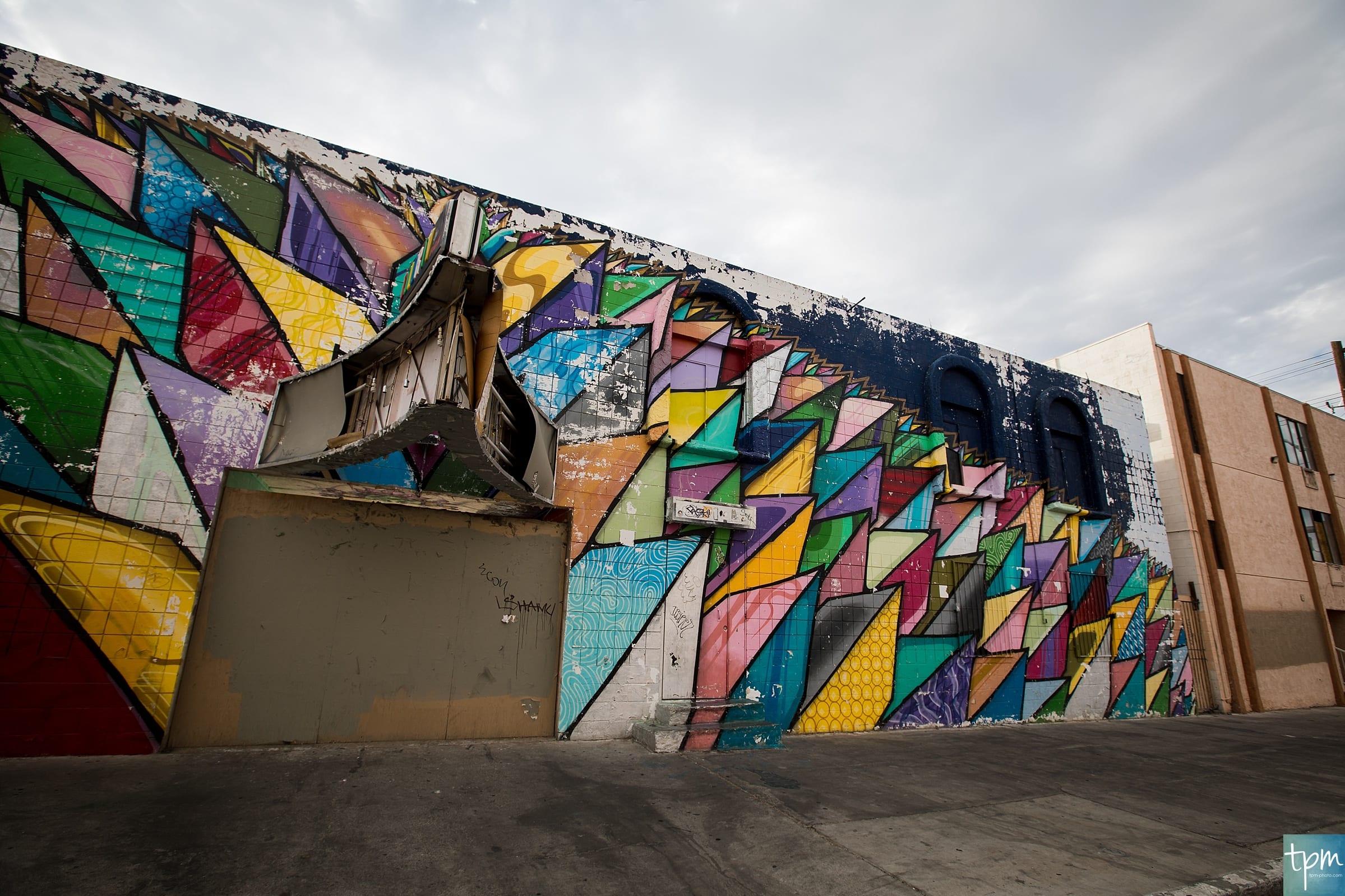 Mural by Apexer – 7th St. North, just minutes from the Neon Museum. Created for the 2015 Life is Beautiful Festival, this mural of geometric bands weaving in and out of each other creates a piece that is huge, colorful and full of details. It makes a great spot for photos, and because it is at ground level and so large, both great close-up or far away photos can be taken.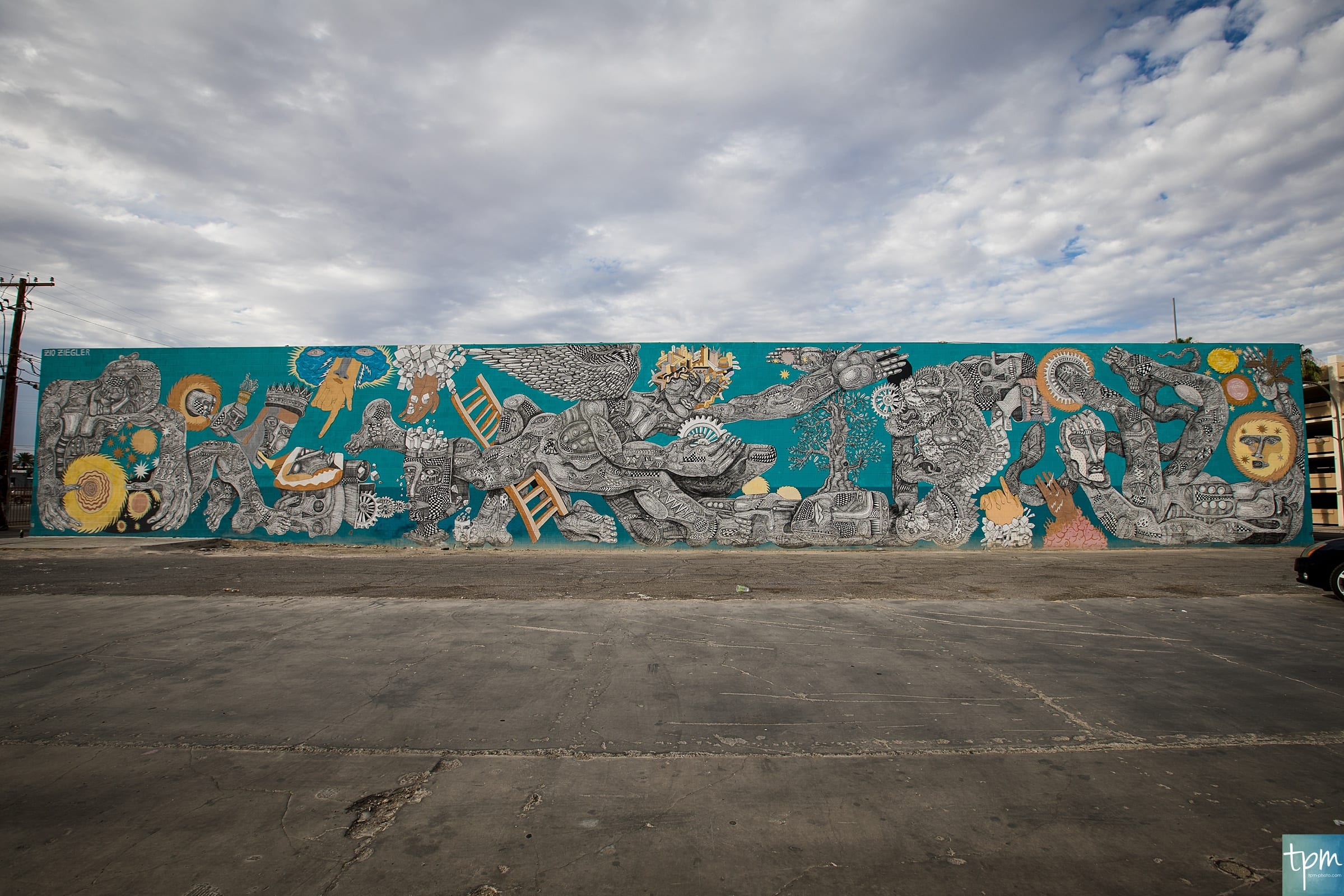 "The Cycle of Civilization" Mural by Zio Ziegler – 7th St. and Ogden. Created for the 2013 Life is Beautiful Festival and like the others it is just minutes from the famed Neon Museum. Black and white, with vibrant pops of color and a bright blue background, the color and detail throughout and from the ground up make for great photo opportunities from both a distance and up close.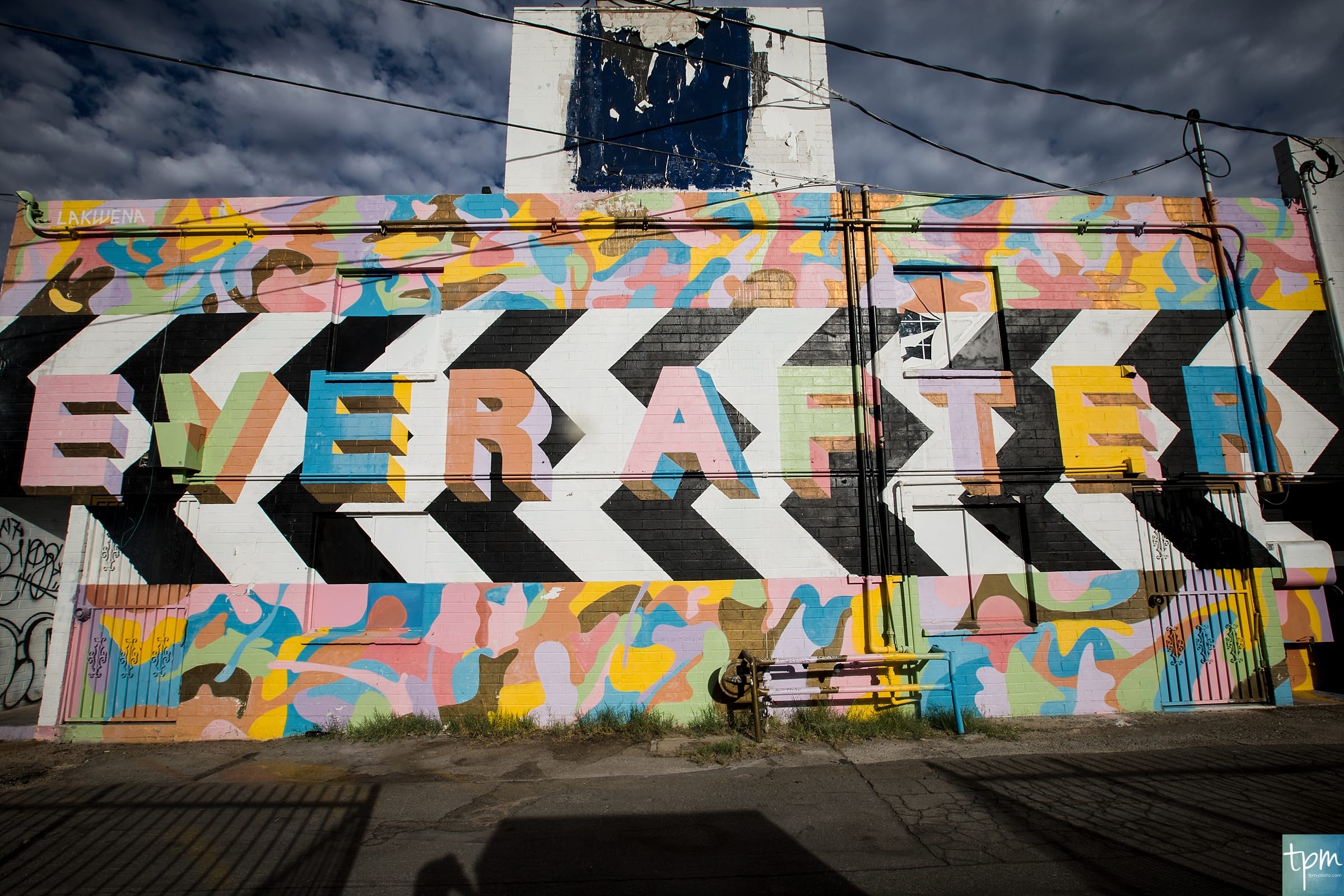 "Ever After" Mural by Lakawena – 7th St. near the Neon Museum. This piece has a colorful camouflage pattern and a bold black and white zig zag center with "ever after" centered and brightly highlighted. At ground level, this vibrant mural can be representative of the "ever after" that every couple works for and hopes to have, creating a perfect spot for great photos.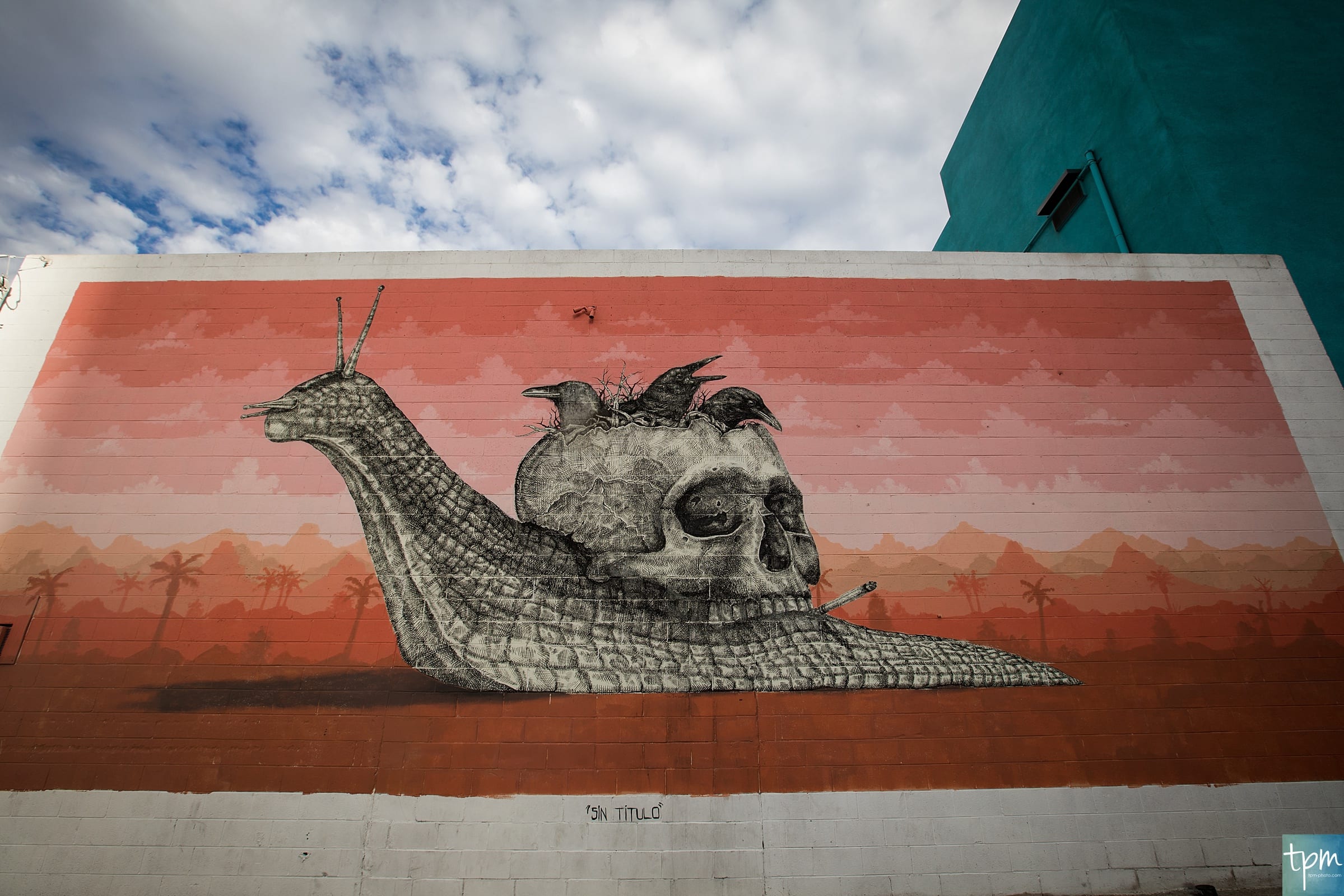 Mural by Alexis Diaz's – 7th St. near the Neon Museum. This 2013 Life is Beautiful piece features a huge snail carrying on its back a skull acting as a bird's nest smoking a cigarette. This piece is made up of thousands of brushstrokes and took over a week to complete.  Intricate in design and very intriguing, this ground level mural is worth not only a visit but at least a few snapshots as well.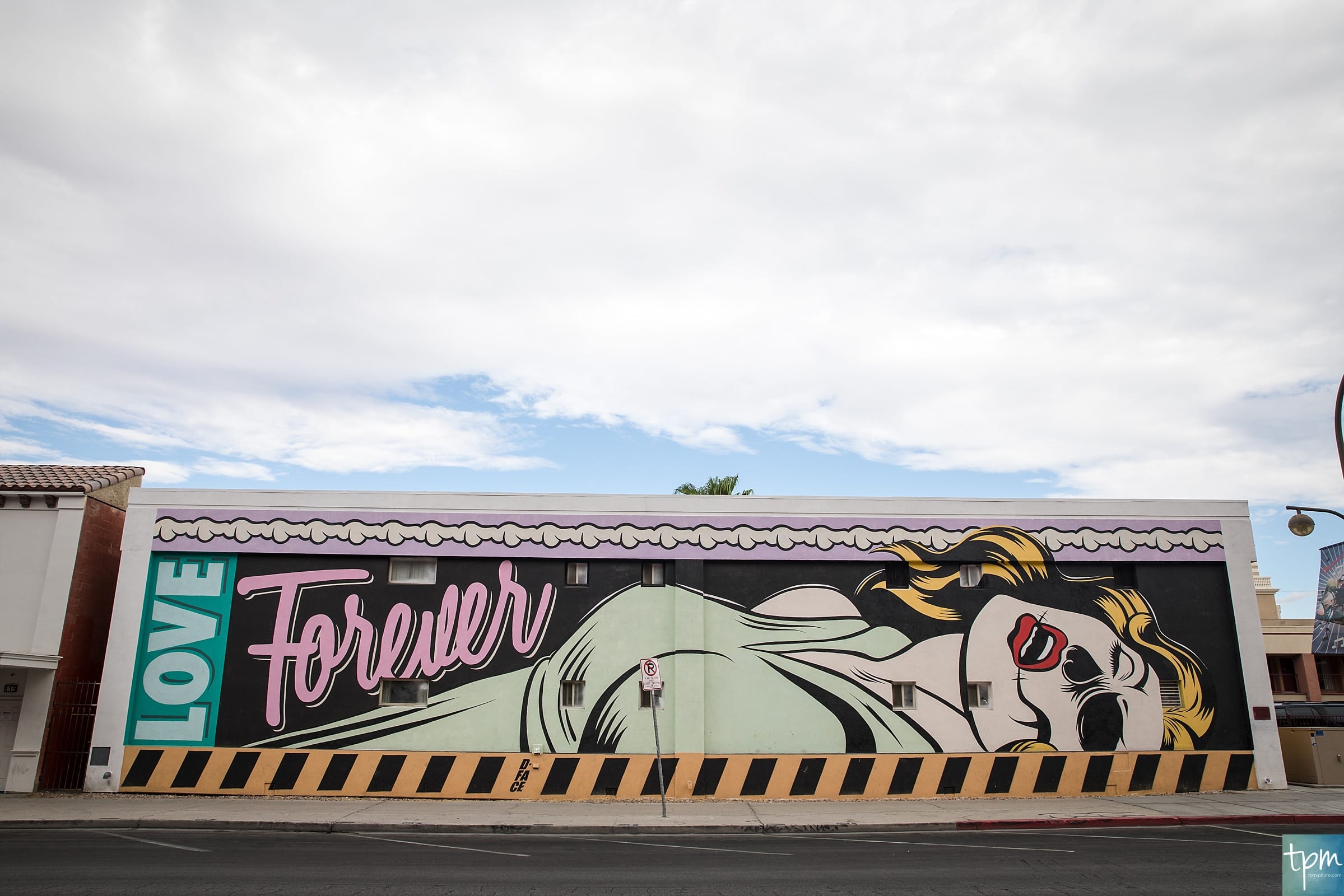 "Love Forever" by D* Face – Place and 7th St. This masterpiece was created for 2014's Life is Beautiful.  Although this mural mimics the same 80's-esque, comic type character as in his 2013 piece, in this piece there is a certain sex appeal that is very obviously present.  Provocative, compelling and of great interest, this mural makes for great photo opportunities of many varieties.
Fremont Street Las Vegas Wall Murals
"Peacemaker" D*Face

Ruben Sanchez's "Fear and Loathing in Las Vegas,"

Tristan Eaton

Mark Drew

Vhils

Pixel Pancho's "The Meaning."

Shepard Fairy "Corporate Welfare"

Fafi

D*Face

Shepard Fairey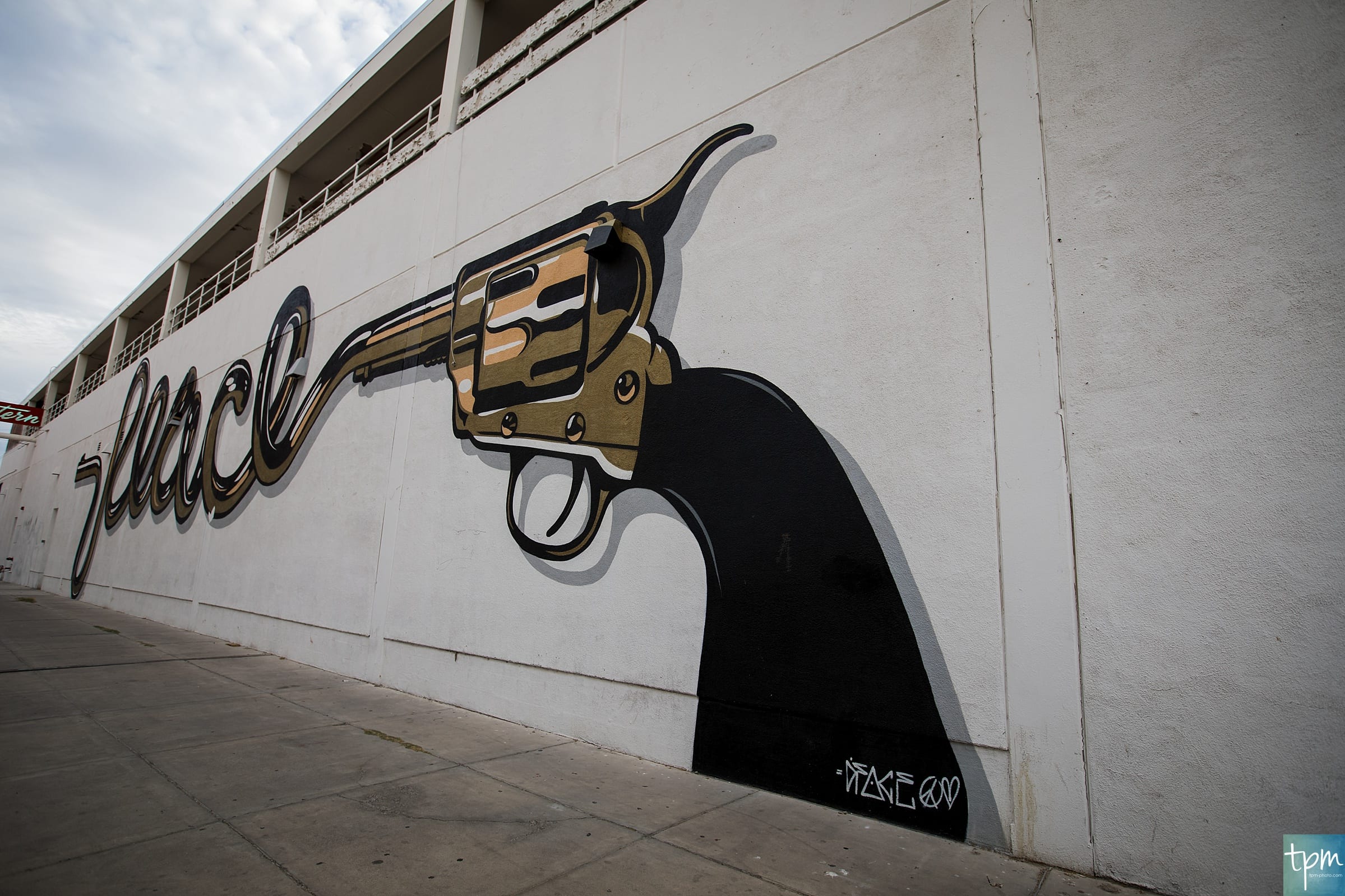 "Peacemaker" by D* Face – 899 Fremont St. (between 8thSt. and 9th St.) Simplistic yet outspoken, this piece features a gold bullet discharged from a 6-shooter handgun. Created for 2015's Life is Beautiful, it features a scrawling "peace" in gold script across the wall of the old hotel where it is located. A statement piece, this mural highlights the sentiment that should replace violence.
"Fear and Loathing in Las Vegas" by Ruben Sanchez – Las Vegas Blvd. and Fremont St.  Created for 2015's Life is Beautiful, this cubist style painting uses colors associated with the desert to incredibly depict the offbeat, kooky main character in the 1998 film of the same name.  At ground level and full of life and energy, some great shots can be taken here.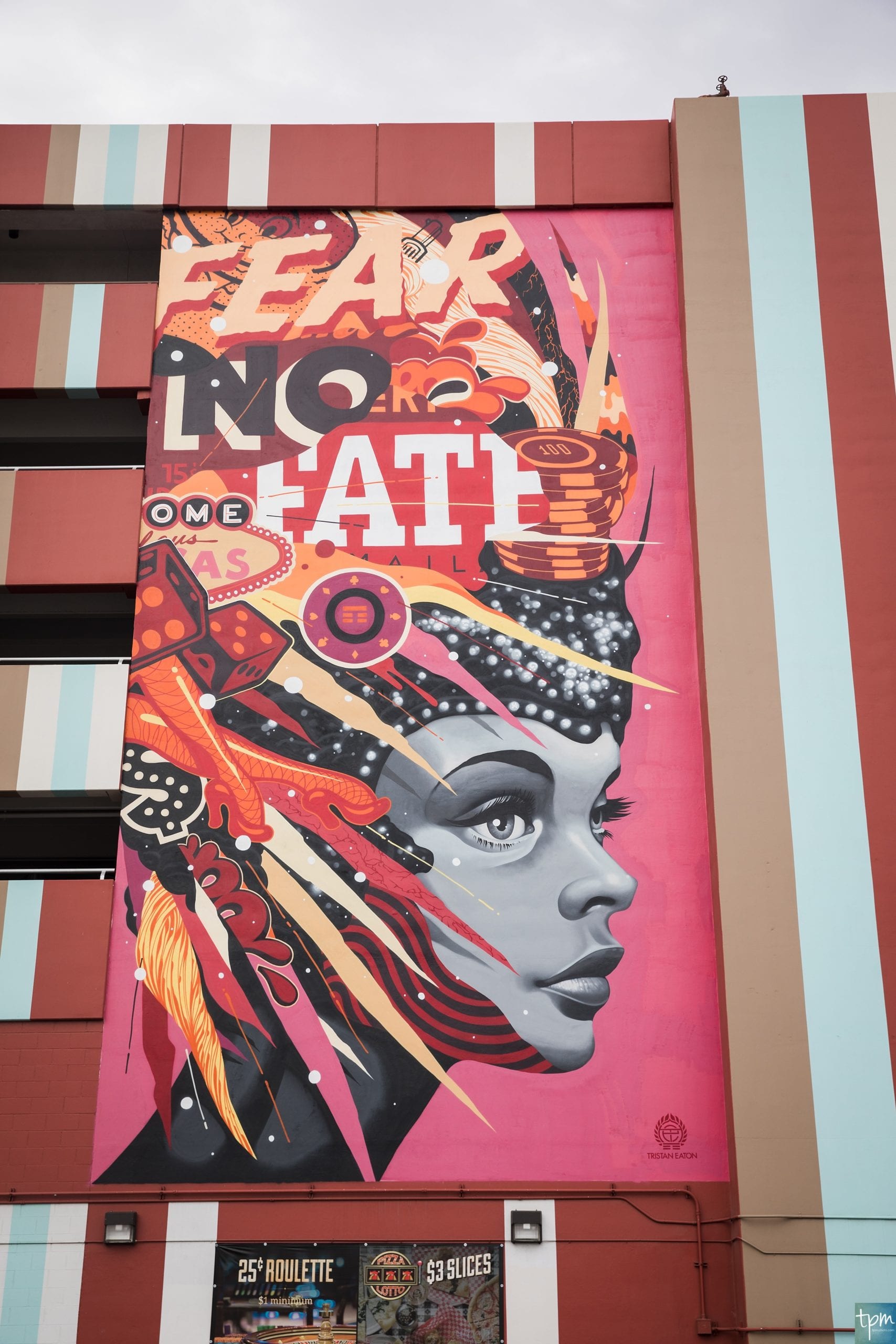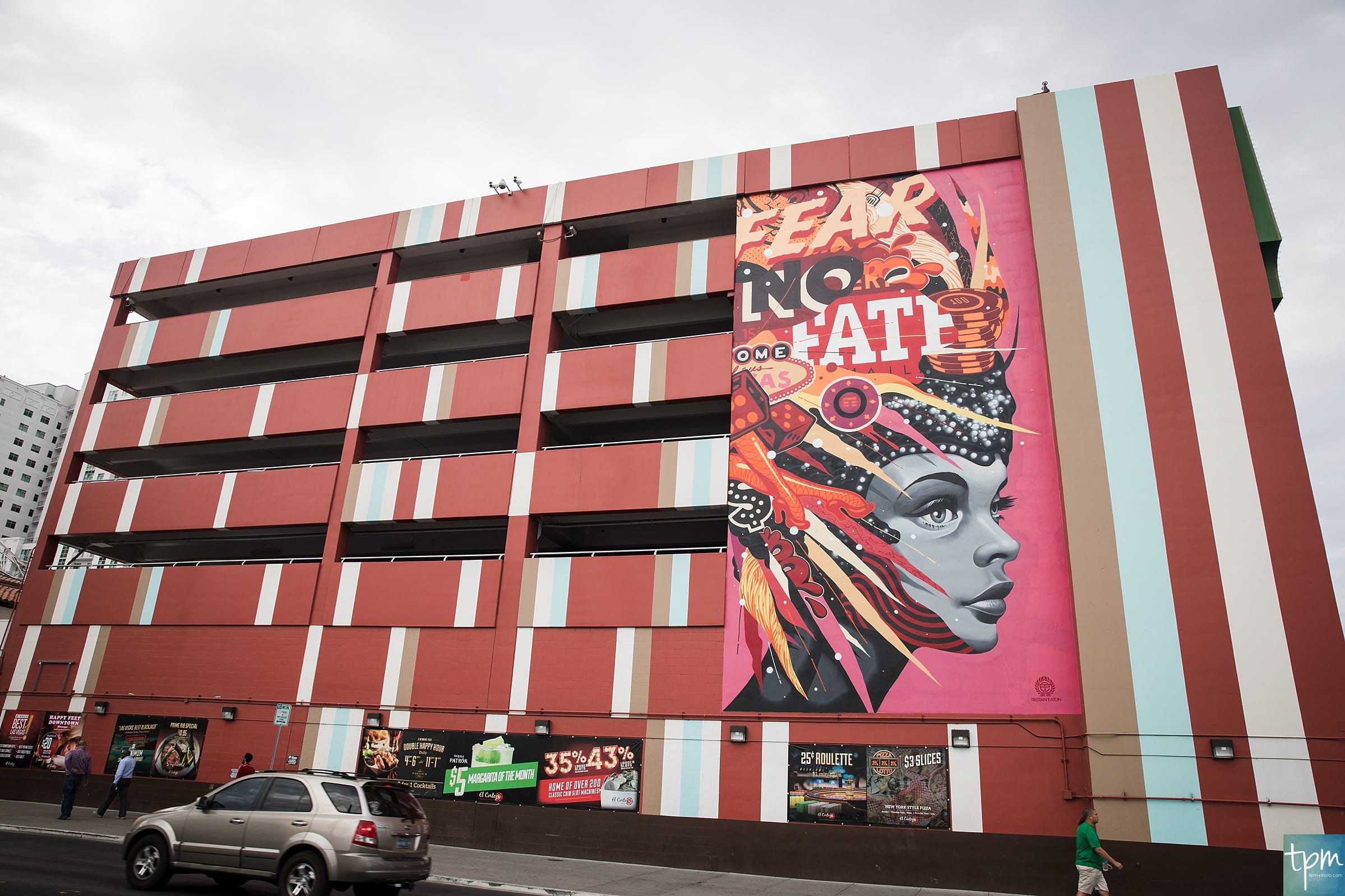 Mural by Tristan Eaton – Fremont St. (between 6th St. and 7 th St.) Found on one side of the El Cortez's parking structure this piece is a mix of mainly black, red, and yellow tones. This meaningful mural exudes classic Vegas.  It is adorned with the powerful message "Fear no Fate."  The Vegas showgirl is donned with the quintessential headpiece, made famous by showgirls of old.  She is complete with feathers, dice, and casino chips.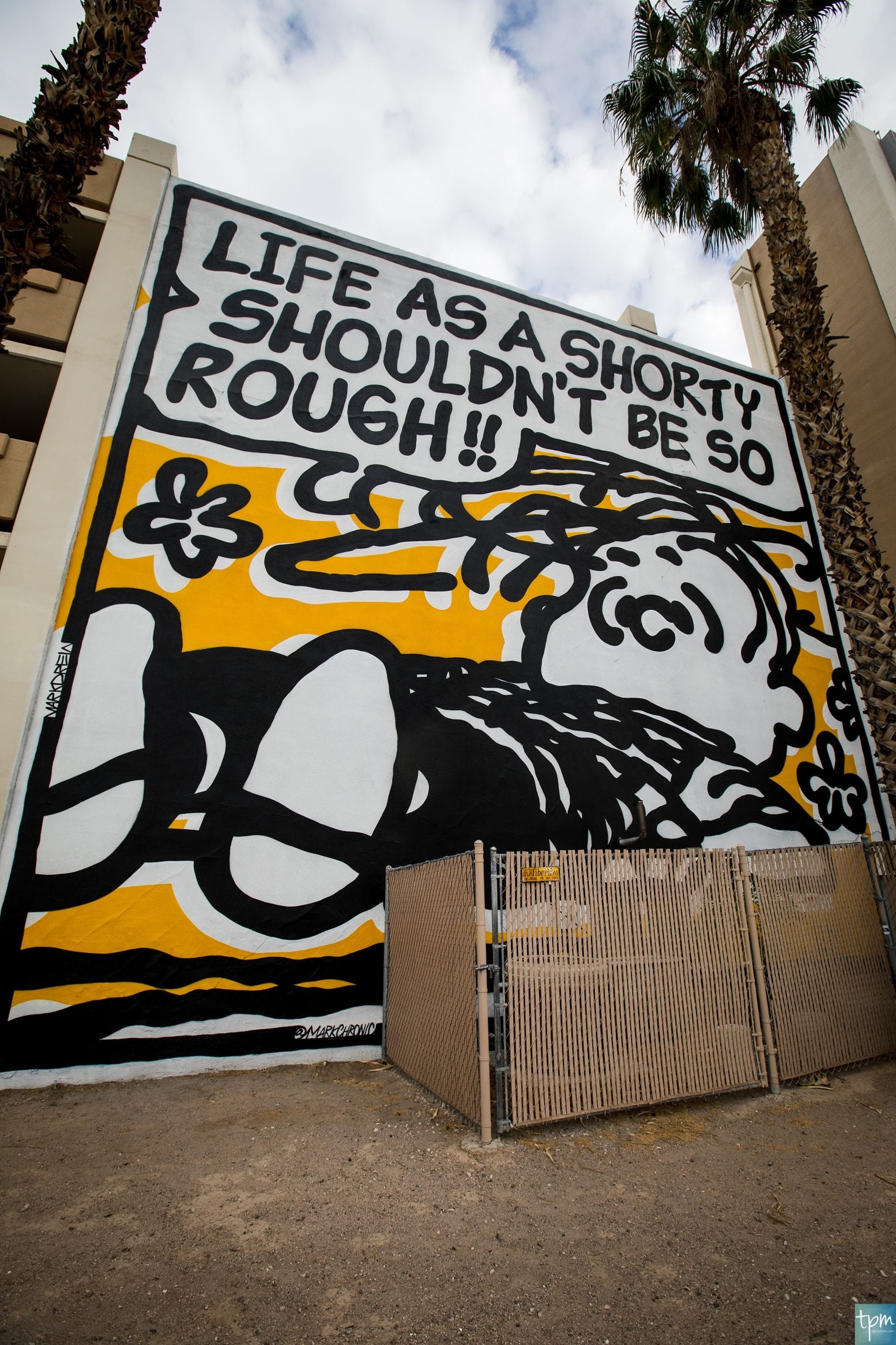 Mural by Mark Drew – Fremont St. (between 6th St. and 7 th St.)  This piece, created for 2016's Life is Beautiful, can be seen the side of the El Cortez parking garage. The Australian artist created a mural that incorporates Linus, the likable Peanuts character that we all know and love and a Wu Tang Clan lyric, "Life as a shorty shouldn't be so rough!" This mural brings about a touch of nostalgia and a smile to your face.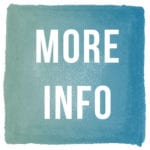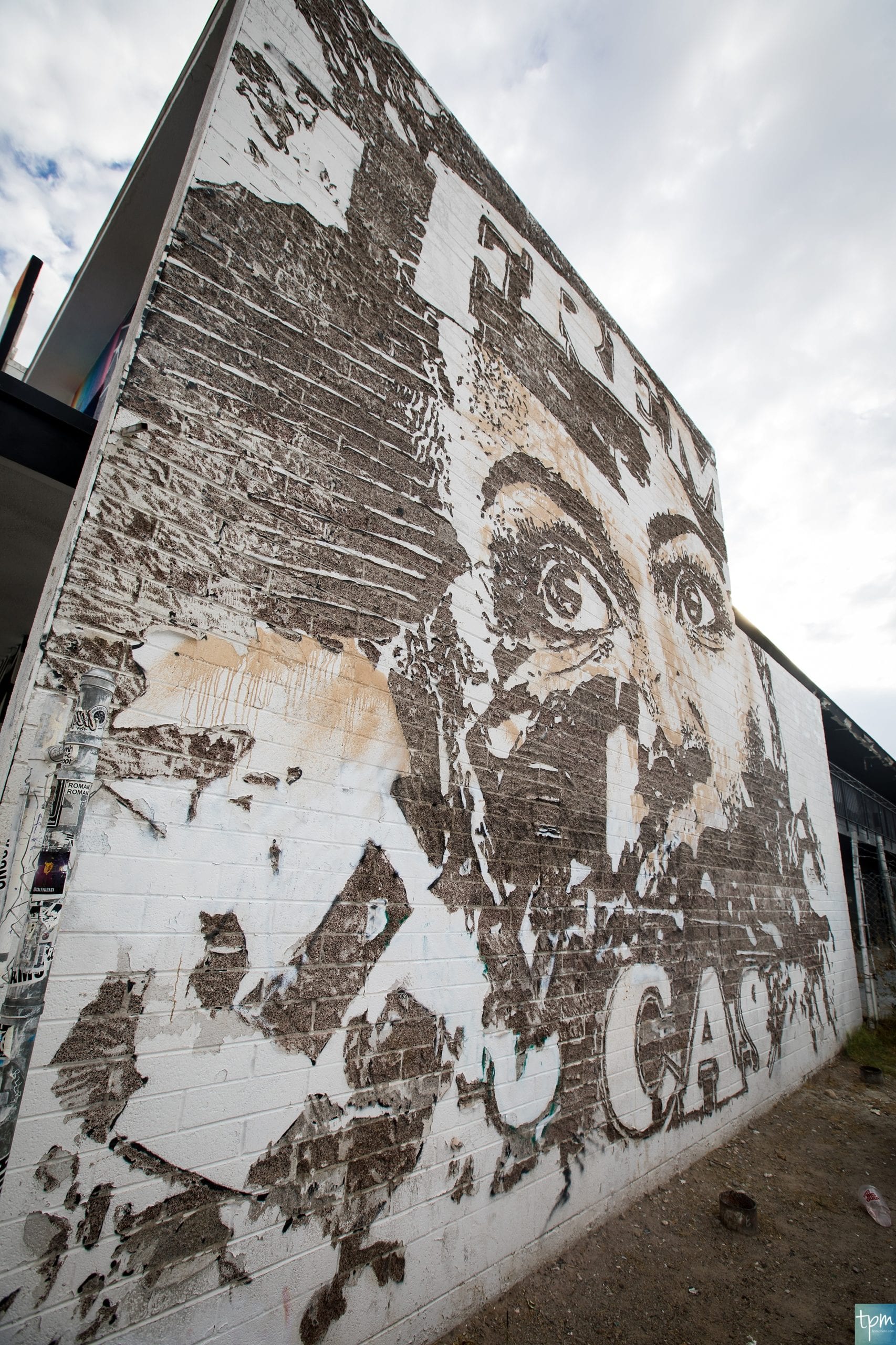 Mural by Vhils – near the El Cortez parking garage. This large beige, black and white portrait by Portugese artist Vhils has all the shadowing and shading that make this face jump off the wall.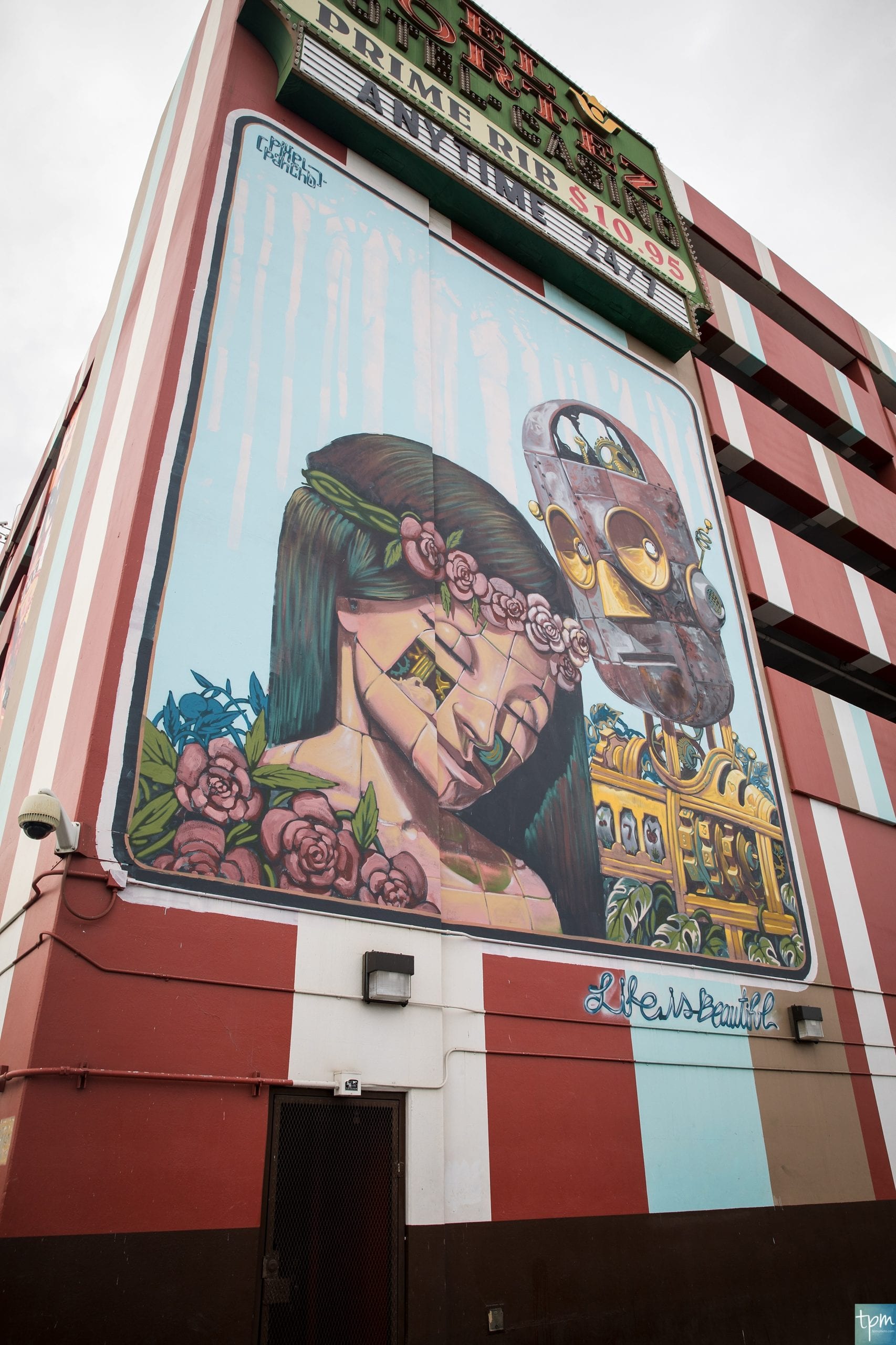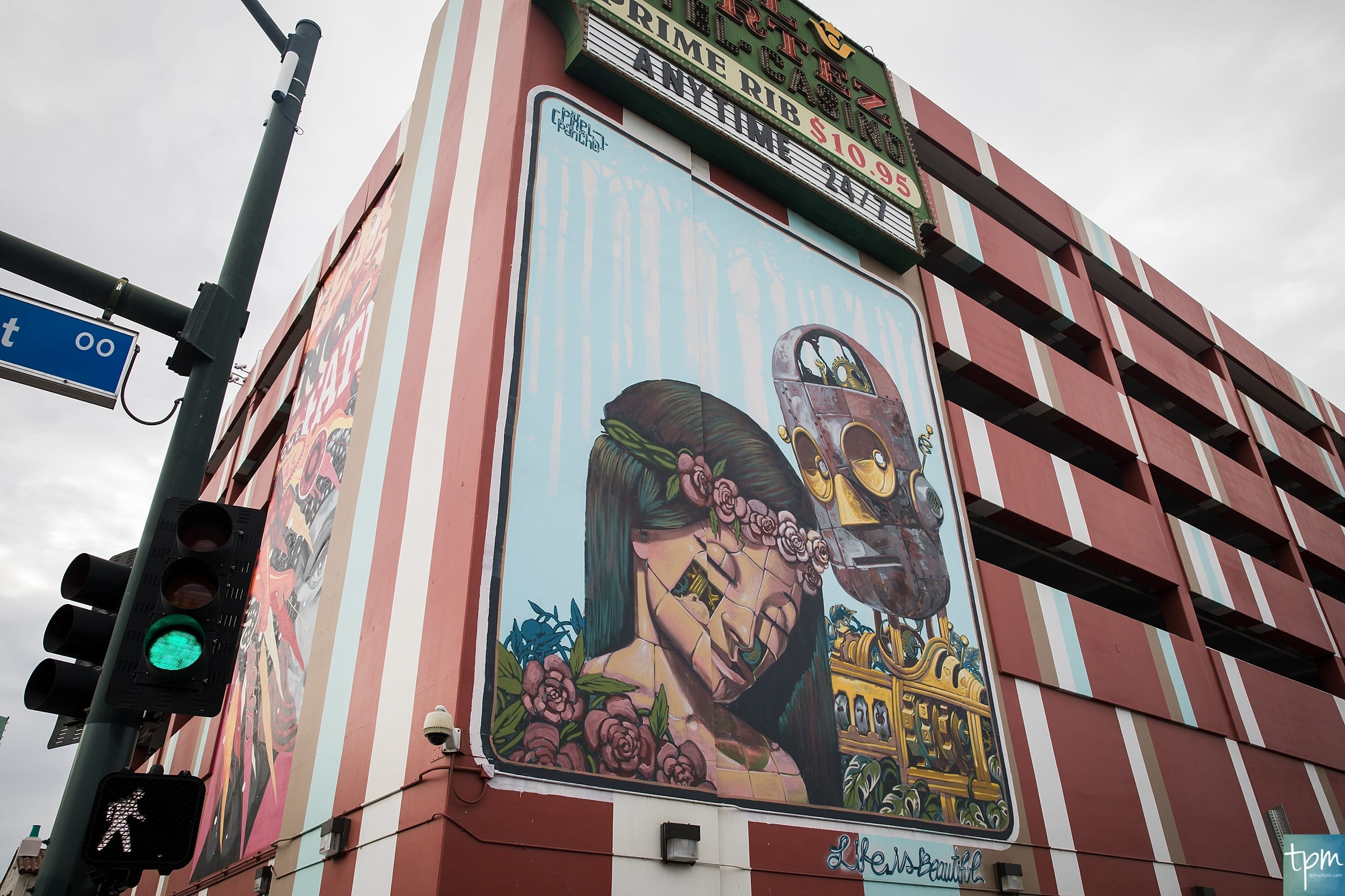 "The Meaning" by Pixel Pancho – El Cortez. This mural, created for 2015's Life is Beautiful, depicts life by way of two robots.  This piece is sweet and intimate but also thought-provoking.  Meant to inspire people to think about their reliance on and obsession with money and the fact that "we (do) not own this planet, we are a part (of it)."  Any couple could take away their own message from this mural and capture these feelings in incredible photos.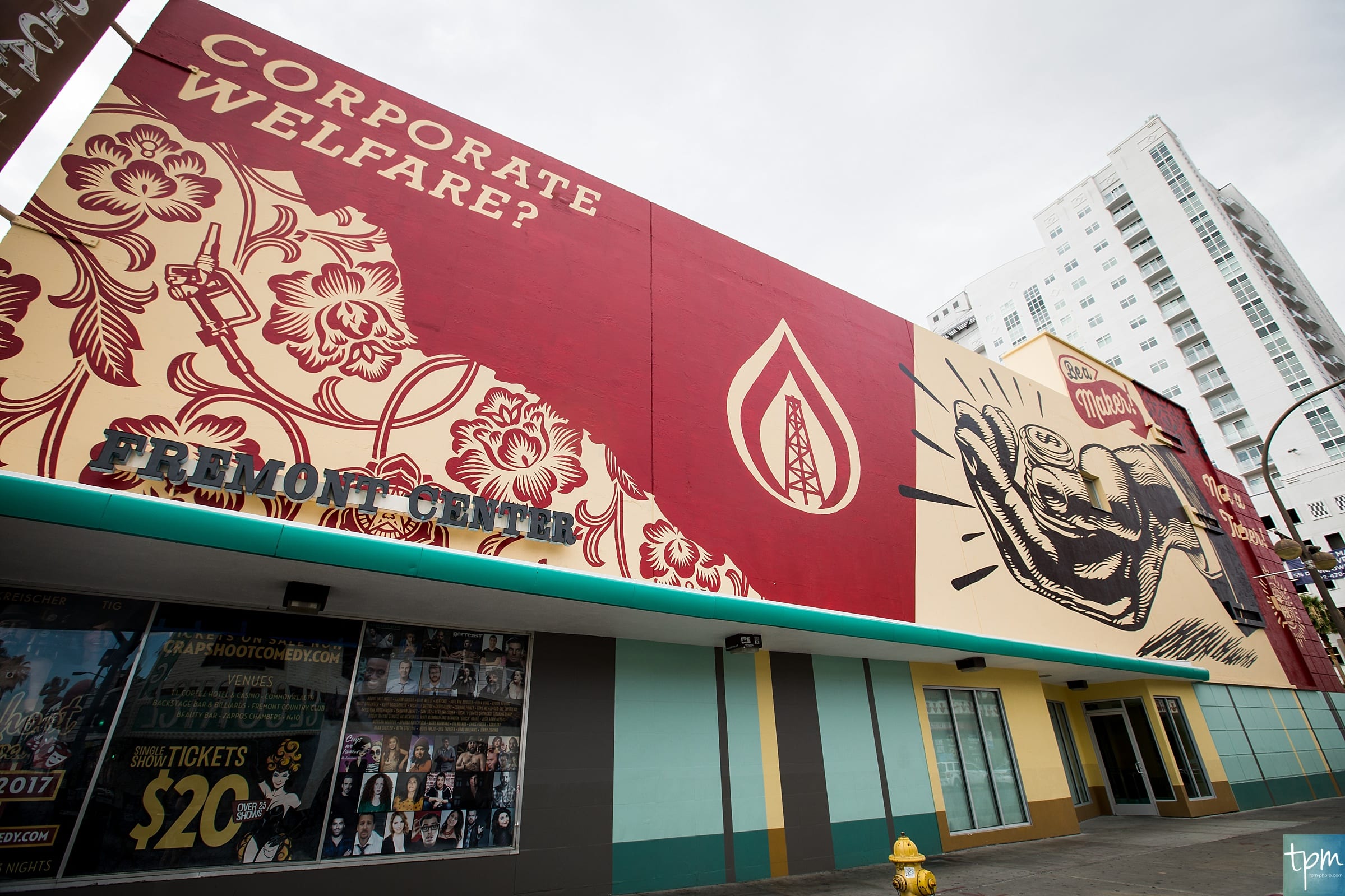 "Corporate Welfare" by Shepard Fairey – Fremont and 6th St.  Painted for the 2016 Life is Beautiful festival.  Taking up one side the Emergency Arts Building, this red, black, and white mural boasts a handful of money with the slogan "Be a Maker, Not a Taker."  This mural was designed to "inspire us to take a closer look at the intricate connection between corporations and a non-transparent government in a questionable democracy."  Certainly thought-provoking, this mural is one that makes a statement.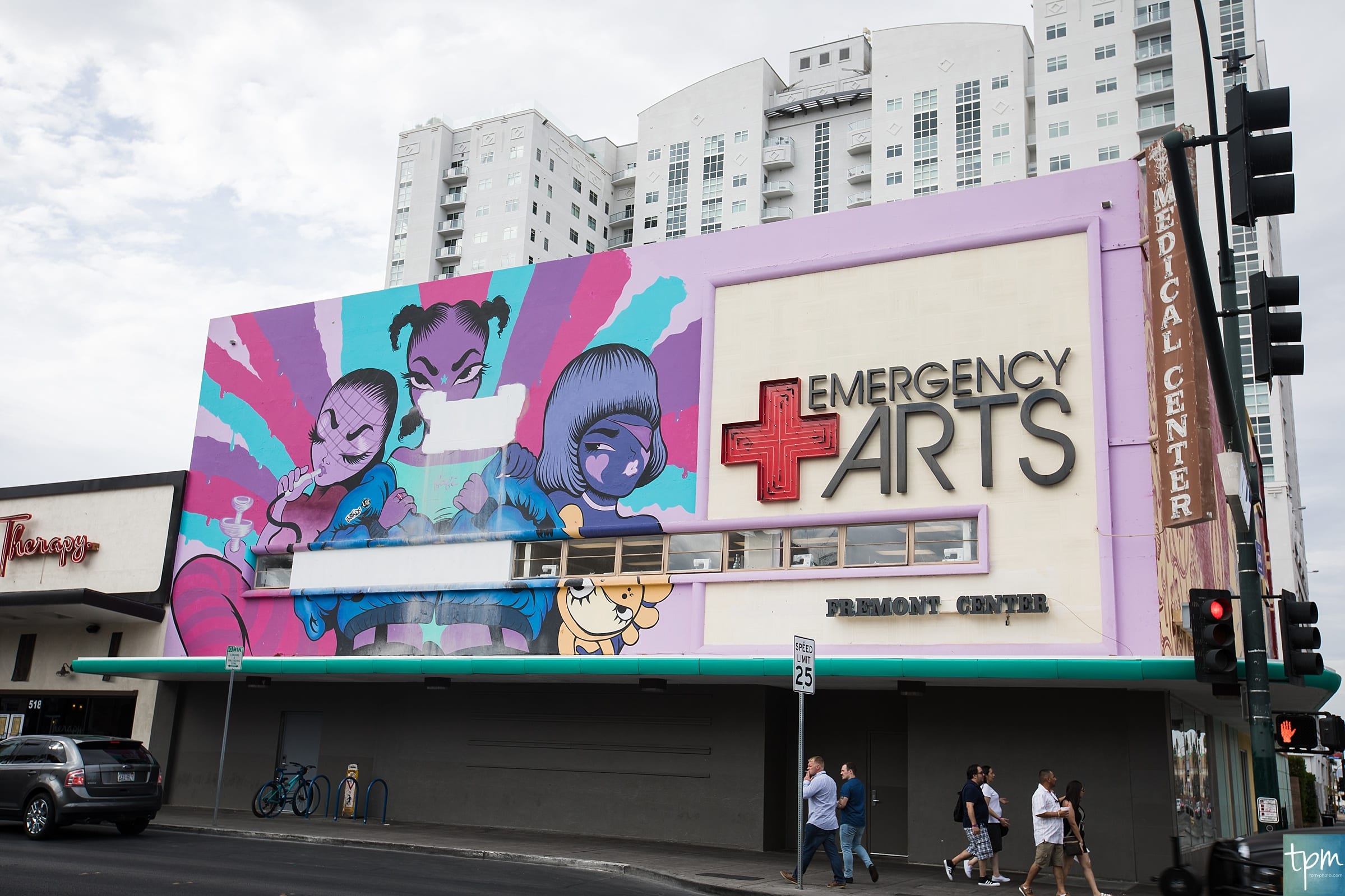 Mural by Fafi – Fremont and 6th St.  This piece is painted on one side of the Emergency Arts Building for 2016's Life is Beautiful. In this piece, French artist Fafi shows the power of women. Her mural features her trademark Fafinette characters. These characters are tough, and with a bit of sass and attitude, this colorful, all-girl mural is eye-catching.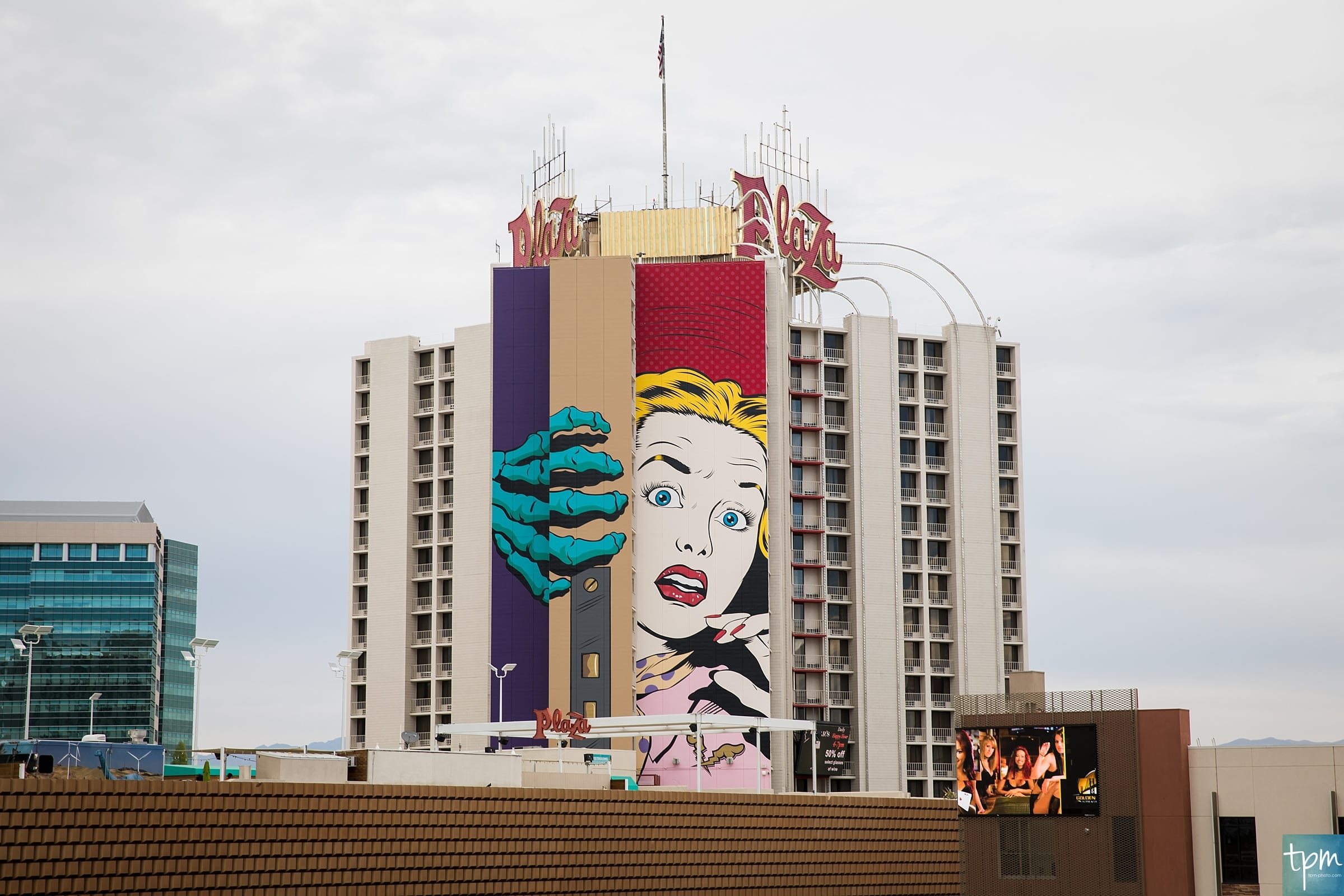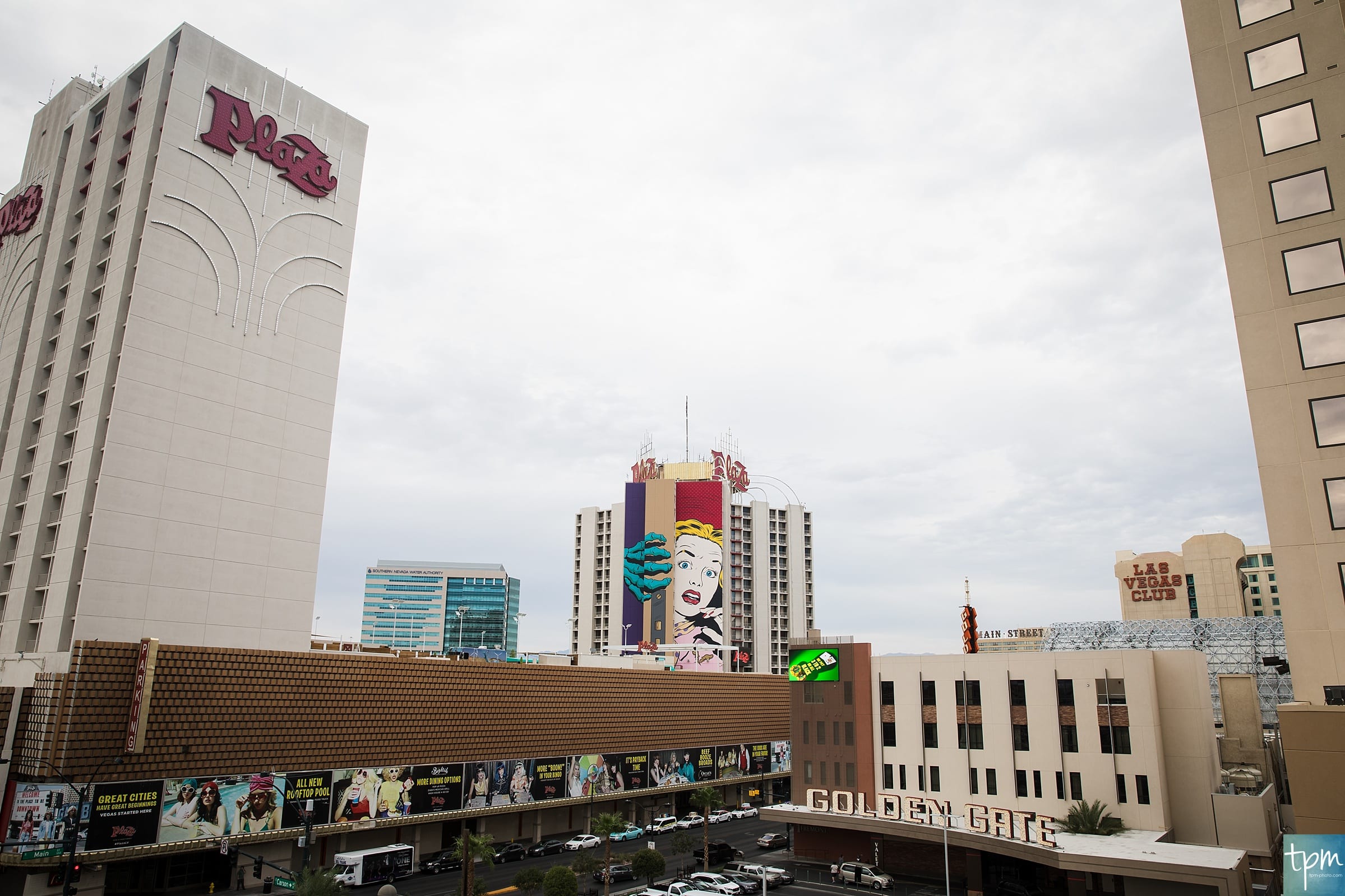 Mural by D*Face – Freemont and Main St. Located high above the downtown area atop the Plaza Hotel & Casino, this mural features a  larger-than-life damsel in distress. Akin to those you would see in a comic book and reminiscent of his other works, it is complete with the skeletal element.  However, unlike his other works, this one is lacking any captions, leaving meanings and thoughts completely up to the spectator. Because of the location of this mural, creativity with photos would need to be employed. However, because of the modern twist to the classic comic horror, this particular mural is one worth photographing.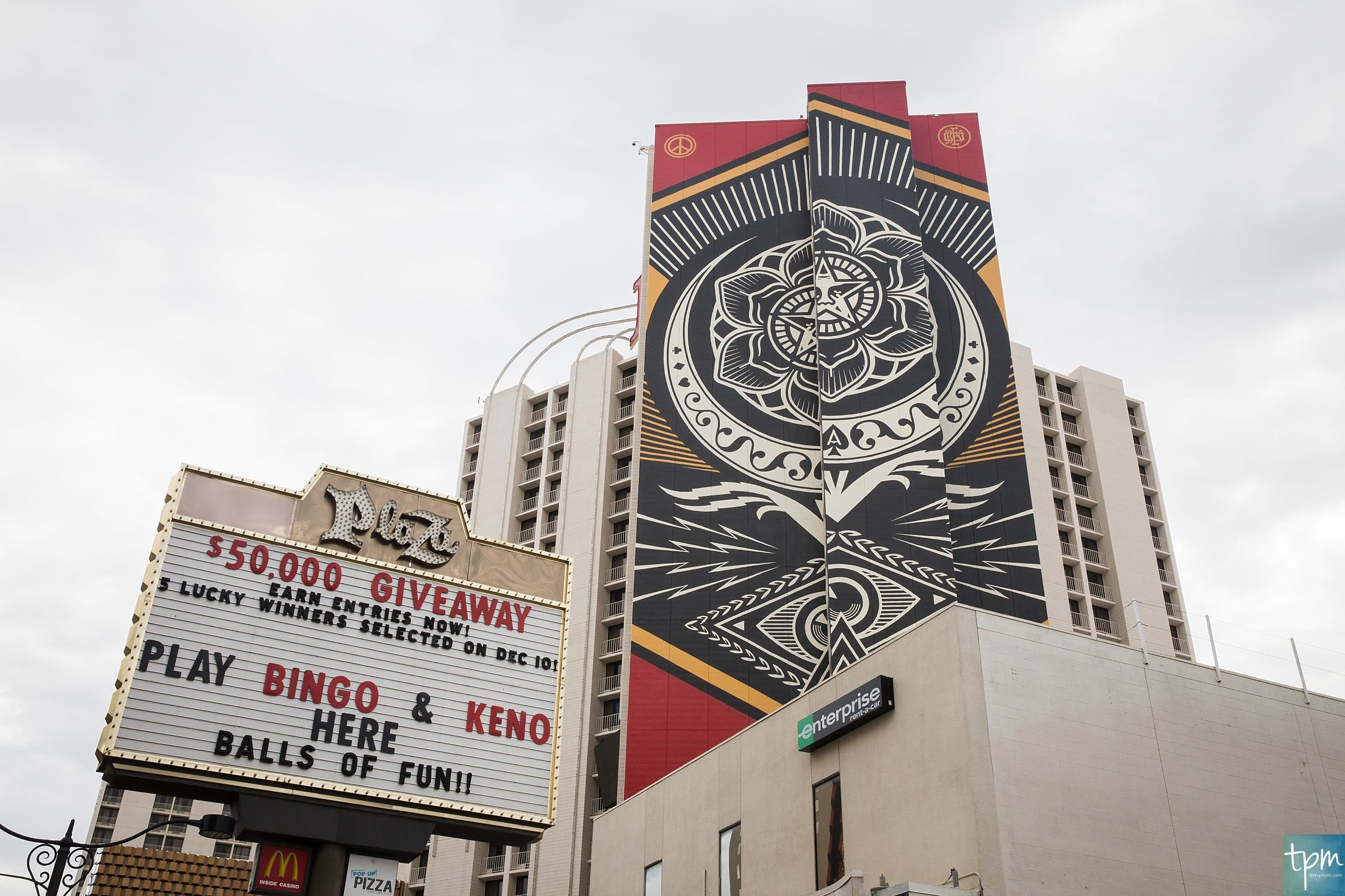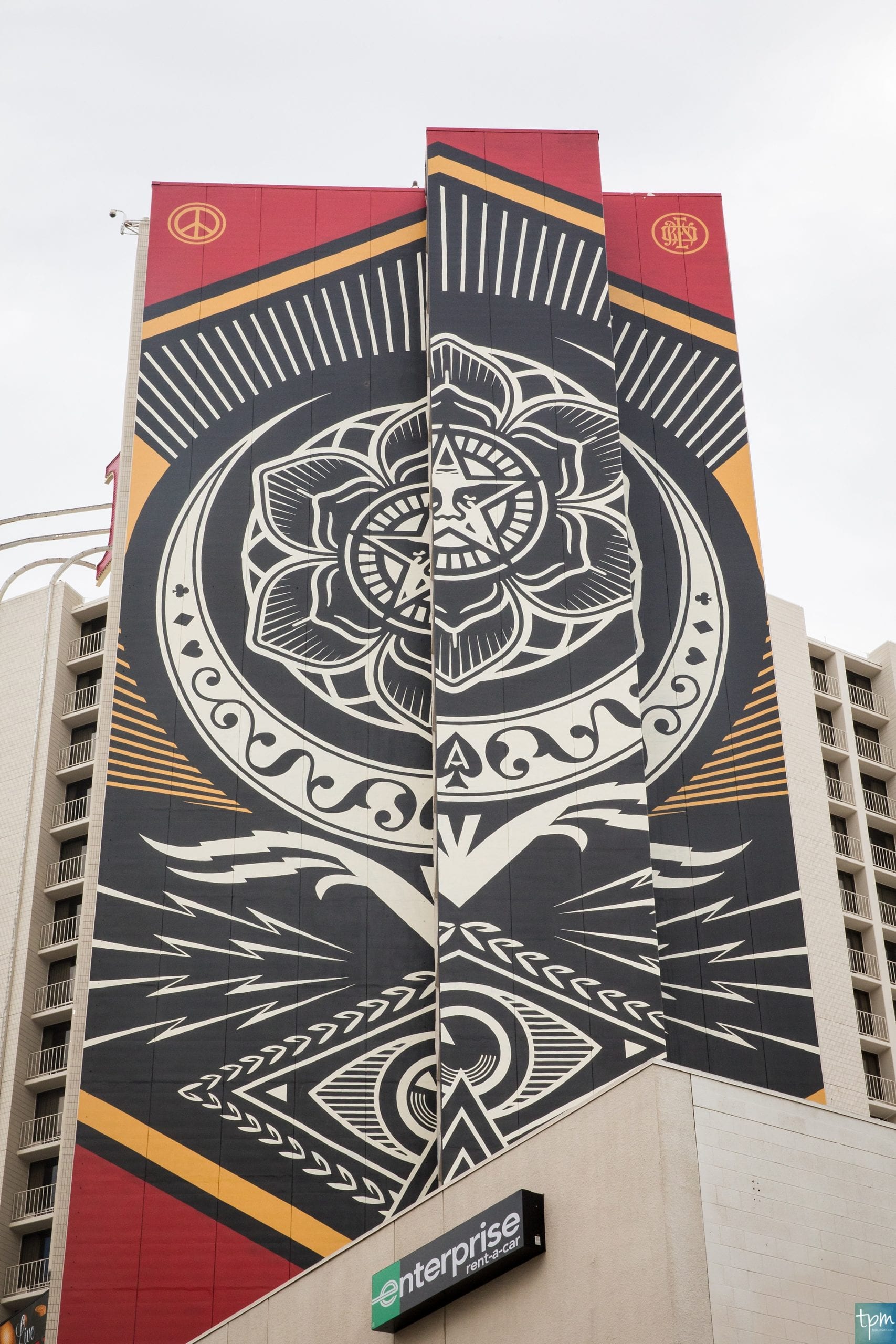 Mural by Shepard Fairey – Freemont and Main St.  On the north side of the Plaza Hotel & Casino is this massive 18-story mural.  Mainly red and black, this piece plays to Vegas by incorporating the colors seen on the roulette wheel.  Inclusive of several images, including playing card symbols and the Eye of Providence with a single tear drop holding in it the planet earth, this incredible mural, despite holding significant details, is open to interpretation by each individual spectator.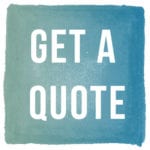 Stewart Avenue Wall Murals in Las Vegas
Martin

Whatson

ROA's "Horned Toad"

Bezt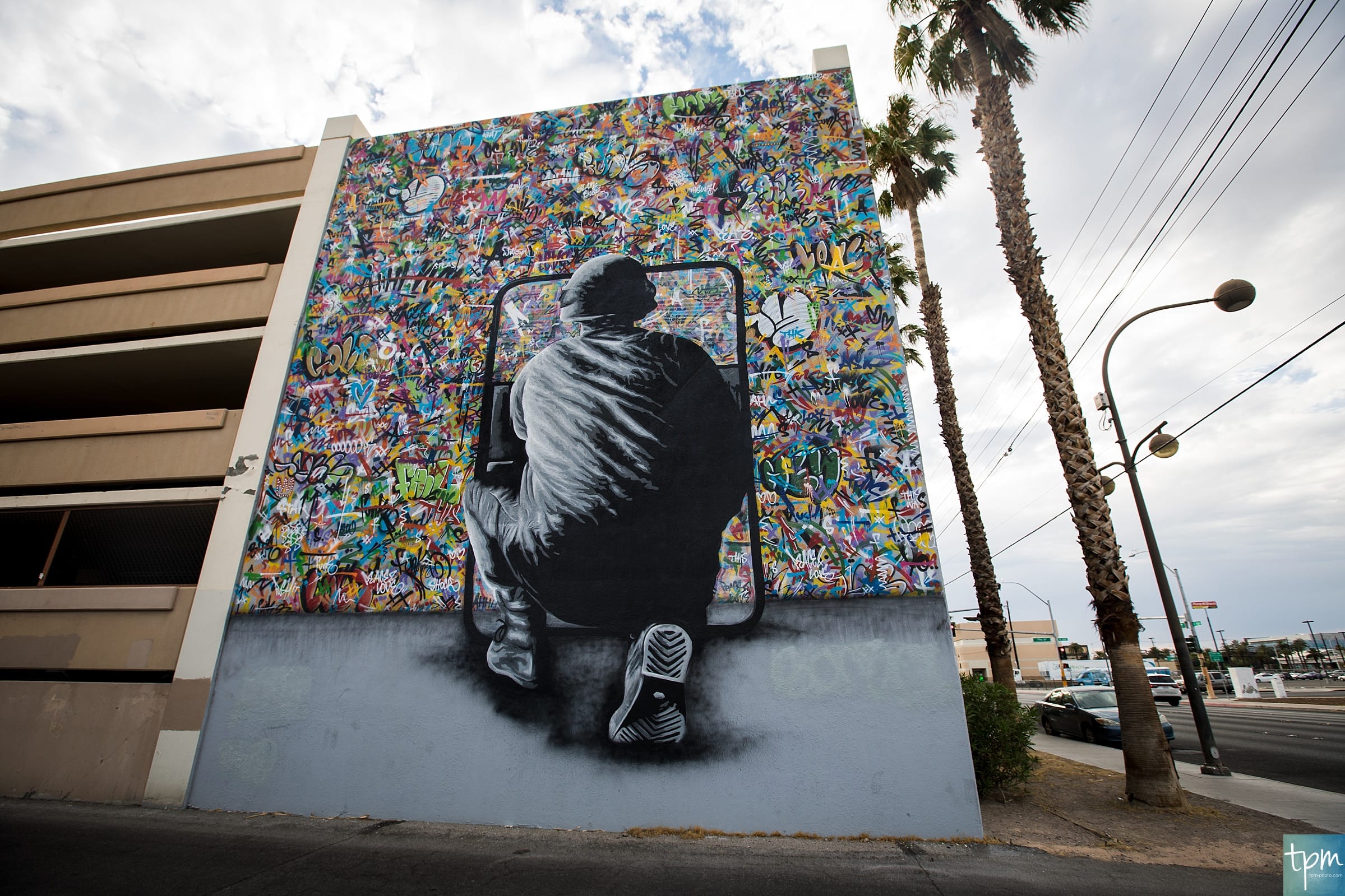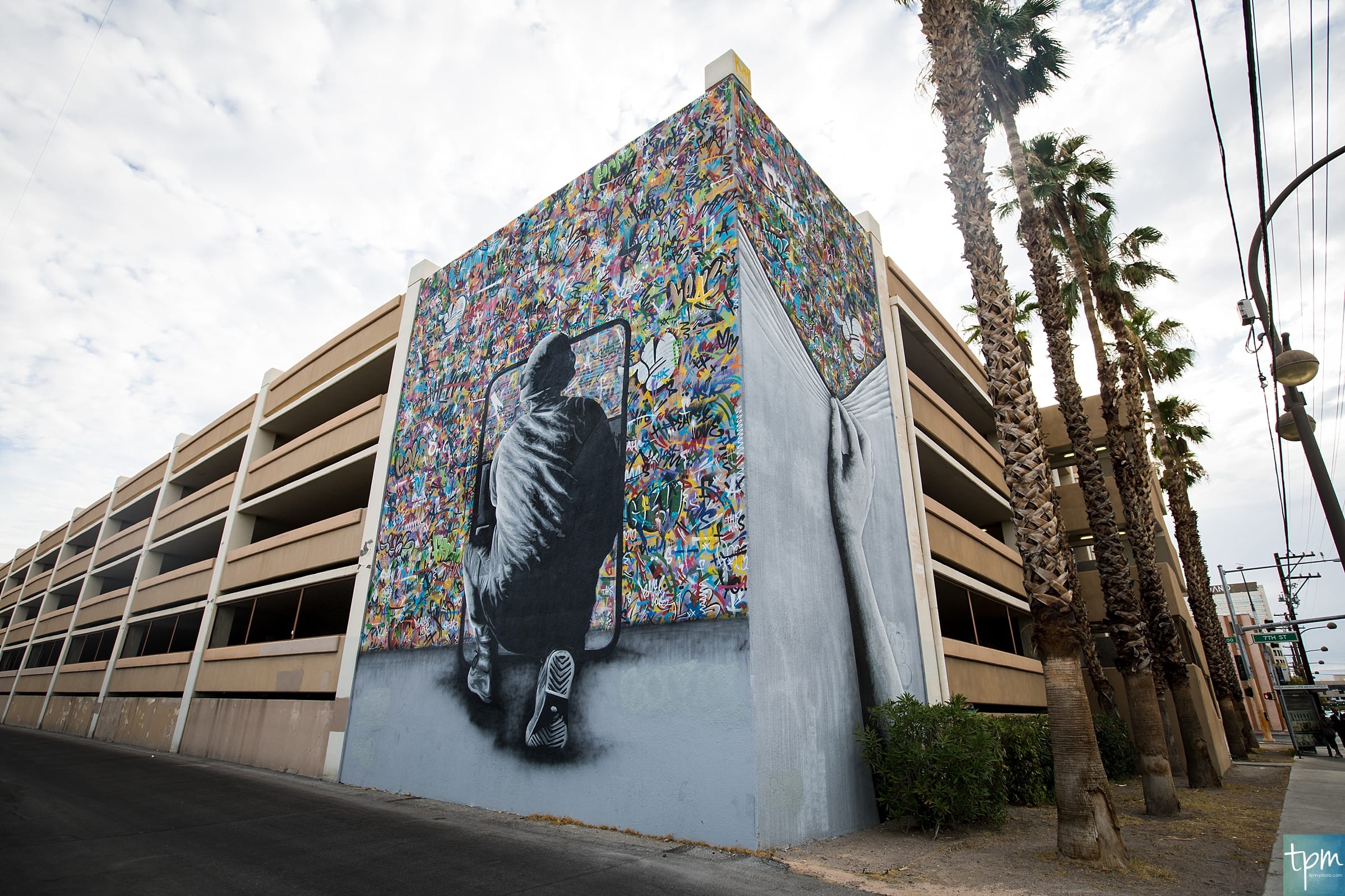 Murals by Martin Whatson – Stewart between 7th St. and 8th St. Norwegian artist Whatson painted two 4-story murals on the sides of a parking garage. One side depicts a man kneeling in front of a wall of graffiti while the other side features a hand unveiling the same graffiti wall.  The two pieces seek to make one wonder which is the wrongdoing, the graffiti itself or the threat of covering self-expression.  Colorful yet subdued, this is truly a powerful piece that stands out among many.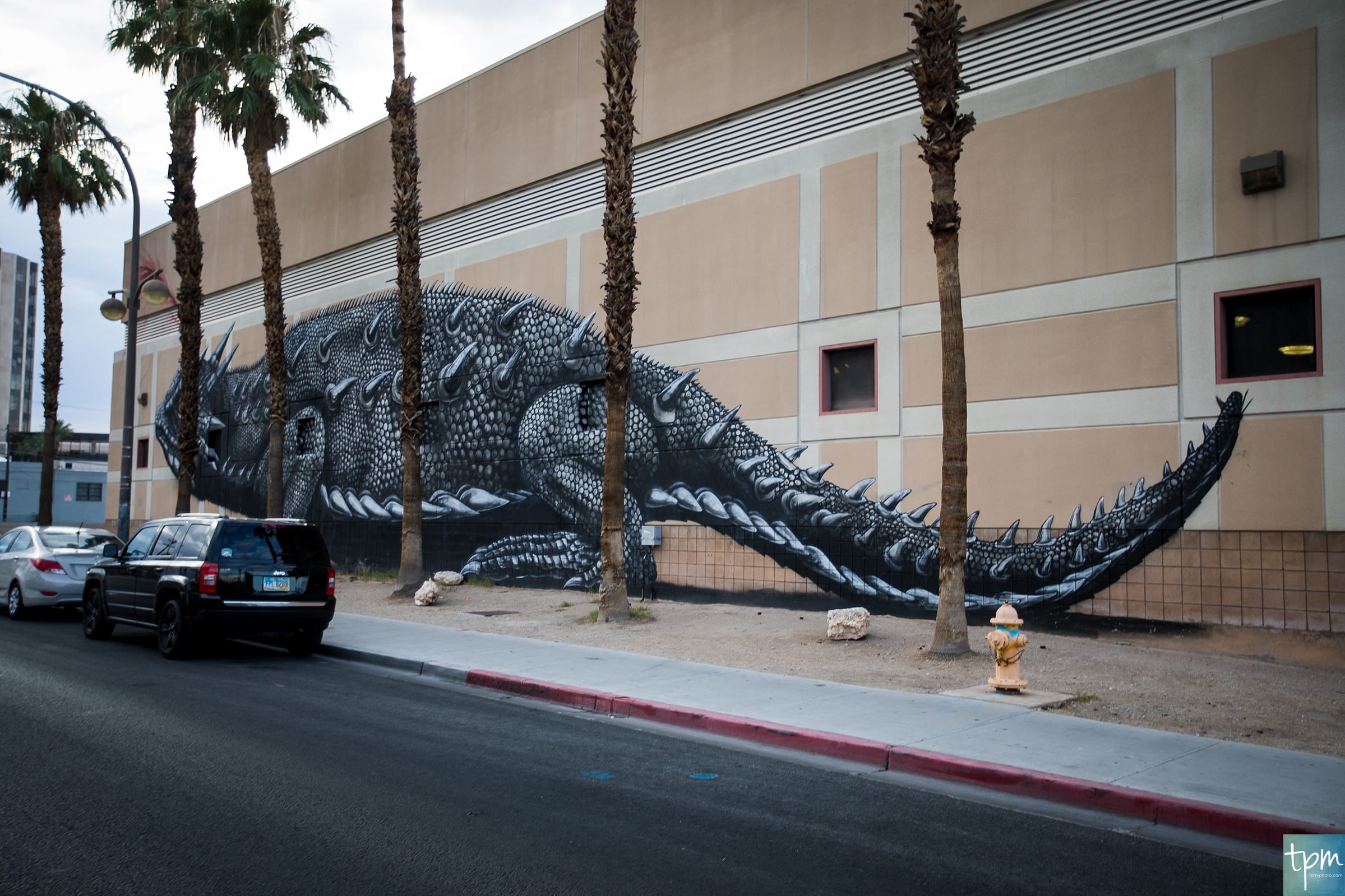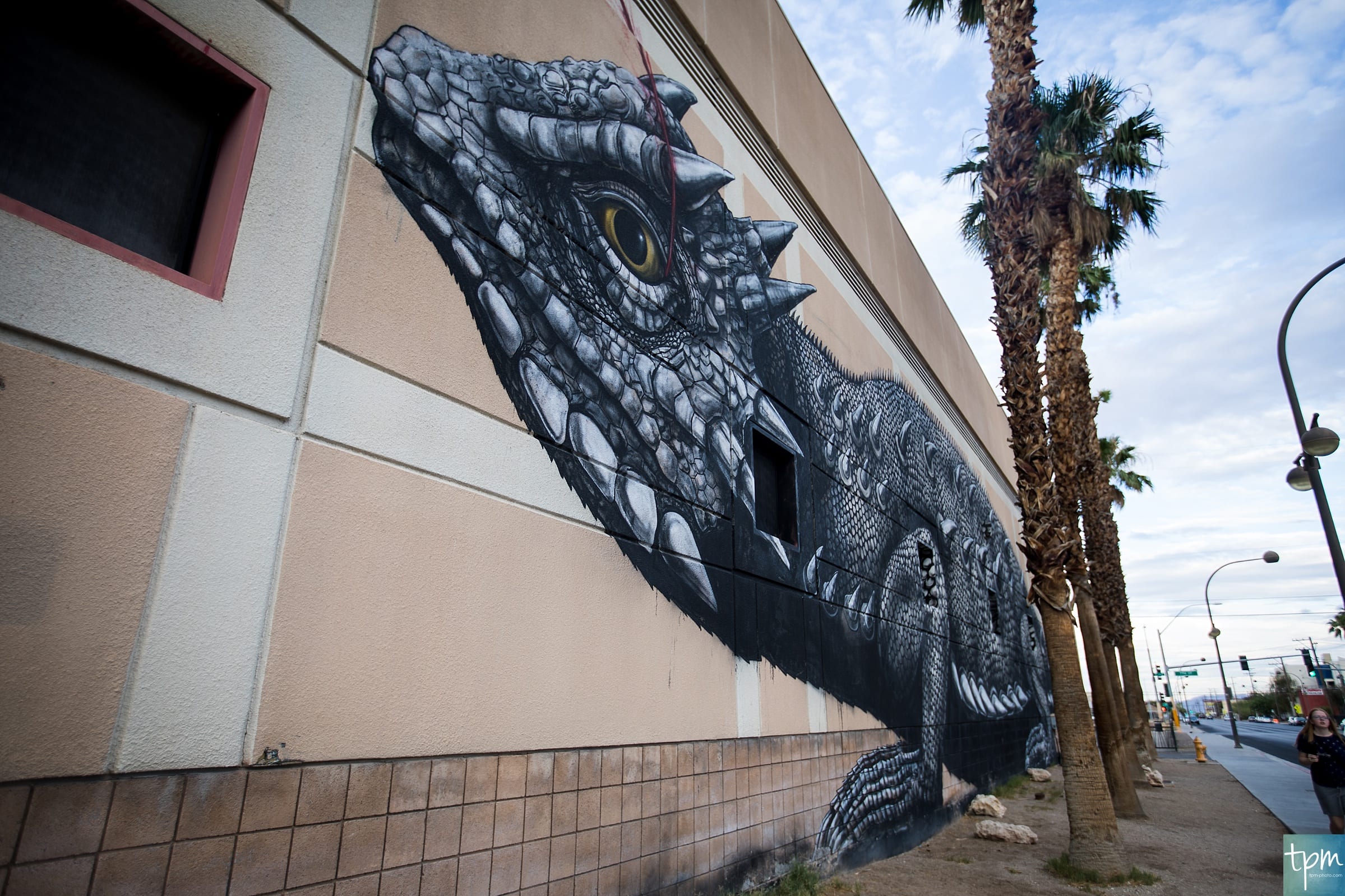 "Horned Toad" by ROA – 598 Stewart Ave.  Designed originally for Life is Beautiful.  In the artist's trademark monochrome style, the only color present is the bright red blood shooting from the eye. It is simple and clear-cut, yet full of detail and life. This mural is an exceptional example of the talent that is seen throughout downtown Vegas.
Mural by Betz – Stewart Ave. This 10-story mural depicts a boy asleep in a church pew with simulated stained glass behind. Full of detail, this mural mimics the intricacies that would be found in a window of an old, extraordinary church. The ancestral idea of good against evil which has been known for thousands of years is depicted in this epic piece.  It confronts the long-standing battle that man continues to face, one of love versus hate, good versus bad, forgiveness versus eternal damnation.  What better and ironic location to showcase this ethereal and spiritual piece than the contrasting "Sin City."
More Las Vegas Wall Art
Cyrcle's "Faith! Courage! Power! Growth!"
Borondo "Corner"
Fintan Magee
The Frank Sinatra
The Frank Sinatra Mural – 1441 South Las Vegas Boulevard. A Las Vegas icon and staple of our city's yesteryears, the crooner is depicted larger than life in the black and white piece. Located at the northern end of The Strip, adjacent to the "Welcome to Downtown Las Vegas" sign and just minutes from the Neon Museum, this mural is an incredible sight and one that is perfect for photo ops. One benefit about this location is the fact that it's at ground level, so taking pictures in front of it is entirely possible.  
"Faith! Courage! Power! Growth!" by Cyrcle – 206 N. 3rd St. Created for the 2nd annual Life is Beautiful this piece is located on the Downtown Grand's valet parking structure. It is simplistic in nature both in color and imagery. This duo's mural combines the orange strike-through text, a style typical of them. With the text is an outline of a transparent male, upside down and grasping what appears to be a discus. Great about this mural, and many others nearby, is that it's relatable and thought-provoking, inspiring and uplifting. This is a mural that is powerful and full of strength. This piece would lend itself well to an evocative and moving photo.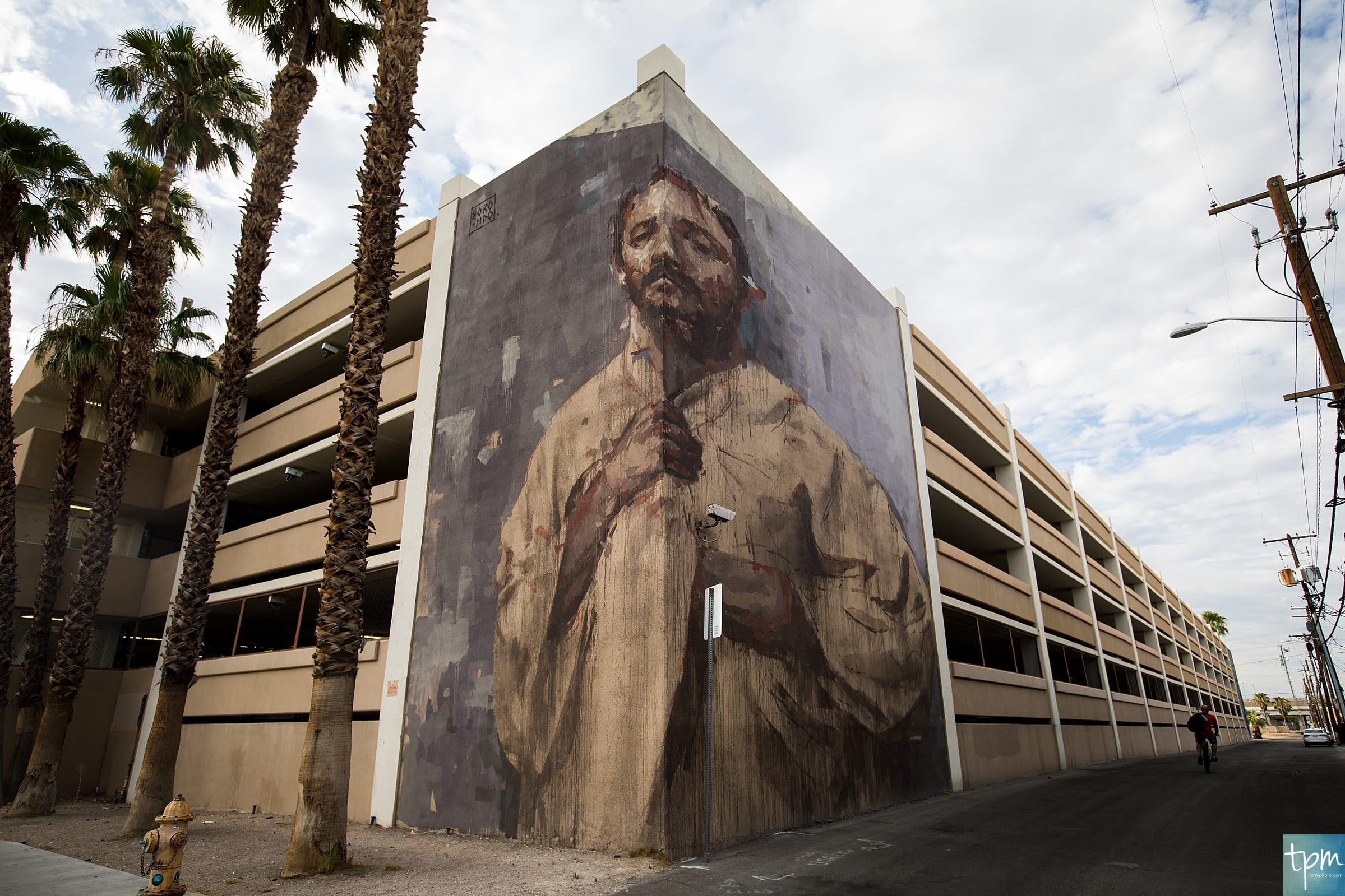 "Corner" by Borondo – Downtown. Created for Life is Beautiful, this mural occupies the corner of a downtown parking garage. Seen head-on is a somber looking man dressed in disheveled clothing, who looks dirty and rumpled. However, when looked at it from a different angle, a portion of the piece is then hidden. A mural that is captivating and moving, this one is a piece that makes a statement.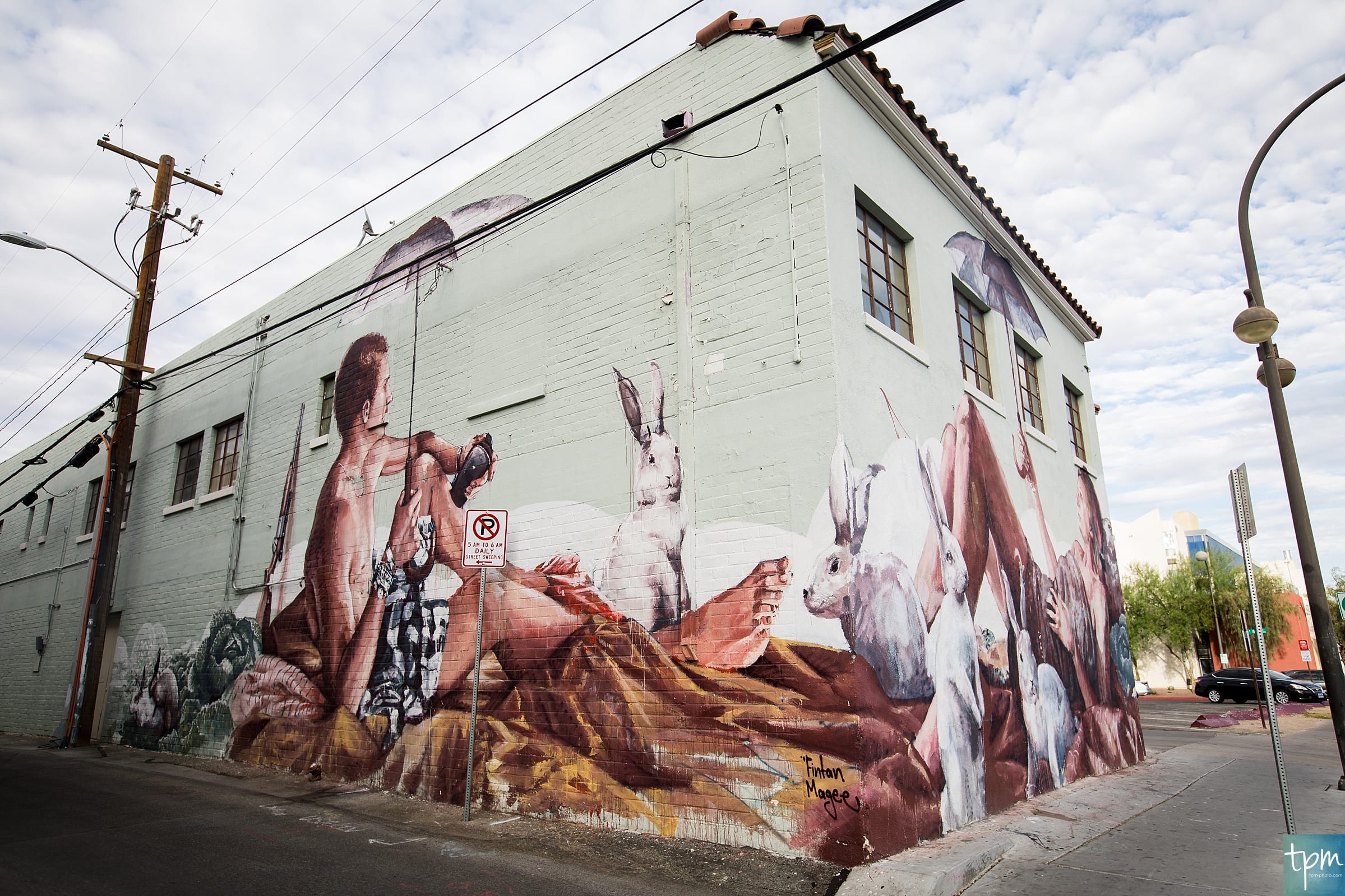 Murals by Fintan Magee – Ogden Ave. between 7th St. and 8th St. Painted for Life is Beautiful 2014, this 2-wall mural features a man on one wall and a woman on the other. Both are partially covered by blankets, holding umbrellas, and surrounded by white rabbits. Facing each other, together yet alone, this double mural is intimate, beautiful, compelling, and definitely photo worthy.
We'd love to help you plan your photo session in downtown Las Vegas! Let us know how we can help!