Running a business is exhilarating, enlightening, and rewarding, yet no easy feat. Whether you're a startup or have been around for many years, it's a constant grind to crush your competition, thrive or even survive.
Balancing your personal life and me time can be challenging. You may find yourself swapping downtime for more time spent on research and design, in the office, or even forecasting future plans for your business.
While your business may thrive temporarily, to fully optimize your decision-making and energy, you'll want to take a step back occasionally for some self love. If you neglect yourself, the most important aspect of your business, you might be unsatisfied in the long term. As a result, your performance levels at work may diminish, and you reduce the likelihood of your business growing.
But we get it; sometimes, if you have less staff, a new product launch, or a complete rebrand, there may not be time to invest in yourself as much as you would like to. Self care though does not have to take much time. It could be as simple as something from 15 minutes to 60 minutes or even a day out of work.
Are you stuck for ideas? Here are 15 simple self-care ideas for busy business owners like yourself.
Why self care is important at work
Whether at work or in your personal life, we're pretty confident you've heard the term "self-care." It's become a buzzword thrown around in everyday conversations, and there's a good reason for it.
As an entrepreneur, self-care profoundly affects your mood, which influences your work and business operations. This year, in Canada alone, at least 4 million people experienced high-stress levels at work.
High stress can lead to significant health problems like bad sleep, heart disease, high blood pressure, and more. It can negatively affect your decision making, employee relationships, and customer relationships.
Consistent self care can save you from burnout and stress levels and protect your mental health, allowing you to perform at work better. It's a necessity to help propel your productivity inside and outside your company.
5 self care ideas that take less than 15 minutes 
Do you have some time on your morning commute, lunch hour, or post-shift? Self-care routines can be as short as 15 minutes. Here are 5 to try out.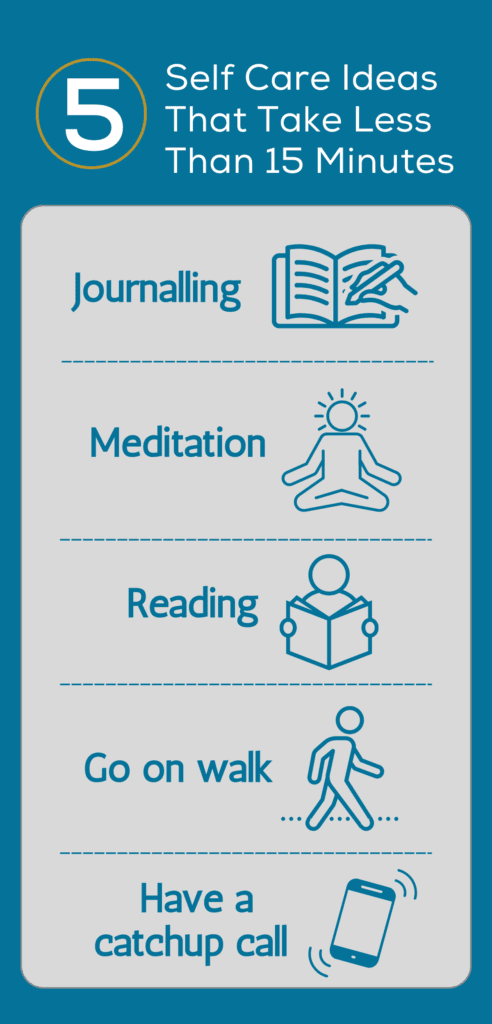 Journalling
One major effective tool used by many people worldwide is journaling. It's not complicated and simply allows you to streamline your thoughts and feelings. All it involves is a notebook and a pen. There are hundreds of journaling styles out there, and knowing what suits you best is a case of trial and error. It allows you to be your own therapist and reflect on your day or write about your intentions for the day ahead. To start with, here are some topics you might want to journal about:
Your feelings
Future goals
A reflection on your day
Goal setting for the day
What you're grateful for
Top Tip: The key to effective journaling is to be consistent with it every day. If you do that, you'll notice the difference in your stress levels and mindset.
Meditation
There's a lot of research that supports regular meditation practice can elevate positive moods and diminish any negative moods you may experience. It also allows you to focus on the present, increase your attention span, improve sleep, and more!
These are just a few reasons why around 200-500 million people meditate worldwide. The good thing about meditation is it can be done from anywhere and is free. To get you started, try some guided meditations on Youtube.
Reading
Set 15 minutes every morning or evening to read a newspaper, book, or magazine. Don't look at your device and just get lost in content. Reading regularly will increase your knowledge base and attention span and allow you to escape from the daily grind and distractions you face. It's a contagious way of helping you grow and relax.
Top tip: If you're struggling with sleep, read 15 minutes before bed.
Go on walk
A 15 minute walk daily can be the perfect reset to your working day. It's a great way to get healthy and process thoughts and feelings. Walking provides both physical and mental benefits; it's a highly powerful tool for self-care.
Have a catchup call
How often do you get time to take out of your busy schedule to catch up with friends or family? Take 15 minutes aside to call someone you love. Calling someone can be comforting, relaxing and help you feel supported, acting as an instant stress reliever. 
5 self care ideas that only take a few hours
Got more time on your hands to spare? Here are some self care tips that take a few hours.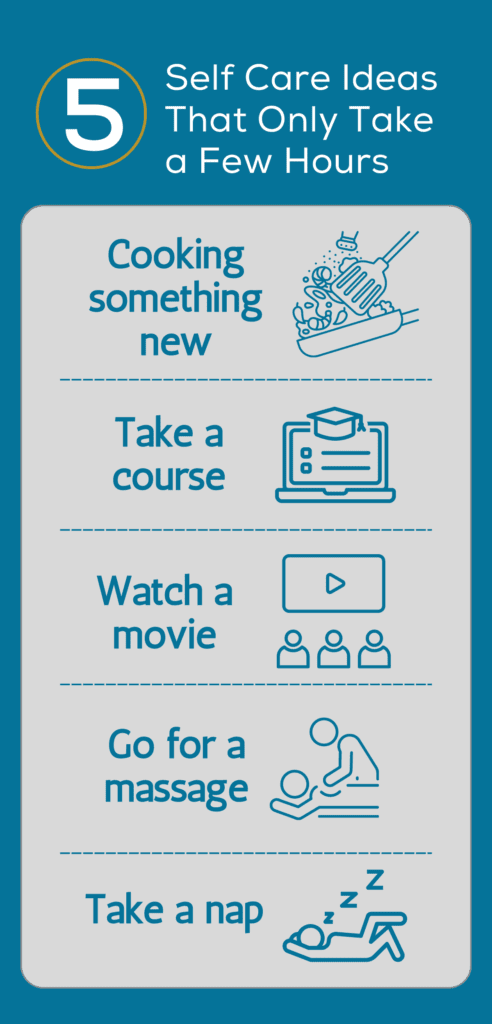 Cook something new
Cooking is one of the best ways to clear your mind and allow you to relax. It allows you to stay present and be rewarded with something tasty. Plus, a good home cooked meal can provide your body with good nourishment.
Take a course
One of the best forms of self care is doing something new and learning from it. A feeling of accomplishment can make you feel more happy, knowledgeable, and prepared to take on new challenges at work.
While there are many ways of acquiring knowledge, you might want to try your hand at an online course related to your profession or a new hobby for a few hours daily. There's plenty out there, some free and others at a low fee!
Watch a movie
Whether at the cinema or on Netflix, kick back and spend your downtime watching something and unwinding. Movies can be a perfect stress reliever, allowing you to reduce your worry and escape from daily life.
Top tip: Try and watch movies with friends or family members; it allows you to feel closer to your loved one at the same time.
Go for a massage
A 60-90 minute massage can do wonders for your body and mind. Massages can gently help you increase your body's temperature, releasing endorphins and reducing your anxiety and stress levels.
Take a nap
How often do you get a good night's sleep? A nap ranging from 30 minutes to a few hours can bring immense benefits. It's a great form of self-care as it can reduce your fatigue, increase your mood, alertness and better your performance.
5 self care ideas when you need a whole day off
If you feel like you need more time off, here are some suggestions for a whole day.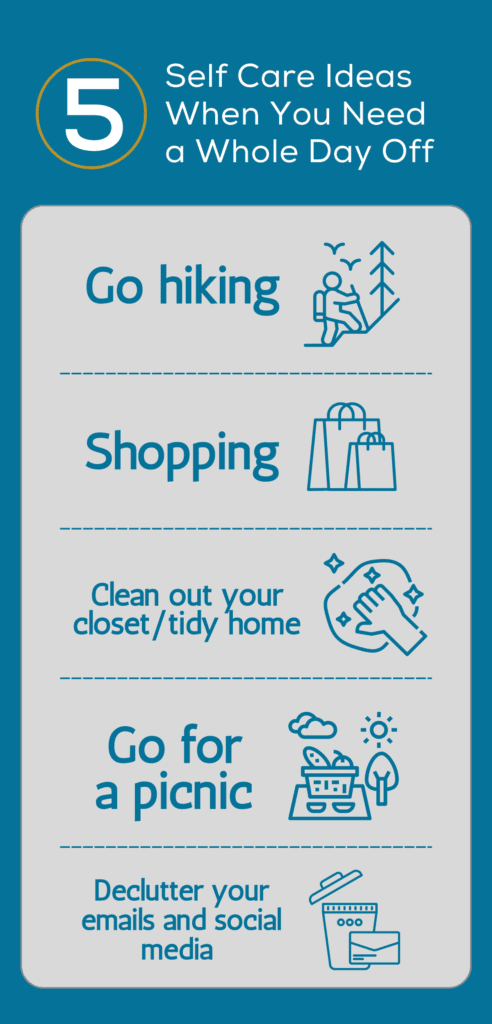 Go hiking
A lot of research supports that being out in nature can help improve our cognitive function, mood, blood pressure, mental health, and more. So if you have a whole day to spare, why don't you hike? Go and research hiking trails in your area and get started! If not a hike, create your own walk.
Shopping
Shopping is called retail therapy for a reason. It's one of those instant mood uplifters! Part of this is because it allows you to regain a sense of self-control and is quite fun to do. Especially when we spend so much time shopping online, it allows us to go out and feel different textures, try them on, and feel good about them.
Clean out your closet/tidy home
Getting organized and cleaning your home is never bad; it can improve your focus and make you more calm for long after you've organized. It allows you to restore control in your life, feeling more empowered and tackling other things coming your way. If you're feeling even more creative, rearrange your home completely!
Go for a picnic
Plan a day out with your friends and family somewhere in nature. Pack your bags with a picnic blanket, snacks, and home goods, to enjoy under the sun. Reminisce and unwind in nature with your loved ones.
Declutter your emails and social media
Sometimes when you have a whole day off, it's good to spend time doing stuff you've never really had the chance to do. Many of us fall victim to letting our emails pile up, social media photos, and more taking up a lot of unwanted space. Take time to review your followers, emails, photos, and more.
Final thoughts
To summarize, every business owner needs to indulge in self care from time to time. Self care can be as small as 15 minutes to a whole day. The best factor about self care is that it can be as costly as you make it and can be done from anywhere.
What might be self care for you might be different for someone else. To find out your perfect reset, it's a simple case of trial and error to see what suits you best. Trust us, if done properly, it'll help you regain control and propel your productivity in the workplace.
Capture your company's productivity at best; schedule your brand photo session with us.
"*" indicates required fields