To really have your A game in your field, you want to make the most of having a strong digital presence.
If you've primarily been focusing offline and wanting to switch to online, or have been existing online for some time and want to make yourself more visible, then you must focus on branding and marketing.
Often many people get confused about the difference between branding and marketing because they complement each other.
However, branding and marketing are pivotal to any business or professional to exist on any digital channel.
Branding involves creating and managing a unique identity that aligns with your personality, business and resonates with your target audience.

In contrast, marketing involves deploying specific actions to attract customers to buy your products or services.
While both have a similar end goal, they both have various benefits.
Importance of branding and marketing for your business
To be honest, the benefits of branding and marketing for any business is never-ending.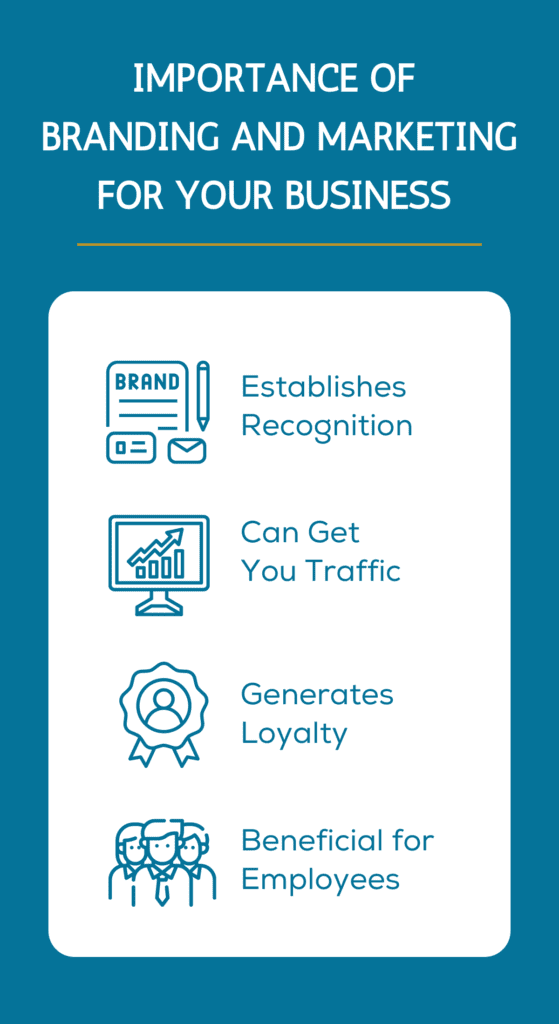 Establishes recognition
If you have strong branding, more people will likely recognize your company easily. Branding covers everything from your logo, tagline, website, typography, letterheads, and more.
If you have consistent branding that's bold and resonates, it allows people to gain a sense of connection and familiarity, convincing customers to buy from you repeatedly. Similarly, by implementing strategic marketing campaigns, you can become more recognized and
Can get you traffic
Running well-executed marketing strategies can allow you to generate more leads for your business and, as a result, increase your chances of sales. Whether on social media, in publications, or anything else, marketing allows you to create different promotions to help you stand out from others.
Marketing can also allow you to track your metrics of customer behaviors, allowing you to understand them better and create stronger relationships.
Generates loyalty
Effective branding and marketing campaigns can show your target audience that you have a human side to your company. This can allow your customers to relate to your business and appeal to their emotions more, increasing your connection.
Beneficial for employees
Branding and marketing also benefit your team and future employees too! It lets you distinguish your organization as a leader and become known. So, in future hiring processes, you can easily attract, recruit and get the right candidates.
These are just a few benefits; there's a lot more out there!
Understanding branding
To break it down even further, branding is the foundation upon which marketing strategies are built.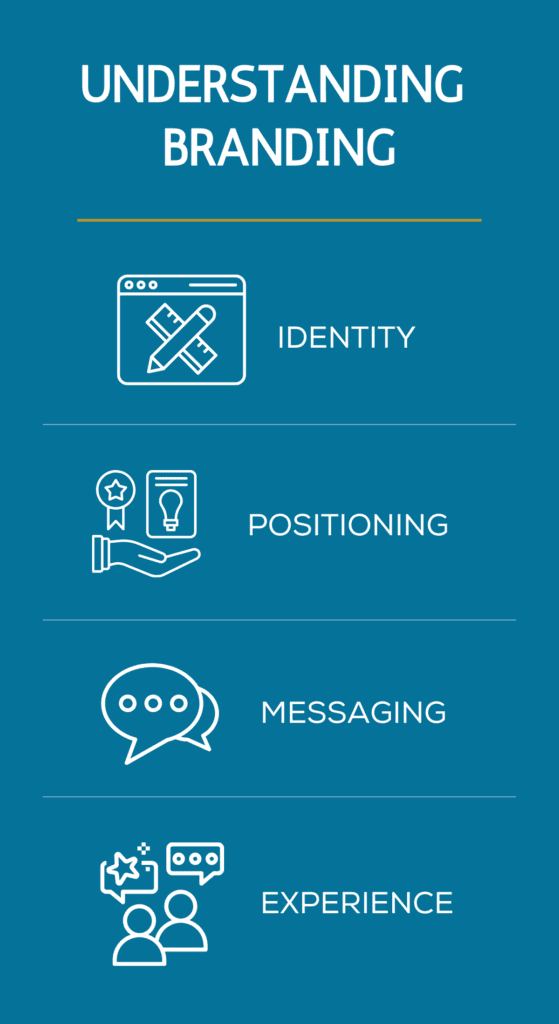 Identity: This focuses on the visual aspects of your brand, like your typography, design, color palette, and more.

Positioning: Reviews who you are, what you do, your mission, and your customer commitment. It covers your values and what your company represents.

Messaging: Look at your brand's voice to connect with your customers. Explores your language on social media, websites, and customer conversations.

Experience: How customers connect or engage with your services, products, and team.
If you're interested in exploring branding for your business or want to refine your brand strategy, check out our branding checklist to keep you on track.
Importance of consistent Branding across various platforms
To generate credibility, trust, and recognition, you have to be consistent with your brand identity, messaging, and positioning on all channels.
If you are consistent, it leads to a greater chance of brand recognition, increasing the likelihood of more purchases and commitment to your company from your customers. It also helps reinforce your core values allowing others to trust you on any platform they see you on.
Exploring marketing
Marketing involves creating, communicating, and delivering specific offerings, products, or promotions to your customers. It looks at identifying, predicting, and addressing your customer needs.
Marketing is the vehicle that drives your brand's message to your customers. Marketing strategies and goals vary based on each individual and the direction of a company. Some of the common objectives many face are: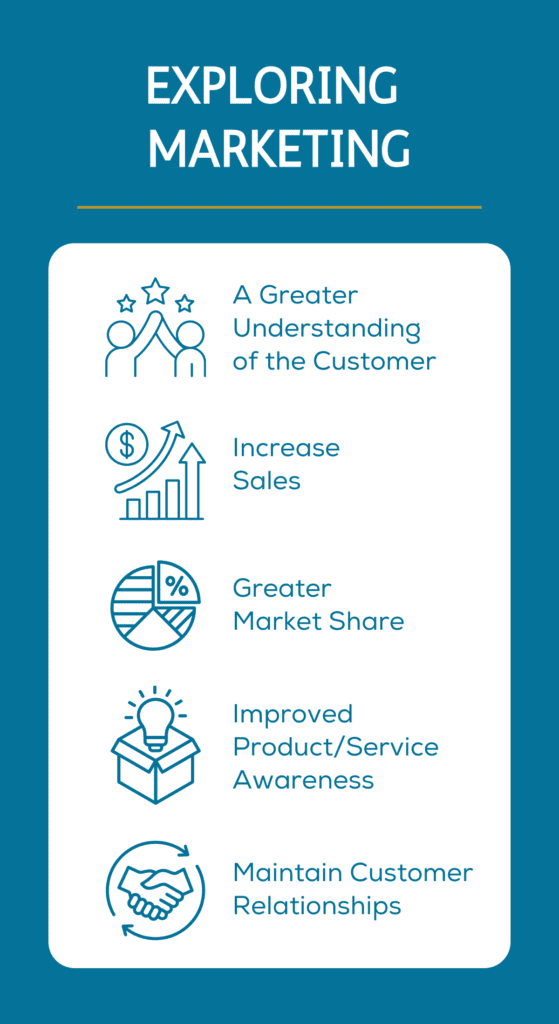 A greater understanding of the customer: Marketing involves conducting research, competitor analysis, and customer analysis and allows you to gain a greater insight into their behaviors, preferences, and needs.
Increase sales: One common objective of marketing that every business abides by is generating more sales and revenue. You can promote products and services through effective strategies, allowing you to expand your customer base and generate repeat purchases.
Greater market share: You can get a greater market share than competitors. With focuses on pricing strategies, product/service differentiation, and promotion.
Improved product/service awareness: If done effectively, marketing can help you generate more attention towards a newly launched product or service. It can educate your customer and generate more sales in the long term.
Maintain customer relationships: Marketing strategies can help you engage and connect with your customers, creating more value and a sense of worth. 
Different marketing channels and strategies
When marketing, there are different channels you can exist on, and each channel has different strategies, where you allocate certain resources, time, and goals accordingly. Some of the main marketing channels are: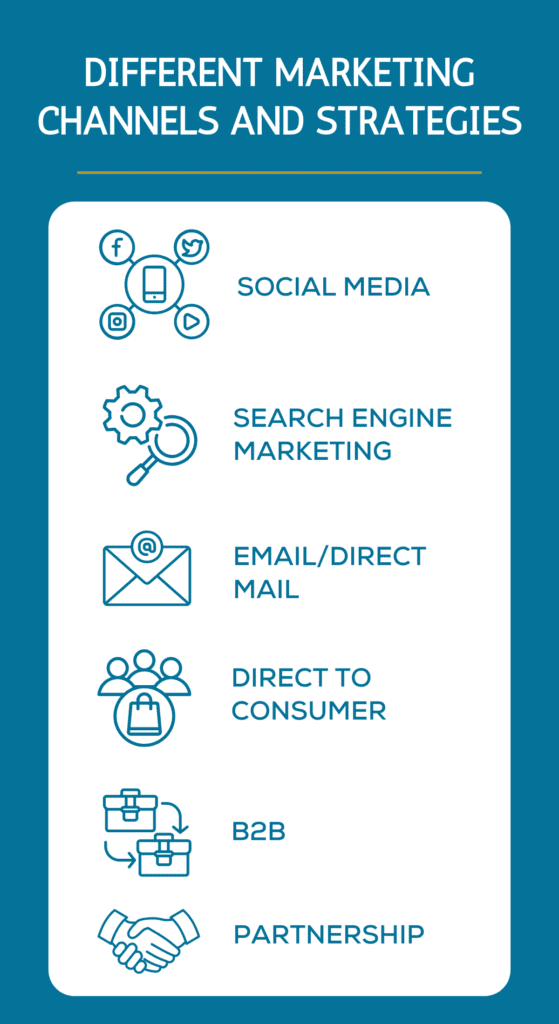 Social Media
Strong strategies for platforms like LinkedIn, Facebook, Instagram, Tik Tok and more can help increase your consumer base. They're a crucial platform to help generate more sales, and the strategies can vary based on the algorithms of each channel. It's a cost-effective and great method to connect with existing and new customers, using targeted ads to promote your products or services.
Search Engine Marketing
Search Engine Marketing, also known as (SEM) allows you to use paid advertising to help increase the ranking and visibility of your company on search engines.
Effective SEM marketing considers search engine optimization (SEO). It allows your website to appear at the top of searches for specific keywords prominently and gain more traffic.
Email/direct mail
Allows you to quickly reach a large customer base and effectively through newsletters and campaigns. Direct mail allows you to send printed pieces to people's addresses to inform them about your company, but it is often more expensive to conduct.
Direct to consumer
This involves communicating directly with your customer, allowing you to build a more meaningful relationship. It lets you control the message and gain crucial data about their behaviors and needs.
B2B
This process involves looking at relationships and transactions across businesses. It looks into high transactions, formal contracts, and relationships. This is often a more complex form of marketing than others.
Partnership
A form of marketing that allows you to team up with another company to help promote your products or services. Through ambassadors, affiliates, and public relations, you can gain attraction from new customers.
Importance of targeted marketing for specific industries
When marketing your business, you'll really want to get specific. Target marketing allows you to give a unique position to your brand that's different from your competitors. Honing down on your target audience increases the chances of more effective marketing campaigns that speak directly to them.
If you have a wide audience, your marketing may not be able to resonate with everyone on a personal level. Once you attract your audience personally, you will increase your chances of high-quality leads resulting in more sales.
Moreover, focusing on a specific market can help make you more unique and well-known and increase your credibility in your field. Similarly, because you are targeting a certain market, you'll be able to understand your customer's needs and behavior better, as a result being able to refine your products and services.
Leveraging marketing to reach the target audience effectively
To ensure you effectively communicate with your target audience, you'll want to do the following:
Create content that resonates: Create useful and engaging content that communicates to your target audience. You'll want to write blog posts, undergo video marketing, and be active on social media with stories, text, and images.
Run targeted ads: Run ads on Google and social media and filter and use advanced targeting options to attract your target audience. You can amend the ads based on your target audience's location, demographics, and behavior.
Leverage influencers: Partner with influencers that resonate with your target audience to promote your products or services.

Referral marketing: Create a referral system, giving incentives or special offers to your customers if they share it with others. This way, you can reach more of your target audience quickly, with low investment.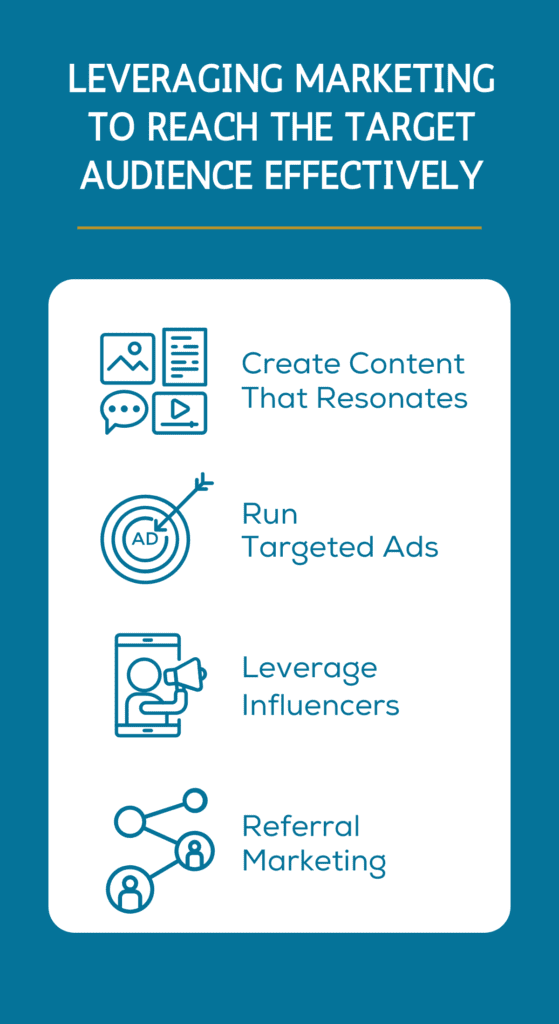 Branding vs. Marketing: Understanding the Difference
To recap, the difference between branding and marketing relies on connection and understanding. Branding is more about creating a unique identity for your business and connecting with your audience. In contrast, marketing involves understanding your audience's behavior and promoting products and services to increase sales.
How branding and marketing work together for business success
Branding and marketing go hand in hand, complementing each other for business growth. Branding allows you to create a unique identity and set of values, and marketing allows you to communicate this to your target audience to drive engagement, leads, and sales.
Ultimately, they're two powerful elements that intertwine that allow you to differentiate your brand, enhance customer relationships and drive business growth.
Make your brand stand out, and schedule your brand photo session with us!
"*" indicates required fields